Buehrle's perfect start to '14 halted by Red Sox
Blue Jays lefty gives up six earned runs, 12 hits over 5 1/3 innings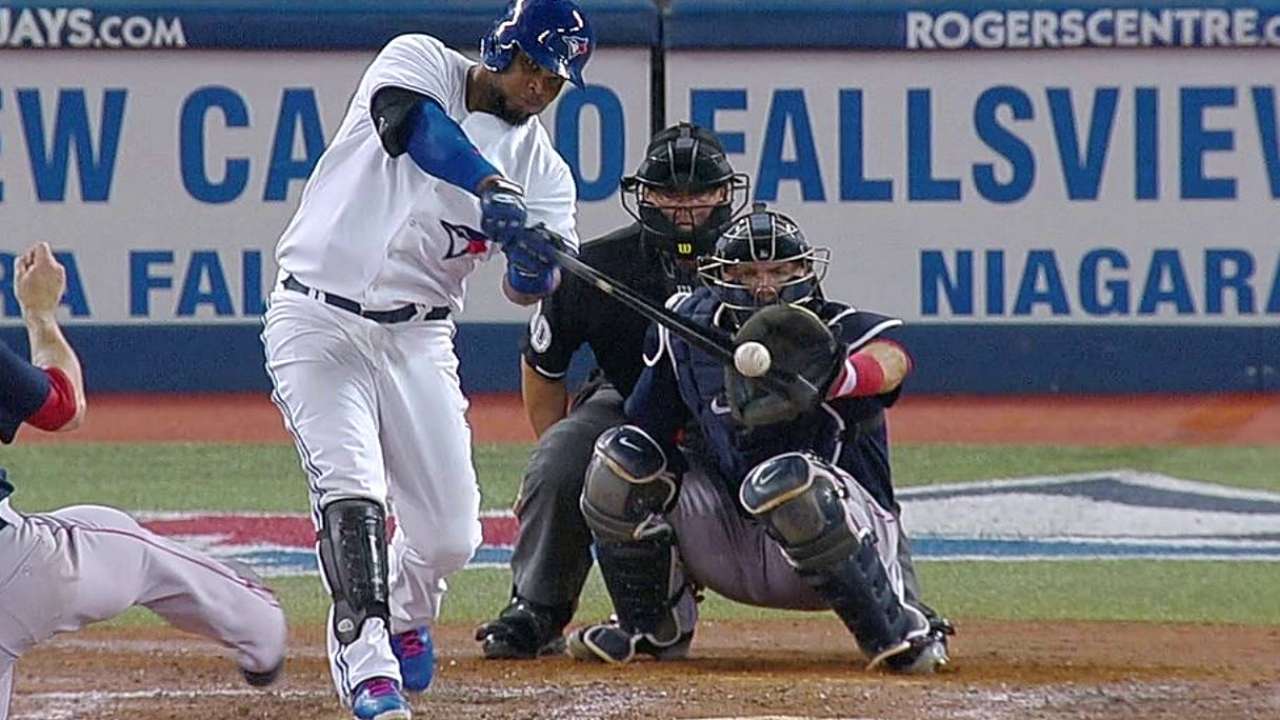 TORONTO -- Mark Buehrle has been far and away the Blue Jays' most valuable starting pitcher in April, but he wasn't going to remain flawless forever.
The string of good starts for Toronto's veteran left-hander came to an end Friday night. He had been one of the best pitchers in baseball through four starts and at least a slight regression to the mean had been expected.
That happened when Buehrle was hit around early and often as he surrendered seven runs (six earned) over 5 1/3 innings in the Blue Jays' 8-1 loss to the Red Sox in front of 29,411 fans at Rogers Centre.
"That's baseball, you're not going to be perfect every time out there," Blue Jays manager John Gibbons said. "He'll bounce back. He was just off tonight, it's that simple, like anybody else can be."
Buehrle entered the series opener 4-0 and had allowed two earned runs in 28 innings. He was looking to become the first pitcher in franchise history to win his first five starts, but it became clear early on that it was going to be a daunting task.
Following a three-up, three-down first inning, Buehrle got himself into trouble in the second. He allowed a leadoff walk to Mike Napoli, then a bloop double by Xander Bogaerts just over the head of first baseman Edwin Encarnacion.
After a sacrifice fly by A.J. Pierzynski and an RBI single by Will Middlebrooks, the big blow came on a two-run single from Dustin Pedroia. When the inning was over, Buehrle had faced seven batters and allowed four runs on four hits and a walk.
Buehrle allowed another run in the third on a home run by David Ortiz, then saw his outing come to an end in the sixth after a pair of hits and a walk. The veteran left-hander allowed 12 hits and three walks, and for the first time this year, he didn't strike out a single batter.
Despite the disappointing outing, Buehrle put together one of the best Aprils of his career. He went 4-1 with a 2.16 ERA even though he had been a notoriously slow starter throughout his 15 seasons. Buehrle became only the fourth American League pitcher over the past 15 seasons to start 4-0 and allow one or no earned runs in each of those starts. The other three were Cleveland's Cliff Lee (2008), Kansas City's Zack Greinke (2009) and Oakland's Brett Anderson (2012).
"I think the game was kind of decided there in the second inning," Buehrle said. "You could see the first four games, balls were going to my defensive guys and today a couple of those bloop singles finding holes, just over Edwin's glove.
"That's why I say you have to have the luck on your side. I wasn't hitting my spots as good as I was in the past. When I did, they got some base hits, but overall, too many strikes in the middle of the zone and they took advantage of it."
Toronto's offense was virtually non-existent against Red Sox right-hander Jake Peavy. One of the only scoring chances came in the fifth when the Blue Jays had runners on first and second with one out for Dioner Navarro. Jose Bautista tried to steal third, but was then thrown out by Pierzynski. That essentially killed the rally and the inning came to an end when Navarro popped out.
Juan Francisco provided the lone spark in the seventh when he hit a one-out homer to deep right field. The ball traveled so far that it landed above the Robert Alomar sign on Toronto's Level of Excellence. That's on the fourth level of the stadium and was Francisco's first in a Blue Jays uniform.
The Blue Jays had just five hits over Peavy's seven innings. He walked one and struck out seven to lower his ERA to 2.87 while also earning his first win of 2014. It was the 10th time Toronto has lost to the Red Sox over the past 16 matchups at Rogers Centre.
"I think they were a little bit hesitant after [Bautista] tried to steal third," Peavy said. "That was a shot in the arm for us. They need baserunners and one big swing of the bat. You've got to keep that team in the ballpark, that's the game plan going in, is keep the speed guys off base and keep the rest of the guys in the ballpark and you feel like you've got a chance."
Gregor Chisholm is a reporter for MLB.com. Read his blog, North of the Border, and follow him on Twitter @gregorMLB. This story was not subject to the approval of Major League Baseball or its clubs.