Nats strand 14, chance to take opener vs. Padres
Espinosa, LaRoche homer to tie it, but club goes 0-for-16 with RISP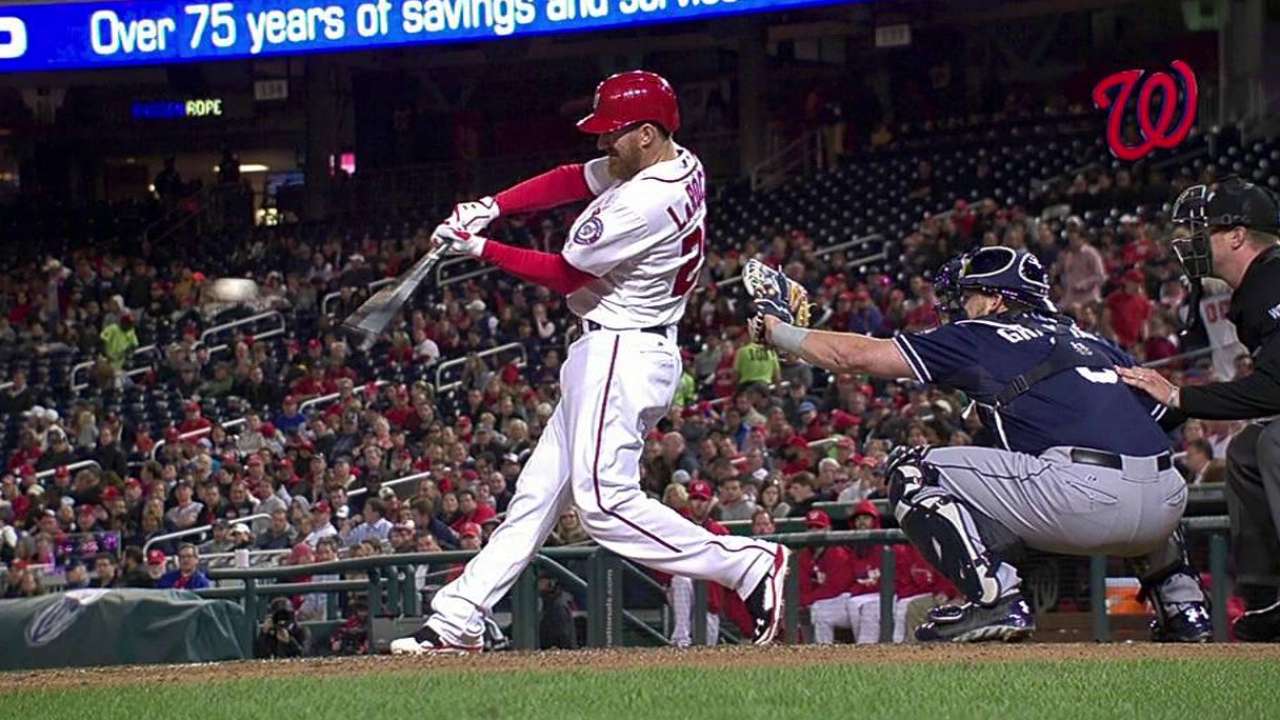 WASHINGTON -- The baseball gods weren't kind to the Nationals on Thursday night.
The Nats piled up 16 hits and numerous scoring threats in the series opener against the Padres. They just couldn't get those hits at the right time, going 0-for-16 with runners in scoring position and stranding 14, a big reason why San Diego stole a 4-3 victory in 12 innings at Nationals Park.
The threats kept coming and coming in this game. Washington (12-11) left two on in the first, fourth, fifth and sixth, and stranded three in the ninth. The Padres didn't have nearly as many chances, but they came through in the 12th when former National Xavier Nady's two-out single off Craig Stammen (0-1) with two outs drove in the winning run.
All in all, a very frustrating night.
"We hit some balls hard, and right at people," Nationals manager Matt Williams said. "If we give ourselves that many opportunities, we're going to score runs. It [just] didn't happen tonight."
What happened in the 12th inning perfectly symbolized Washington's night. Stammen gave up a soft one-out single to right by Jedd Gyorko. He tried to steal second with Nady up and two outs, and made it all the way to third when catcher Jose Lobaton's throw sailed into center.
Nady then singled up the middle to give San Diego (11-12) the lead.
"Two weak contact hits that I can't do anything about," Stammen said. "I got behind Nady 2-0, so he kind of knew a fastball was coming, but I left it up a little bit. It was frustrating. I guess you'd rather be beat on homers or doubles or something like that. Slow death, I guess, is the way it went tonight."
The bottom of the 12th added more frustration. Bryce Harper got a gift double to start the inning when left fielder Tommy Medica fell going after his fly ball. Huston Street then struck out pinch-hitter Tyler Moore before Lobaton lined a shot -- right at shortstop Everth Cabrera. He quickly tossed it to Gyorko at second to double off Harper and complete the game-ending double play, giving Street his eighth save.
"I was trying to do something better after the error," Lobaton said. "I was trying to get ... a base hit, move the runner [over]."
All the missed chances wasted a good effort from starter Jordan Zimmermann. He gave up three runs on just five hits in six innings and often kept the Padres quiet.
Washington had taken a 1-0 lead on an Anthony Rendon sacrifice fly in the third before the Padres tied it on Seth Smith's RBI double in the fourth. But Yasmani Grandal gave the Friars a 3-1 lead with a two-run double in the sixth.
Williams had to pinch-hit for Zimmermann in the sixth as the Nationals tried to rally, and the right-hander was left feeling frustrated that he couldn't give his team more.
"I had really good stuff and everything was working," he said. "It's just unacceptable to be going six innings with the stuff I had. It's just frustrating [when] you throw 90-some pitches and two aren't where you want them to be, [and] it kind of sums up your night right there."
The Nationals then used home runs to tie the game. Danny Espinosa hit one off starter Eric Stults in the sixth, and Adam LaRoche made it 3-3 with another solo shot in the seventh against Nick Vincent.
Williams did get a successful challenge in the ninth, which overturned a stolen base from Yonder Alonso that would have given the Padres a runner at second with no outs. Instead, it helped Rafael Soriano retire San Diego and set up extra innings.
Injuries forced San Diego manager Bud Black to make a bunch of moves later in the game, even putting ace pitcher Andrew Cashner in left field to start the 11th. One out later, the skipper pulled a double-switch, which let him put in Medica in left and take out pitcher Tim Stauffer for Alex Torres (1-0), who got the win.
"This was an interesting one for sure, one where you had to be creative as you went along," said Black. "Along the way, there were a lot of clutch pitches from both sides. Both teams were stressed. This was a weird one."
Jeff Seidel is a contributor to MLB.com. This story was not subject to the approval of Major League Baseball or its clubs.