Nady's knock in 12th caps wild Padres win
Headley, Smith hurt, Friars lose challenge in ninth, but outlast Nats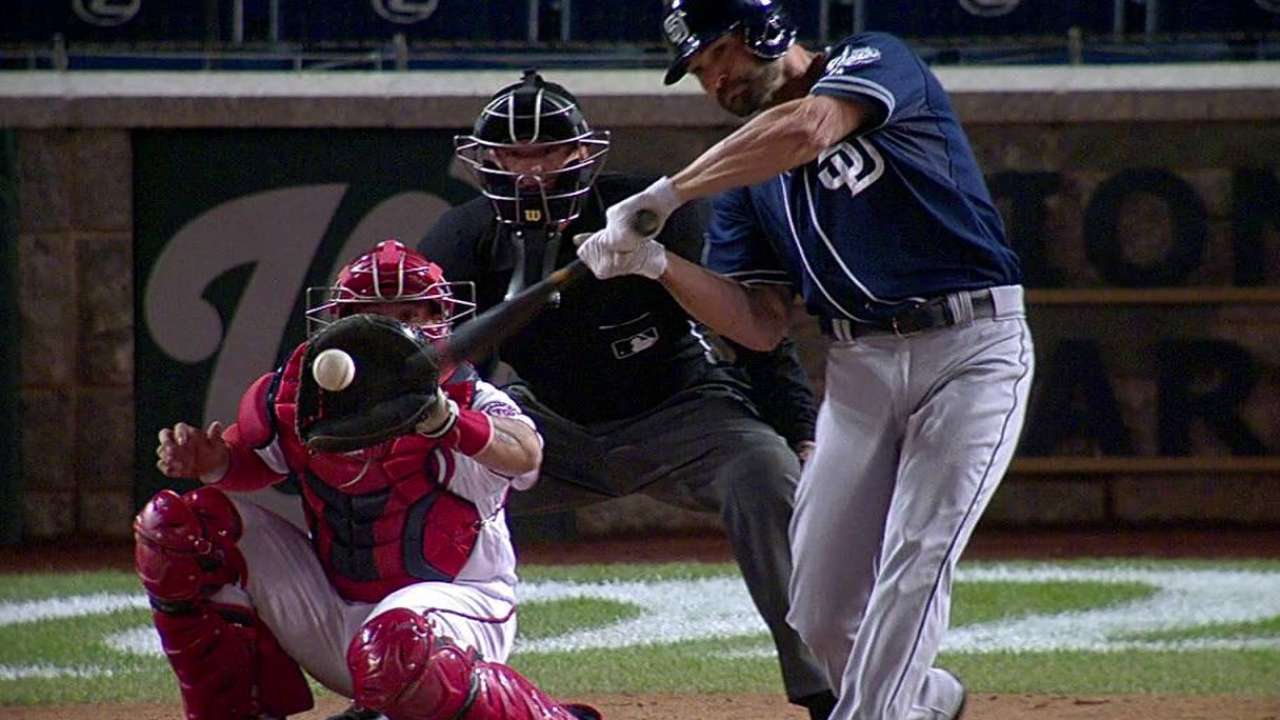 WASHINGTON -- Just when 35-year-old Xavier Nady probably figured he had seen just about everything in a big league career that has encompassed 955 games and eight different teams, he witnessed some things Thursday that essentially made him reconsider his stance.
"That was," Nady said, "a bizarre game."
And that's not the half of it, as the Padres hung on to edge the Nationals, 4-3, in 12 innings in front of a chilled crowd of 22,904 at Nationals Park who were treated to a wild affair that lasted over four hours and featured enough plots twists to keep your head spinning for weeks.
Consider what happened Thursday:
• San Diego lost third baseman Chase Headley to a strained right calf when he felt something grab coming out of the box during his first at-bat. He'll likely head to the disabled list as soon as Friday. Then, later in the game, Seth Smith strained his right groin chasing a ball in the outfield. He'll likely miss two to three days.
• There was a successfully challenged call by Nationals manager Matt Williams in the ninth inning that wiped out a stolen base by Yonder Alonso. San Diego manager Bud Black took exception, insisting the batter was in the box and the pitcher was on the rubber before Williams went to challenge the call.
• It was for just one out, but Padres pitching ace Andrew Cashner, their Opening Day starter, was a left fielder in the 11th inning, as the Friars didn't want to burn a position player before they made a pitching change later in the inning. Smith's injury also necessitated the move.
• The Nationals had the tying run in Bryce Harper at second base with one out in the 12th inning when Jose Lobaton lined a ball that shortstop Everth Cabrera leaped to grab before turning it into a game-ending double play.
Get all that?
"This was a weird one," Black confessed.
The Padres (11-12), playing their second 12-inning game in three days, got another strong performance from the bullpen, as Dale Thayer, Nick Vincent, Joaquin Benoit, Tim Stauffer, Alex Torres and then closer Huston Street combined to allowed one run with seven strikeouts over the final 6 2/3 innings.
"How it started, you almost felt like that game was yesterday," said Stauffer, who allowed two hits over 2 1/3 innings, bridging the gap between Benoit and Torres (1-0), who got the win in advance of Street's eighth save of the season.
Those relievers, and the performance of starter Eric Stults, who allowed two runs over 5 1/3 innings, left the Nationals (12-11) reeling, as they were 0-for-16 with runners in scoring position.
"Along the way, a lot of clutch pitches. ... Both teams were stressed," Black said.
The Padres, who took a 3-1 lead on Yasmani Grandal's two-run double in the sixth inning, got a big hit in the 12th from Nady, who bounced a ball up the middle to score Jedd Gyorko. Gyorko singled softly to left field with one out in the inning, stole second base and advanced to third on a Lobaton throwing error.
"You had injuries, the replay, a lot was going on," Nady said. "They outhit us [16 to 8], both bullpens did an outstanding job, leadoff hits, bases loaded. ... A lot happened."
And, for once, a lot of good happened to the Padres, who are 2-2 on this 10-game road trip against three teams with records over .500. Despite the injuries, this was one the Padres wanted to savor.
"That was an interesting one for sure ... where you had to be creative as you went along," Black said. "You really had to do some things to win a game. As coaches, we had to put our heads together."
Corey Brock is a reporter for MLB.com. Keep track of @FollowThePadres on Twitter. This story was not subject to the approval of Major League Baseball or its clubs.