CC, offense click on all cylinders in rout of Red Sox
Ace yields just two runs, Teixeira goes deep, Solarte notches four RBIs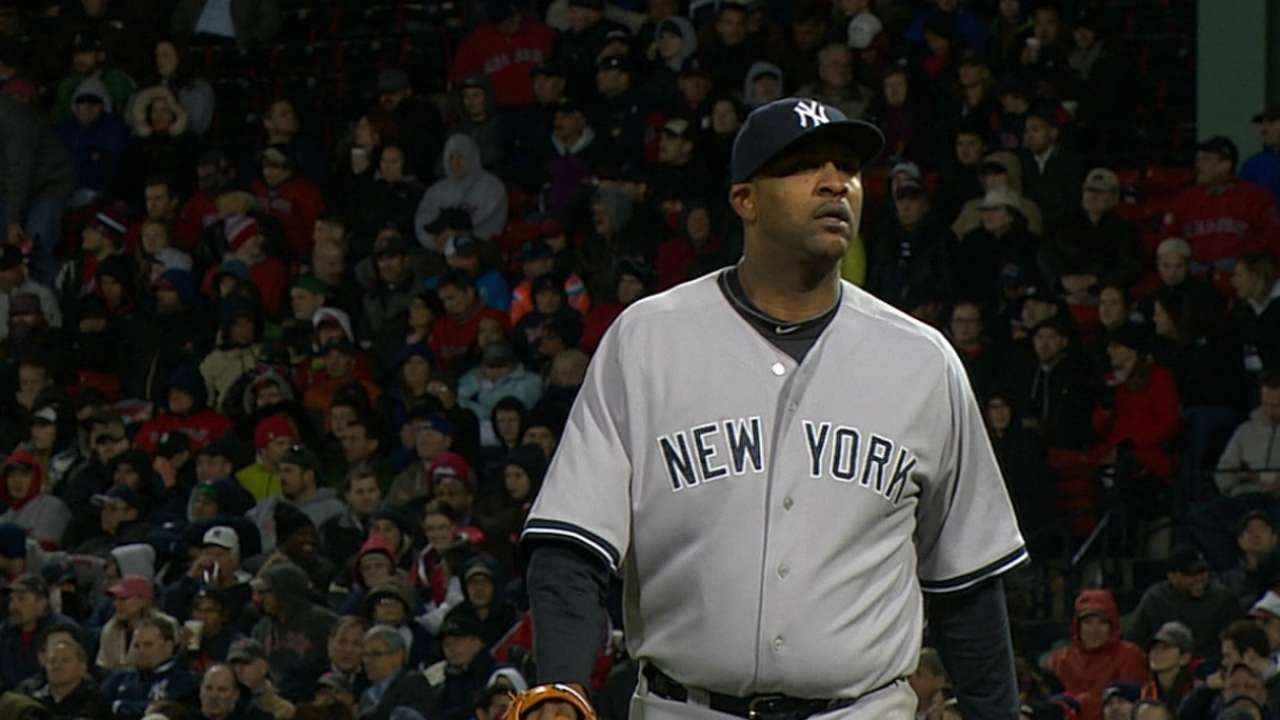 BOSTON -- The Yankees authored a satisfying ending to their wild road trip on Thursday, rolling their suitcases out of Fenway Park on a high note by packing in their most productive offensive performance of the season.
CC Sabathia pitched six solid innings, Mark Teixeira hit his first homer of the year and rookie Yangervis Solarte drove in four runs as the Yankees defeated the Red Sox for the fifth time in seven games this season, this time by a lopsided 14-5 margin.
"They won the championship, they're the defending champions, so they're the team to beat," Derek Jeter said. "We've played them well the first seven games. We play them 12 [more] times. It's good that we've played them well now, but we'll see them again, and I'm sure they'll be ready for us."
The Yankees took advantage of a season-high five Sox errors to claim the rubber game of an eventful mid-week set, marked by Jacoby Ellsbury's Fenway return and Masahiro Tanaka's rivalry debut in the first game, then Michael Pineda's ejection after a slick of pine tar was spotted on his neck early in the second game.
New York opened the trip by splitting a four-game series against the Rays that was no less hectic: the Yanks turned a triple play, had Cesar Cabral pitch himself off the team by hitting three men in an inning, lost Ivan Nova to a season-ending injury and won a wild 12-inning series finale on Sunday at Tropicana Field.
This past weekend, the Yanks sent infielder Dean Anna to the mound for mop-up duty in the eighth inning of a rout against the Rays. They then got to face a position player on Thursday at Fenway, taking their licks against knuckleball-throwing outfielder Mike Carp.
"Every day you showed up to the yard and you didn't know what was going to happen," Ellsbury said. "As long as you're consistent and go about your business each and every day, usually by the end of the road trip, good things are going to happen. It was a wild seven games."
"I think the important thing is that we were 4-3," manager Joe Girardi said. "It's hard to replace Nova, but someone is going to have to step up."
On Thursday, Red Sox left-hander Felix Doubront was pounded for seven runs (three earned) and seven hits in 2 2/3 innings, giving Sabathia a healthy lead in the early going.
Alfonso Soriano had a first-inning RBI double, Solarte tacked on a two-run double in the second inning to snap an 0-for-14 skid and Teixeira cleared the Green Monster in the third against Doubront, who also allowed run-scoring hits to Brian Roberts and Jacoby Ellsbury before being lifted.
"It was bad, man. I couldn't get my job done," Doubront said. "Probably loss of concentration, that's what happened. It was terrible."
Sabathia made his second start of the year against Boston, having pitched five splendid innings on April 11 before serving up two homers in a four-run sixth. Sabathia left this one with few regrets, holding the Red Sox to two runs and three hits.
"I just wanted to go out and have a good outing. That's what it's all about," Sabathia said. "I know we've been taxing the bullpen in the situation we've been in the last couple weeks. But it just felt good to go out and pitch good and get a win."
David Ortiz lifted a sacrifice fly and Jonny Gomes slugged an RBI double in the third inning against Sabathia, who walked three and struck out eight.
"CC is a guy that can get on some rolls and we've seen it in the past," Girardi said. "Obviously it couldn't have been real easy conditions to pitch in tonight, with the weather and the long innings."
Control was in short supply for both teams in a game that featured four wild pitches, 18 walks and two hit batsmen with slick baseballs; a good window, perhaps, into why Pineda felt the need to slather pine tar on under similar conditions a night earlier.
"It's something that obviously if they feel it needs to be addressed, they'll address it," Girardi said.
New York pulled further ahead with five runs in the seventh off Craig Breslow, sending 11 men to the plate in the frame. Solarte rapped a two-run single, Ellsbury cracked a ground-rule double and Jeter lined a two-run single to account for the damage.
The Red Sox trimmed the deficit in the seventh with three unearned runs off of right-hander Shane Greene, who recorded just one out in a wild Major League debut, that featured three walks and a strikeout.
Girardi called upon Adam Warren and David Robertson -- making his first appearance since being activated from the disabled list -- to nail down the final eight outs of the evening.
After a dizzying eight-day jaunt to St. Petersburg and Boston that has altered the look of their roster in several ways, Jeter said that it was good to see the Yankees consistently turn the page when needed.
"You don't have a choice. You play every single day," Jeter said. "There's going to be things that happen throughout the course of the year. ... You have to have a short memory when you're playing this game."
Bryan Hoch is a reporter for MLB.com. Follow him on Twitter @bryanhoch and read his MLBlog, Bombers Beat. This story was not subject to the approval of Major League Baseball or its clubs.