Doubront roughed up, defense commits five errors
Offense unable to get on track as Red Sox drop series to Yankees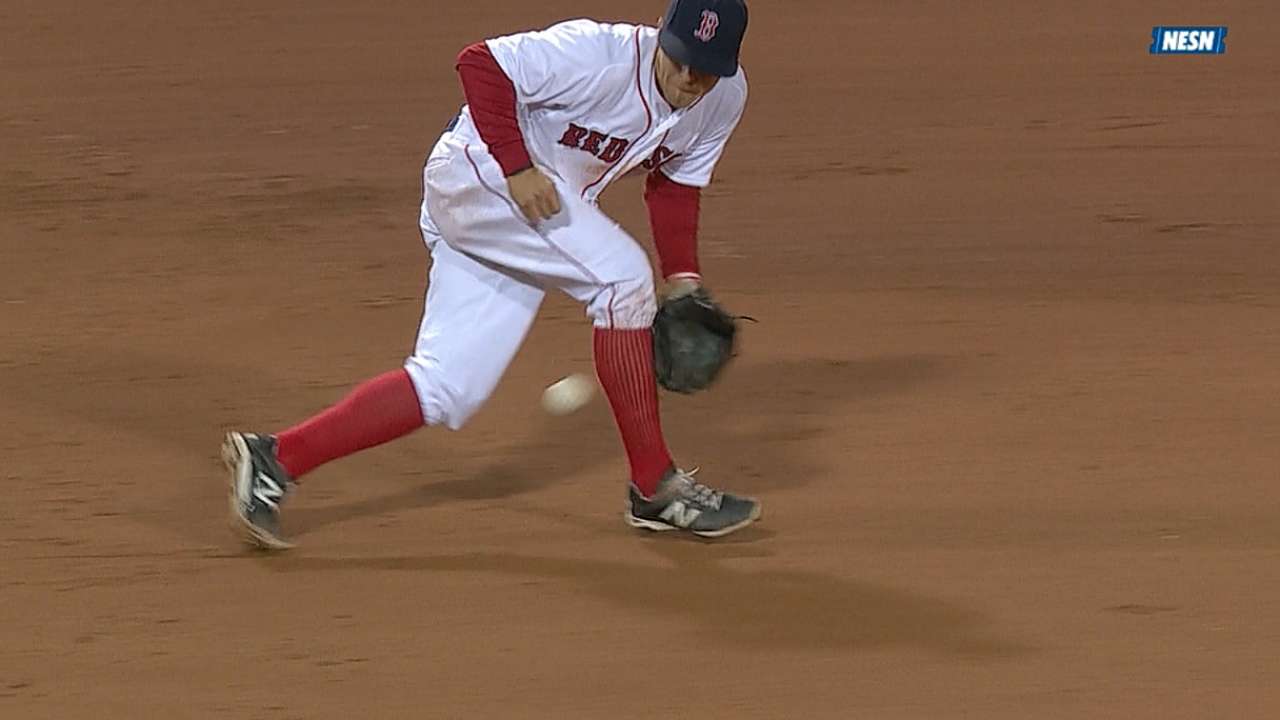 BOSTON -- After a night filled with bobbles had mercifully ended at Fenway Park, the Red Sox just hoped that their early-season funk had reached its nadir.
In a 14-5 loss to the Yankees in the rubber match of a three-game series, Boston committed five errors in a game for the first time since April 28, 2001.
The fielding gaffes were the lowlight in a performance that also included three wild pitches, a passed ball and three stolen bases against.
"That's as bad as we can play," said catcher David Ross. "That's a terrible game to be a part of. That's not big league baseball."
Through 23 games, the Red Sox are 10-13 as they head to Toronto for a three-game series.
"The sooner we move past this one, the better," said manager John Farrell. "We need to execute at a higher level, without question. Defensively, it was a sloppy night. That's the one area you do have some control over, and yet we didn't put forth a very good defensive effort here tonight."
Shane Victorino made his debut in this one, and Will Middlebrooks returns from the disabled list for Friday's game, so perhaps a healthy starting nine will make a difference.
But the Red Sox know they need to pitch better.
"It all starts with starting pitching," said Ross. "Starting pitching is the key. You've got to have guys that are out there throwing strikes, getting ahead of hitters, putting the other team on their heels."
Felix Doubront had a disappointing performance, throwing a whopping 73 pitches over 2 2/3 innings. Of the seven runs he allowed, three were earned.
"It was bad, man. I couldn't get my job done," Doubront said. "Probably [a] loss of concentration, that's what happened. It was terrible."
Brock Holt, Dustin Pedroia, Doubront, Xander Bogaerts and Jackie Bradley Jr. made the errors.
"We're going to get better," said Bogaerts. "Every team goes through slumps hitting, and goes through slumps on defense. It's part of the game. We're definitely going to get better. That's not the kind of team that we are."
The Yankees have taken five of the first seven rivalry matchups this season. The teams will meet next on June 27, for the start of a three-game series in New York.
"They're the team to beat, bottom line," said Yankees shortstop Derek Jeter. "They won the championship, they're the defending champions, so they're the team to beat. We've played them well the first seven games. We play them 12 [more] times. It's good that we've played them well now, but we'll see them again, and I'm sure they'll be ready for us."
From the start, the Red Sox didn't look crisp on Thursday. With two outs in the first, Carlos Beltran reached on an error by Bogaerts, his third of the season. Alfonso Soriano capitalized by belting a double to right-center to make it 1-0.
Things worsened in the second as Brett Gardner led off with a walk. Brian Roberts followed with a ground ball to third, in which Holt threw to second for the force, only to have Pedroia drop it on the transfer. Knowing the way strict way transfer calls are being interpreted this season, Farrell opted not to challenge it.
Yangervis Solarte stepped up next and hit a double down the third-base line that took a bad bounce deep into the left-field corner, allowing two runs to score. The night was getting ugly fast for Boston. It appeared Beltran had been hit to load the bases, but an even less ideal scenario developed when Yankees manager Joe Girardi asked for a review.
The umpires took a look at it and overturned the call to a wild pitch that scored a run to make it 4-0.
It was the second non-competitive start Doubront has made this season. He lasted just 2 2/3 innings against the Rangers on April 8.
"It all starts and ends with command," Ross said. "We didn't have a good secondary pitch today. You've got to give them some credit. The ball was up early on, consistently up in the zone. We couldn't get the breaking pitch over. Changeup was non-existent. That's a bad remedy for pitching when you're talking about a lineup as deep as [New York]."
Instead of settling down, Doubront allowed the Yankees to tack on. Mark Teixeira led off the third with a homer. With one out, Doubront made a fielding error on a slow roller by Gardner, who would steal second and third. Roberts laced a single up the middle and Gardner scored. Jacoby Ellsbury roped an RBI single to left-center that Bradley bobbled for yet another error, making it a 7-0 game.
"You can make a case that on a given night, we've either pitched well and not swung the bat, or we've failed to execute defensively that has contributed to some of the outcomes. The one overriding thing is that, overall, we can perform and execute at a higher level," Farrell said.
The Boston bats came to life in the third against Yankees lefty CC Sabathia. Victorino, playing his first game of the season, drilled a double into the corner in left to put runners at second and third with nobody out. David Ortiz got the Red Sox on the board with a sacrifice fly, and Jonny Games made it 7-2 with an RBI double to left.
By the end of the night, Farrell had little choice but to use position player Mike Carp as a reliever. In his first Major League pitching appearance, Carp walked five batters in the ninth, yet only allowed one run and no hits.
"If you look at the big picture, this is one night," said Ross. "We have to get better. Obviously that's not big league baseball. That's not Red Sox baseball. We don't intend to play that way. When you hold on to games like this, you're in for a long season. Let's scrap that one, let's flush that one down the toilet."
Ian Browne is a reporter for MLB.com. Read his blog, Brownie Points, and follow him on Twitter @IanMBrowne. This story was not subject to the approval of Major League Baseball or its clubs.