Bats cool, 'pen falters after Hutchison's solid start
Right-hander ties career high with nine strikeouts, but Orioles rally late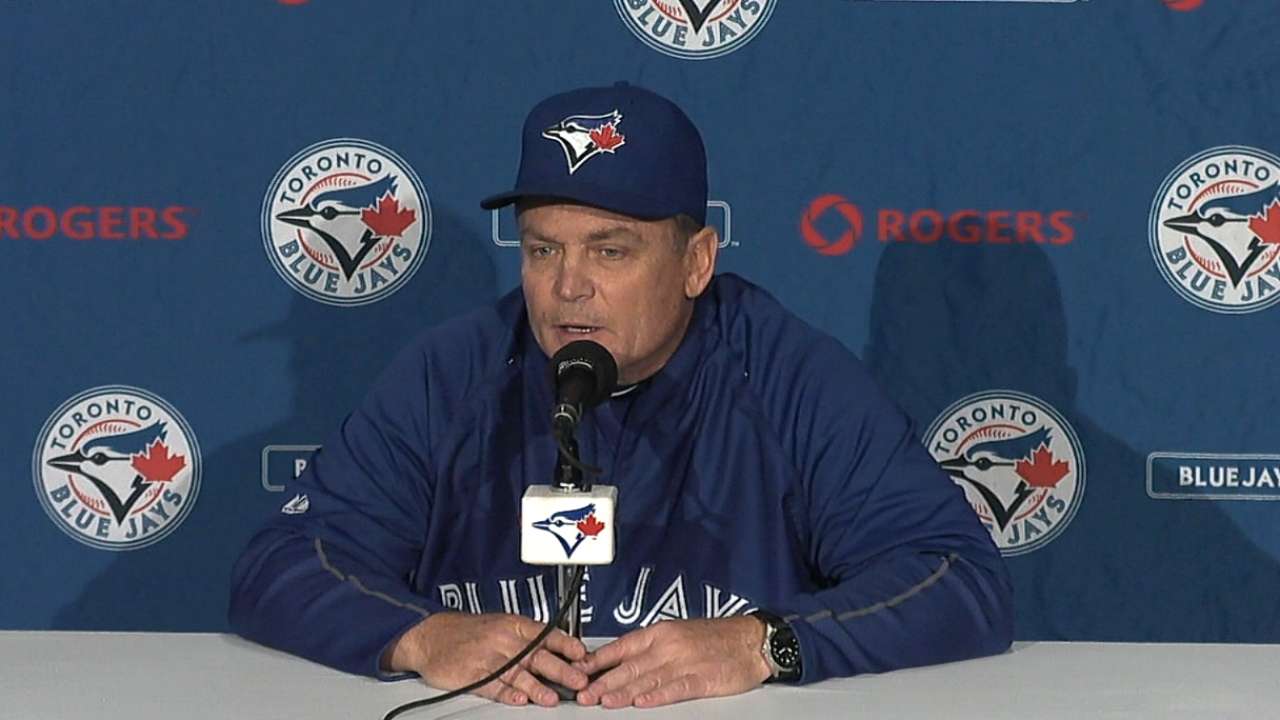 TORONTO -- It has been a week to forget for the Blue Jays' bullpen.
Toronto's relievers have long been considered a major strength of the organization, but the results over the past seven games certainly have not dictated that. The relievers have hit a bit of a rough patch, and the end result has been three very difficult losses.
The Blue Jays saw those struggles continue on Thursday night as right-hander Neil Wagner and left-hander Brett Cecil combined to allow five runs during the seventh inning en route to an 11-4 loss vs. the Orioles in front of 16,283 fans at Rogers Centre.
"There are going to be some blips every now and then," Blue Jays manager John Gibbons said after the game. "I still think our bullpen stacks up as good as anybody out there. We have some key go-to guys. ... No, I'm not really worried about the bullpen."
Toronto's bullpen was arguably one of the best in baseball in 2013 despite being consistently overworked because of the club's mediocre starting pitching. Similar results were expected this year, and the bullpen did get off to a very impressive start but has since taken a series of blows.
In their past seven games, Blue Jays relievers have combined to throw 23 2/3 innings while allowing 22 runs on 23 hits and 24 walks. All three of Toronto's blown saves occurred during that span.
Unfortunately for Toronto, there has been a different culprit almost every time out. Steve Delabar, Sergio Santos and J.A. Happ combined to set a franchise record with eight walks during one inning on April 17. Left-hander Aaron Loup walked the bases loaded on Sunday and then allowed a bases-clearing double to Cleveland's David Murphy. Right-hander Todd Redmond surrendered a grand slam to Baltimore's Nelson Cruz on Wednesday.
On Thursday it was Cecil's turn to take a bit of a tumble. He entered the game having not allowed a run in 8 2/3 innings but did not have his best stuff against the Orioles. Before it was all said and done he was charged with four runs on two hits and two walks without recording a single out.
Toronto's starters have not been pitching deep into games on a regular basis, but it is too early in the year to use fatigue as a reason behind the recent struggles. One line of thought going into the year, though, was that it would be difficult for the relievers to have a repeat performance after throwing as often as they did a year ago.
"I believe in that, over time you look at it, a lot of times it's year to year," Gibbons said. "Guys that have good years and they're used a lot one year, it's usually somewhat of an off year the next year, and then they bounce back. That's kind of just generally the way baseball goes.
"It's mainly a lot of one-inning guys nowadays, specialists, so they get used a lot, but that's just the way it goes. You have to be durable down there, and you have to take your lumps down there sometimes. It can definitely catch up with you, but it's too early in the season to think that has anything to do with it."
Toronto had a 3-2 lead going into the seventh when Gibbons called upon Wagner, and the inning started off well enough on a line drive out by Jonathan Schoop, but things then quickly went south.
Wagner surrendered a double to right field by David Lough and was pulled from the game. Cecil entered and walked the first two batters he faced before allowing a two-run single to Chris Davis. Adam Jones then followed with an RBI double before Gibbons elected to make another move in advance of what became a 7-3 deficit.
"He's kind of dominated me lately," Davis said of Cecil. "In that situation right there when they walk [Nelson Cruz] to load the bases because they want the left-on-left matchup, the competitor in you comes out. He made a good pitch to start off, breaking ball, and then threw two fastballs, and I was able to get enough of the last one to finagle it through the shift. That's why we play the game."
The performance by the bullpen did not get much better in the eighth. Esmil Rogers allowed a pair of two-run singles as the Orioles added four more runs to their tally. Rogers was charged with three of those runs on five hits over the course of 1 2/3 innings.
The late-inning problems overshadowed a strong start by right-hander Drew Hutchison, who allowed just two runs over his six innings. Hutchison was pitching with an edge early, and he consistently hit 94 mph on the radar gun during the first inning.
Baltimore put runners in scoring position during the second, third and fourth innings but Hutchison was able to pitch his way out of difficulty each time. He did allow two runs in the fifth but was able to make it through six innings while tying a career high with nine strikeouts. It was just the 10th time in 22 games this season a Toronto starter pitched at least six innings, but the lead proved to be short lived.
"Obviously I want to go as deep as I can into games and would like to get into the seventh and the eighth," Hutchison said. "Tonight I was making good pitches and maybe the only thing I could have been a little bit more economical with my pitches. But I was having success in attacking hitters, so some nights you're just going to be a little bit higher, and all I can do is go out there and compete until I'm out of the game."
Gregor Chisholm is a reporter for MLB.com. Read his blog, North of the Border, and follow him on Twitter @gregorMLB. This story was not subject to the approval of Major League Baseball or its clubs.