Jackson solid, but bats come up short in finale
Right-hander settles down after rocky two innings to spin quality start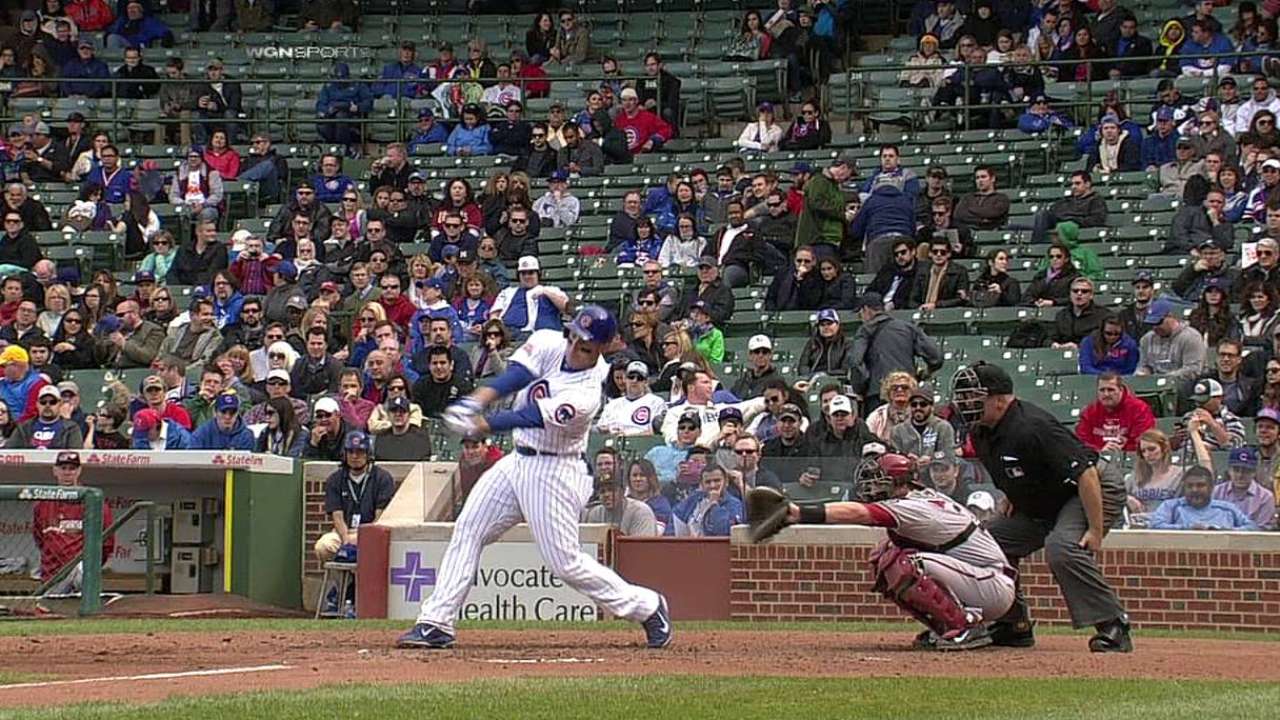 CHICAGO -- Arizona rookie pitcher Mike Bolsinger grew up not too far from Wrigley Field and looked right at home on Thursday, which wasn't good for the Cubs.
Bolsinger hit an RBI single and scattered four hits over 6 2/3 innings and Miguel Montero drove in two runs to lead the D-backs to a 5-2 victory over the Cubs, and split the four-game series.
"We didn't do a whole lot against him," Cubs manager Rick Renteria said of facing the rookie right-hander, who picked up his first Major League win. "It's not like they didn't see him well -- we just didn't do anything."
Renteria said the first three weeks of the season have been "intense" because of the close games, and complimented his players for battling every day.
"At the end of the day, what do you need? Victories. We all know that," Renteria said. "There's not one guy in that room who doesn't realize that. They're professionals and every single one is trying to perform and give us the best result they can possibly get.
"We're inching forward and we're going to continue to stay on track and we're going to continue to stay positive and we're going to continue to do the things we need to do to hopefully move us out of a negative situation and keep it positive," he said. "I think that's the only way we can overcome anything, quite frankly. It's the only way."
It didn't help on Thursday that the D-backs struck early against starter Edwin Jackson, who took the loss despite posting his first quality start of the season. Cubs starting pitchers now have gone at least seven innings in the last four games for the first time since last June 15-18.
Arizona's Gerardo Parra singled to lead off the game and scored two outs later on Montero's double.
"Obviously, we know Edwin has a great arm," Montero said. "I know for a fact. I caught him. I know he's got a little bit of command issues, so I'm just looking to get in a good hitter's count and fortunately I was in a good hitter's count a couple of times. ... He's a guy that can come and dominate it and a guy that can come and pitch around too much with that kind of arm."
The Cubs answered in the first when Emilio Bonifacio doubled to lead off, although that was challenged as Arizona manager Kirk Gibson felt second baseman Aaron Hill made the tag in time. After a 4 minute, 5 second review, the call was upheld. Luis Valbuena walked, and Anthony Rizzo then blooped a ball to left that Roger Kieschnick misplayed for an error. Bonifacio scored to tie the game.
Bolsinger, who went to the Blackhawks game Wednesday night, struck out seven and admitted he was a little pumped.
"I did have a little bit more nerves being closer to home," he said. "Every once in a while, I had a tendency to look over and see my family and friends over there cheering me on. It's definitely good to have everyone there. Some of those people haven't seen me since I was probably waist-high on them. It was good to see them, too."
He got more support in the second when Cliff Pennington walked and scored on Tony Campana's double. Campana reached third on the play as left fielder Ryan Kalish overran the ball for an error. Bolsinger helped himself with an RBI single to go ahead, 3-1.
Arizona added two more runs in the eighth off Jose Veras, and Rizzo made it 5-2 with a solo homer with one out in the Cubs eighth off Oliver Perez for his first blast off a lefty this season.
Despite retiring 17 of the last 18 batters he faced, Jackson said he didn't have good stuff.
"After you give up a few early runs, the only thing in the back of your mind is, 'Keep the game close, keep battling and let the team know you're going to keep fighting,'" Jackson said. "Hopefully, that picks them up and makes them want to fight with you."
Other positives that Renteria noted was that Veras was more in control. The right-hander was removed from his role as the closer, but has volunteered to pitch at any time.
"I think as long as you're communicating with them, they have the sense that they know what we're trying to do, they know where we're trying to go, and [they know] 'I'm not being left out to just rot,'" Renteria said. "He's working very hard to try to get back on track."
So are the Cubs.
"It's tough," shortstop Starlin Castro said. "We lose a lot of games, close games. It hurts sometimes when you lose games that you were winning. It's a little tough. We have to keep working hard and stay positive."
Carrie Muskat is a reporter for MLB.com. She writes a blog, Muskat Ramblings, and you can follow her on Twitter @CarrieMuskat. This story was not subject to the approval of Major League Baseball or its clubs.