Miggy's hot bat backs Scherzer over White Sox
Reigning MVP, Cy Young lead as Tigers earn series split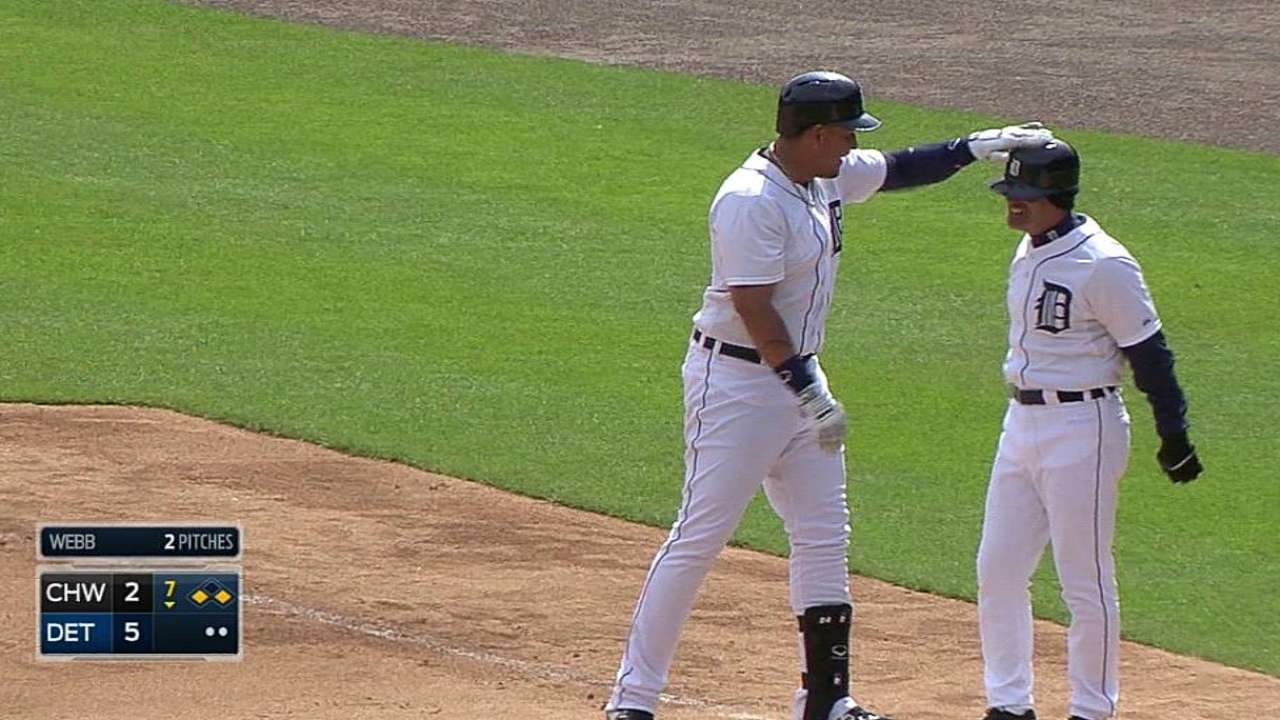 DETROIT -- Miguel Cabrera had seen enough fly balls falling at the warning track at Comerica Park for his liking. He stepped to the plate against the White Sox on Thursday with a simple approach, to take what the White Sox defense gave him.
"Believe in my swing, believe in my hands and find a hole," Cabrera said. "Find the pitch and find the hole."
No matter where the White Sox lined up their infielders, he found the hole and poked a ball through it. For one day, at least, he left the extra bases to Rajai Davis, who homered and doubled for two more runs.
It was a reversal of roles, but it helped the Tigers wrap up their homestand with a familiar result against the White Sox. They needed a few rounds of scoring to wrap up a 7-4 win, despite 10 strikeouts over six quality innings from Max Scherzer, but they salvaged a four-game series split.
It wasn't necessarily pretty, certainly not once the Tigers' bullpen got involved, but it was effective. In Cabrera's case, it might well end up getting him back to his more familiar form. The Tigers' fortunes, after a 5-4 homestand, could follow.
"It's always good when your reigning MVP gets rolling," manager Brad Ausmus said. "He got a couple hits with some big RBIs, so we hope to keep Miggy rolling as we go into this road trip."
Considering the three-time defending AL batting champion ended Monday with a .206 average, it's a roll. He had finally swung himself out of his pull tendency and two-handed follow-through that had seemingly plagued him, but he was struggling to get the results. The fly balls to right field and right-center weren't carrying far enough for this park in April, and the approach wasn't getting him much of anything better to hit.
He went 6-for-13 over the three games after that, including a pair of three-RBI games. Three hits came in a Tuesday night barrage that included one of his usual opposite-field home runs and a double deep into the gap in right-center.
Thursday, obviously, was different. He hit four balls on the ground to different parts of the field. Two of them got through a defense that played second baseman Gordon Beckham close to the middle of the diamond and shaded rangy shortstop Alexei Ramirez closer toward the hole.
If he were going to hit the ball on the ground, they figured, they'd take their chances if he didn't pull it. He took advantage in two situations when the Tigers needed him to most.
It took a diving stop from rookie first baseman Jose Abreu to keep Cabrera from a poking a ball through the right side his first time up, getting starter Jose Quintana through the first inning unscathed. Cabrera came back to the plate in the third with a runner in scoring position -- after an Ian Kinsler two-out single and a wild pitch -- and tried it again.
With Beckham closer to the bag, Quintana tried using fastballs to speed up Cabrera's bat and get a ball to the left side. Instead, Cabrera went opposite field with a breaking ball and sent a ground ball through the hole and into right field, allowing Kinsler to score without much trouble.
"In that moment, I think I want to throw something soft, because the count is 2-1, but he [hit] the ball in the space between first and second," Quintana said. "I think it was a good pitch in this moment, but he can hit."
It was the second two-out rally in as many innings for the Tigers, and it set a theme for the day. Detroit went 6-for-9 with runners in scoring position, four of those hits in two-out situations, and scored six two-out tallies.
That included Cabrera's next hit. He greeted White Sox relief prospect Daniel Webb with a grounder through the middle, just out of Ramirez's reach, with the bases loaded in the sixth.
"We had a good approach with two outs, and we put the ball in play," Cabrera said.
The way the game unfolded, they needed pretty much all of them. Though Scherzer (2-1) worked ahead in counts to overpower White Sox hitters with his fastball, setting up his 20th game with double-digit strikeouts, he used up pitches in the process. Foul balls kept White Sox hitters alive until he needed a third strikeout of Beckham to get through the sixth inning with 110 pitches.
"The White Sox are always a challenging team," Scherzer said. "They're always going to compete against me and grind out at-bats against me. I felt like they did that today. They were able to put runners on base, but I did a good job of pitching with runners on base, and I was able to rack up strikeouts when I needed to."
Though Al Alburquerque fired sliders for back-to-back strikeouts in a shutout seventh, three straight hits off Joba Chamberlain fueled an eighth-inning rally that brought the potential tying run to third base.
But Chamberlain struck out Tyler Flowers to end the threat, then Detroit's offense restored the three-run advantage for closer Joe Nathan. Davis doubled in one of the runs with a drive off the left-field fence, the same fence he cleared for a solo homer in the fifth.
Davis moved to third among Tigers regulars in slugging percentage at .459. Only Austin Jackson (.541), who tripled and scored in the second inning, and Victor Martinez (.464) have slugged better.
"It looks like he's come back around," Ausmus said. "He started off hot, cooled just a little bit, and now he seems to be in a groove again. We're hoping we can just keep him there."
Cabrera will probably get there and beyond soon enough.
Jason Beck is a reporter for MLB.com. Read Beck's Blog and follow him on Twitter @beckjason. This story was not subject to the approval of Major League Baseball or its clubs.