Quintana solid, but drops finale in Detroit
Dunn homers, Viciedo stays hot as Sox end trip on down note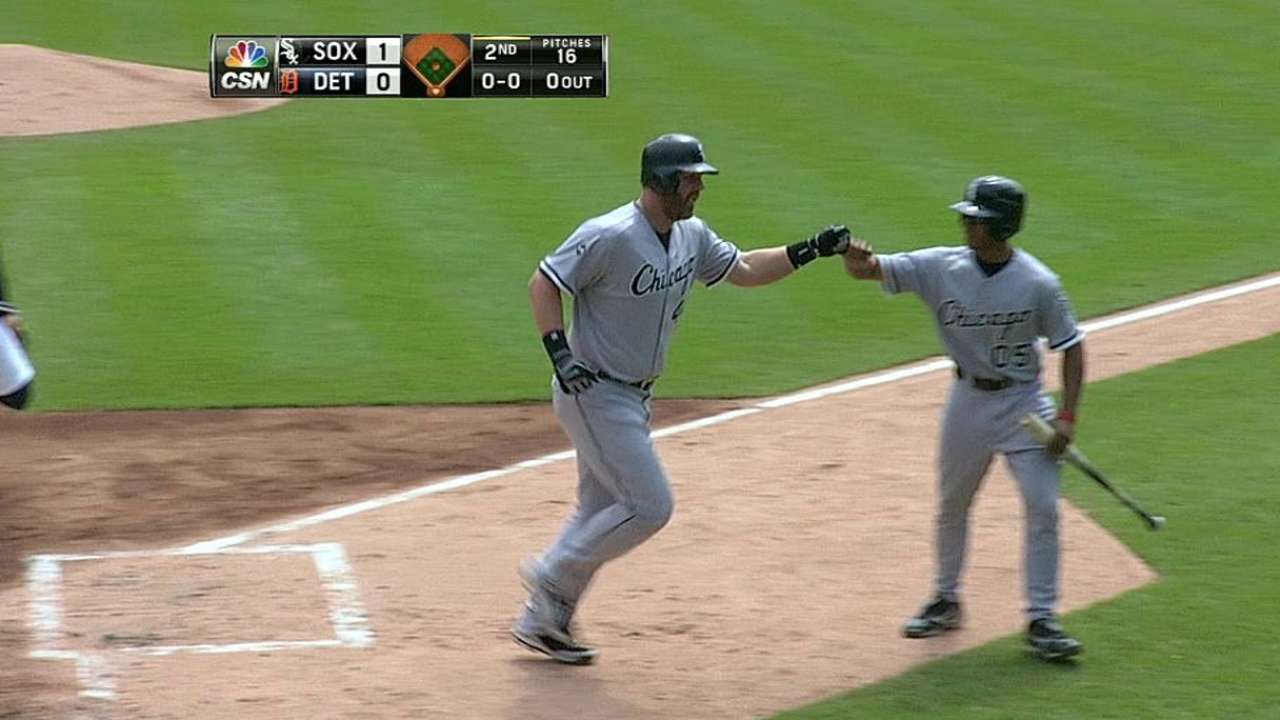 DETROIT -- An easy way for the White Sox to judge their seven-game road trip to Texas and Detroit would be to label it a qualified success.
Yes, they posted a subpar 3-4 record against the Rangers and Tigers (11-8), a run that ended Thursday afternoon with 7-4 loss at Comerica Park. But they did so without Chris Sale taking the mound.
They did so with leadoff man Adam Eaton out the etire four-game set against the Tigers and Conor Gillaspie missing the final three contests. They did so with Felipe Paulino battling through soreness in his rotator cuff during a rough start on Friday in Arlington.
Their replacements certainly are more than capable, but they still aren't the everyday starters. So saying this run was better than average wouldn't be out of the question.
But the White Sox aren't about breaking even and aren't about moral victories. It doesn't matter that this team is taking part in its much-talked about reshaping process. They still want to contend in 2014.
Losing four of seven games isn't exactly unacceptable. It's also far from ideal.
"Obviously your goal is to win every series, and we didn't do that," said White Sox designated hitter Adam Dunn, who hit his 445th career homer and doubled in Thursday's setback. "So any time you come home with a losing record, I don't think that's what your goal is.
"I thought we played pretty good on the road. We had chances offensively to break the game open or get a big hit and score some runs early. We just haven't been able to do it."
There were chances late Thursday for the White Sox against Detroit setup man Joba Chamberlain, and there were chances early against Max Scherzer (2-1), the reigning American League Cy Young winner. In fact, the White Sox put two runners on base in the second, fourth and fifth while Scherzer was on the mound over his six innings. They only could manage two runs.
One of those runs was of the gift variety, when Dayan Viciedo's routine fly ball to open the sixth was lost by right fielder Torii Hunter upon contact. By the time he found the ball, Hunter could make only a last-second dive. He couldn't come up with it, leaving Viciedo with a triple.
Viciedo, who scored on Alexei Ramirez's sacrifice fly, finished a home run short of the cycle and was batting an American League-best .377 at the contest's end..
Scherzer struck out 10, including Gordon Beckham three times in his first game of the 2014 campaign, but he also threw 110 pitches.
"Q [Jose Quintana] pitched a good ballgame, he really did. He deserved better," said White Sox manager Robin Ventura. "But Max got us when he needed to. We had opportunities and they took advantage of theirs."
"He's a Cy Young winner," said Dunn of Scherzer. "He's another guy with great stuff and the same story against [Justin] Verlander: when you get opportunities early, you've got to capitalize on them. If not, they don't get any easier. That's kind of what happened again today."
Quintana (1-2) yielded single runs in the second, third and fifth, which was enough to hand the southpaw loss No. 2. All three runs scored after two were out and nobody was on base.
"It's a pretty good lineup," said Quintana, who allowed seven hits over six innings and 98 pitches, didn't walk a batter and struck out three. "I wanted to throw less pitches because I wanted to go long in the game, but the only thing with me was [three] runs after two outs."
"We had a good approach with two outs," Detroit's Miguel Cabrera said. "And we put the ball in play."
In the second for Detroit, it was an Austin Jackson triple and a Nick Castellanos single. In the third, it was Ian Kinsler's single, a wild pitch and Cabrera's run-scoring single to right. And it was Rajai Davis who connected for a solo homer in the fifth.
Detroit added two in the seventh off of the relief tandem of Maikel Cleto and Daniel Webb, with Cabrera delivering a two-out single to center with the bases loaded. The Tigers scored two more in the eighth to answer a comeback by the White Sox (11-12) in the top of the frame against Chamberlain.
Dunn doubled, Viciedo singled and Ramirez singled to bring home one, and Alejandro De Aza's stolen base with runners on first and third, coupled with Detroit catcher Bryan Holaday's bad throw into center, scored Viciedo with the second tally. Close, but not quite good enough as Joe Nathan (fourth save) finished off the White Sox in the ninth. He was aided on the final out by a batter interference call on Jose Abreu, who struck out as Marcus Semien tried to steal second. Semien was ruled out on the call to end the game.
That "close but not quite good enough" description would pretty much fit the White Sox journey away from U.S. Cellular Field.
"Coming through here, we're pretty banged up and with [Detroit], it still is pretty good," Ventura said. "Hopefully we can get healthy and go from there."
"The White Sox are always a challenging team. They're always going to compete against me and grind out at-bats against me," Scherzer said. "I felt like they did that today. They were able to put runners on base, but I did a good job of pitching with runners on base, and I was able to rack up strikeouts when I needed."
Scott Merkin is a reporter for MLB.com. Read his blog, Merk's Works, and follow him on Twitter @scottmerkin. This story was not subject to the approval of Major League Baseball or its clubs.