Bats finally break through behind solid Colon
C. Young's blast, Dice-K's first career save forge series win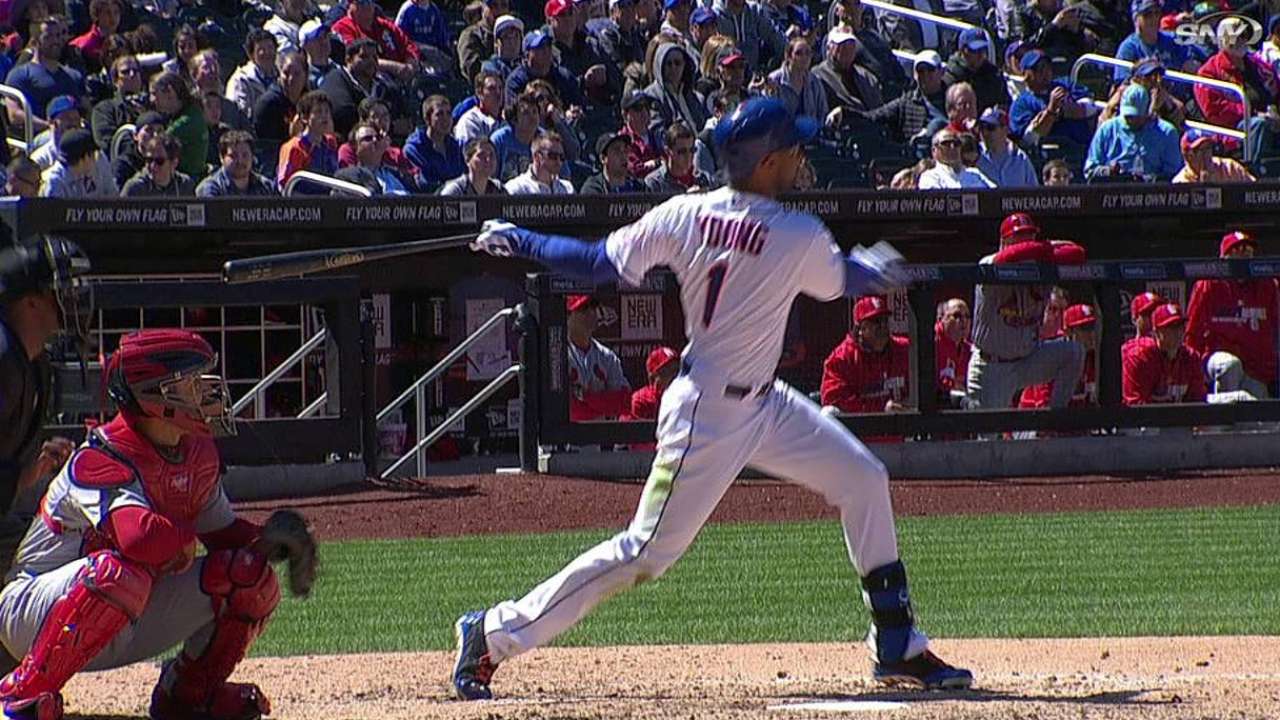 NEW YORK -- Now 22 games into the season, the Mets are still not scoring in bunches. They are threatening to hit as anemically as any club this century. They are on pace to set the league's all-time strikeout record. They are regularly relying on a pair of 40-year-old players. Their three most feared sluggers have not come close to meeting preseason expectations. They still have no real idea what's going on at the back end of their bullpen.
And yet …
"Realistically, you've got a winning record and you're in the mix," catcher Anthony Recker said after the Mets beat the Cardinals, 4-1, on Thursday to take three of four from the National League's defending champions. "I want to be better than that, but I wouldn't say that I'm disappointed right now either. I think we're playing well right now. I like where we're at."
Or, as Chris Young put it, "Winning is winning." And right now the Mets are winning with regularity, moving multiple games above .500 for the first time in over a year.
Somehow, manager Terry Collins' patchwork formula is working. Thursday's equation included a sublime start from 40-year-old Bartolo Colon, a home run from the previously homerless slugger Young and Daisuke Matsuzaka's first career save.
Matsuzaka, an eight-year veteran, did not even know he would be closing until the eighth. That's how unscripted this whole operation is.
And yet …
"Ever since Spring Training, we've been determined to win a lot of ballgames," Young said. "We believe in ourselves. We know we have the talent. If we just bring it all together … I think we can continue to keep this thing rolling."
Unlike most of his teammates, Colon rolled from the start on Thursday, keeping the Cardinals completely off Citi Field's basepaths until the fourth. He allowed his only run on Tony Cruz's RBI double in the fifth inning, finishing with eight strikeouts in seven innings. Outside of a nine-run debacle in Anaheim two weekends ago, Colon has posted a 2.33 ERA with 23 strikeouts and one walk in four starts.
His teammates began joining him on the highlight reel in the fifth, shortly after their collective OPS fell below .600 -- a mark that no team has failed to eclipse in 42 years. It was Young who finally broke the spell, blasting a no-doubt homer to the second deck in right field -- two days after Matt Holliday robbed what would have been his first long ball of the season.
"I didn't eat my Wheaties that day," Young said. "Today, I ate them."
Wheaties flowed freely for the Mets from there. In the sixth, Daniel Murphy doubled home the go-ahead run, taking advantage of starting pitcher Lance Lynn's throwing error. In the seventh, Curtis Granderson singled home some insurance, before Eric Young Jr. tripled and Murphy knocked Lynn out of the game with an RBI single. That gave the Mets a three-run lead and, with regular closer Kyle Farnsworth unavailable, prompted Collins to surprise Matsuzaka with a save opportunity.
Not since his days in Japan had Dice-K earned a save. Before last weekend, he had pitched in relief only once in America.
And yet …
"He did well," Collins said of Matsuzaka, who breezed through a perfect ninth and may receive more save chances in the future. "I just wanted him to get used to it, because I don't know what's going to happen."
No one knows what will unfold over the next five months in Flushing. When asked if he is surprised that the Mets are two games over .500 in the final week of April, Murphy preached that the Mets expected to be here. His boss's boss, general manager Sandy Alderson, was the one who infamously predicted 90 wins for the Mets -- later clarifying it as a goal, not an expectation.
Yet the truth remains that few outside of Queens thought the Mets could play so well, even in a small sample. And maybe they can't. There are still 140 games remaining. The Mets are not hitting with even a modicum of consistency. They are relying on relievers Scott Rice and Carlos Torres to a dangerous extent. They are leaning on a group of players so old that Recker joked the Mets are "back in 1999."
And yet …
"I'd say we're looking good as a team right now," Young said. "Guys are going to turn things around. Some guys are going to be hot and some guys are going to be cold. If we all get hot at the same time, it's going to be real dangerous."
Anthony DiComo is a reporter for MLB.com. Follow him on Twitter @AnthonyDicomo. This story was not subject to the approval of Major League Baseball or its clubs.