Twins hang on in slugfest to capture rubber match
Hicks, Suzuki drive in three; Fuld doubles twice against former team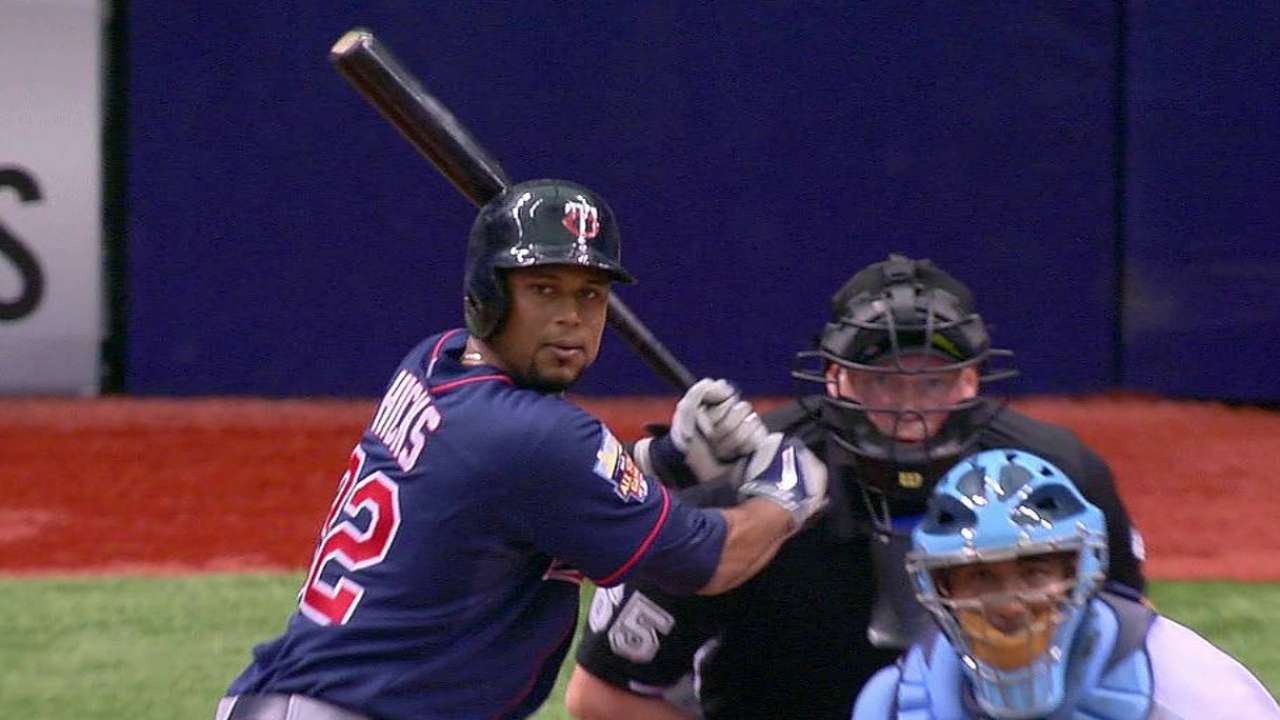 ST. PETERSBURG -- Tropicana Field has served as an indoor house of horrors for the Twins in recent years, but they were finally able to put that behind them and capture their first series win there since 2006.
Minnesota sealed the series win on Thursday, as the offense erupted for nine runs, including three RBIs from both Kurt Suzuki and Aaron Hicks, to help lead the Twins to a 9-7 victory over the Rays in the series finale.
It marked the fifth time in 21 games the Twins have scored at least nine runs after reaching that mark just seven times all of last year. It also put them back above .500 at 11-10 after going 3-3 on their road trip against the Royals and Rays.
"In this ballpark you never feel safe," Twins manager Ron Gardenhire said. "The way they swing the bat and the way the ball bounces around, you just never feel safe. But we basically threw everything at them that we had. The guys came out and scored some runs and we were able to hold on."
The Twins struck early against left-hander Erik Bedard, scoring three times in the first inning after Brian Dozier, Joe Mauer and Josmil Pinto all walked to load the bases with one out. Suzuki came through with a two-run single to left before Sam Fuld added an RBI double to right.
Minnesota added another run in the second on an RBI single from Trevor Plouffe to score Dozier, who led off with a walk before Mauer singled him to second.
"We knew coming in that he hadn't been on the mound all that much," Dozier said about Bedard, who was making just his second start of the year. "He's always pumped the zone pretty good, but he couldn't throw his fastball for a strike early. We've been drawing a lot of walks, and not just ones of four straight pitches. So we're just putting together good at-bats."
The Rays made it a one-run game with a three-run second inning against right-hander Ricky Nolasco, but the Twins answered with a four-run fifth inning keyed by a three-run blast from Hicks.
Bedard lasted just four innings, so the Rays went to reliever Heath Bell for the fifth, but the right-hander struggled. After Pinto was hit by a pitch and Suzuki singled, Fuld added his second RBI double of the game with nobody out. Hicks then followed with a three-run shot to right field for his first homer of the year.
"Put it this way: it didn't go exactly where I wanted," Bell said. "And it just hung and spun there, and he hit it pretty far. Hopefully that doesn't happen again."
Minnesota made it a six-run lead with another run against Bell in the sixth after Plouffe led off the inning with a double. Suzuki picked up his third RBI with a two-out infield single that deflected off of Bell.
The offense helped bail out Nolasco, who gave up six runs on 10 hits and two walks over six-plus innings. He picked up his second win and was hurt by some bad luck in his final inning, but he has a 6.67 ERA in five starts this season.
"I thought I did a decent job, but once again you look at the line, and it's a lot worse than it should be," Nolasco said. "It's unbelievable. But what can you do?"
The Rays scored three times against Nolasco in the second, as James Loney brought home a run with a double before David DeJesus connected on a two-run shot. But they didn't score again until the sixth on a one-out RBI single from Loney.
Tampa Bay made it interesting in the seventh, when Yunel Escobar singled on a pop fly to right field that glanced off Dozier's glove before Jose Molina reached on a ground-ball single that went off shortstop Pedro Florimon's glove.
Left-hander Caleb Thielbar came in and gave up a bunt single to Ben Zobrist to load the bases with nobody out. The Rays scored two runs on a pair of sacrifice flies from Desmond Jennings and Matt Joyce before Michael Tonkin came in to retire Evan Longoria on a popup to end the inning.
Jared Burton gave up a run in the eighth on a bloop RBI single to pinch-hitter Logan Forsythe before loading the bases with two outs. But he got of the jam and handed it over to closer Glen Perkins, who recorded his fifth save of the season with a scoreless ninth.
"It's good to win the series," Dozier said. "It's tough to do, especially against a good team like they are. We got ahead early and they made it close, but that's part of it. So going 3-3 on the road against two pretty good teams and a bunch of good arms -- I'll take it."
Rhett Bollinger is a reporter for MLB.com. Read his blog, Bollinger Beat, and follow him on Twitter @RhettBollinger. This story was not subject to the approval of Major League Baseball or its clubs.