Kluber's first CG completes series win over KC
Righty fans career-high 11 in one of best outings in Indians history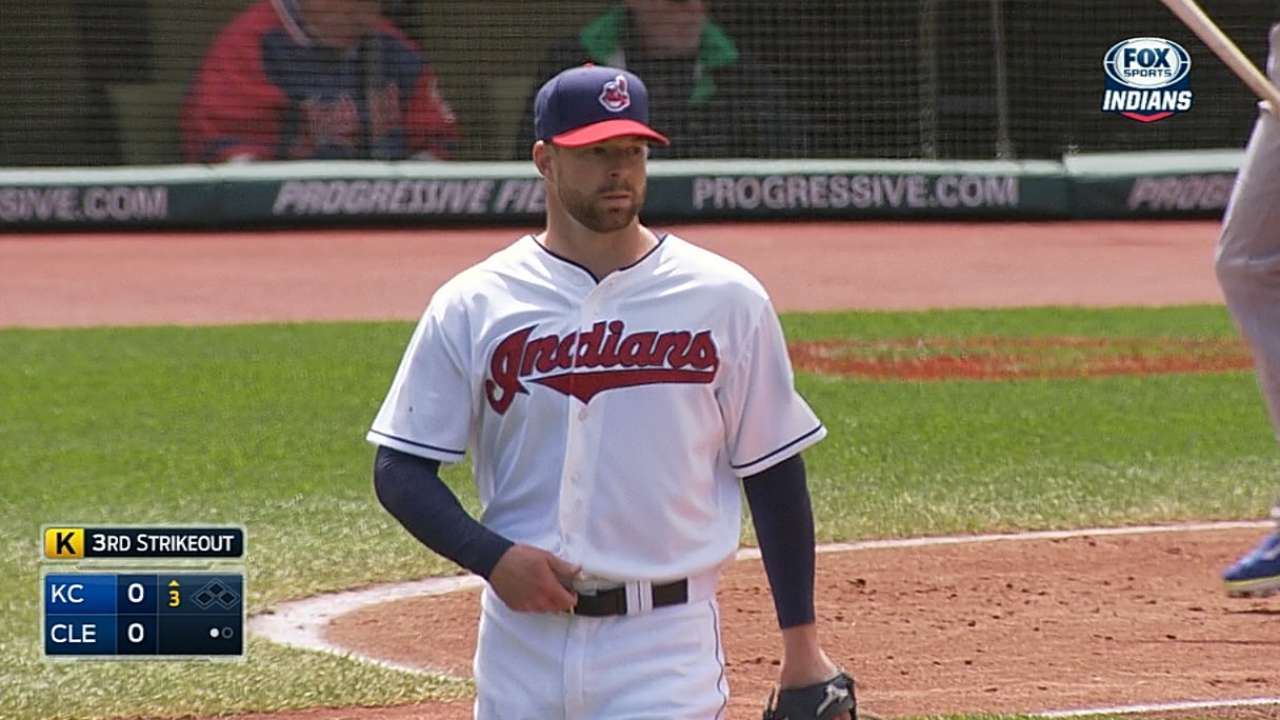 CLEVELAND -- Cody Allen headed out of the Indians' clubhouse, rolling a suitcase behind him. The setup man enjoyed his Thursday afternoon at the ballpark, a day that included sitting out in the bullpen and watching starter Corey Kluber cruise through his first career complete game.
Not once did a reliever even begin to get loose.
"We all should've stayed home," Allen quipped. "That was nice."
Kluber worked with robotic precision at Progressive Field, overpowering and confounding the Royals in a 5-1 victory that wrapped up a 4-3 homestand for the Tribe. The pitcher barely flinched throughout his performance, which went down statistically as one of the best outings in franchise history.
On the day, Kluber induced a dozen outs via ground ball, established a career best with 11 strikeouts, scattered four hits and issued no walks. The right-hander became the first Indians pitcher (and seventh since at least 1914) to have at least 11 strikeouts with no earned runs or walks in a complete game since Len Barker did so on May 15, 1981.
Indians fans might remember that outing by Barker. It was the last perfect game or no-hitter for the franchise.
"It was nice," Kluber said. "I really wasn't trying to make a bigger deal out of it than going out there and trying to get three more outs. Maybe that's why it worked out."
That quote sums up the pitcher's personality. Kluber is calm and composed to the point that a running joke in the clubhouse is that Kluber does not smile. As the 'Klubot' stood surrounded by media on Thursday, Indians starter Justin Masterson leaned back in his chair at a neighboring locker.
Between questions, Masterson chimed in.
"Did you smile after the game?" Masterson asked to chuckles from reporters.
Kluber allowed the slightest smirk.
"I did," Kluber said. "Only when I saw you."
The 27-year-old Kluber has quietly developed into one of the club's most reliable arms.
The Indians acquired him from the Padres in a three-team trade that involved Jake Westbrook prior to the July 31 Trade Deadline in 2010. Kluber had unsuccessful stints with the Tribe in '11 and '12 before developing a consistent two-seam sinker that played a big role for him last season. In 26 games a year ago, Kluber won 11 and posted a 3.85 ERA with 136 strikeouts in 147 1/3 innings.
Along the way, Kluber has won over manager Terry Francona.
"He's not the loudest guy in the clubhouse, but there's a fire there, man," Francona said. "He competes. One of the nice things about the way he pitches, he gives me a reason to brag about him, which I love. He wants to be really good and he goes at it the right way.
"For a kid that doesn't have a ton of time in the Major Leagues, he's a good pro."
Over his past four starts, Kluber has spun a 2.79 ERA with 29 strikeouts and just three walks in 29 innings. In three of his five outings this month, the right-hander has ended with zero walks on his line. Against the Royals, Kluber threw 74 percent of his pitches for strikes.
"He handcuffed us," Royals manager Ned Yost said. "He threw a great game. We couldn't do anything with him, nothing all day long."
Kluber benefited from a five-run outburst by Cleveland's offense in the fifth inning against Royals lefty Bruce Chen, who has tormented the Tribe in recent years. Chen breezed through the first four frames, but the Indians sent him to the showers before the end of the following inning.
Carlos Santana got the fifth-inning rally started with a leadoff double that snapped the third baseman's 0-for-16 drought. Michael Brantley then came through with an RBI single before Chen loaded the bases with no outs. David Murphy made Chen pay by slicing a pitch down the third-base line and into left field for a two-run single that put the Royals down, 3-0.
Mike Aviles kept the line moving with a sacrifice bunt that put two runners in scoring position for Tribe shortstop Asdrubal Cabrera. He followed with a two-run double to left field that pushed Cleveland to a 5-0 lead and ended Chen's afternoon.
"He's going to test your discipline," Murphy said of Chen. "He's going to get you on your front foot, and he's going to get you to chase the soft stuff and put balls in play, weak ground balls, weak fly balls. He was doing that early. It was great that we finally got to him."
After a few questions, Murphy steered the conversation in another direction.
"The story of the day is Corey Kluber," Murphy said. "What a tremendous job."
Kansas City's lone breakthrough against the righty came in the seventh inning, when Omar Infante singled to left with two outs. Mike Moustakas followed with a grounder to first baseman Nick Swisher, who mishandled the ball for an error that allowed Infante to score on the play. It marked the Tribe's American League-leading 22nd error on the season.
No matter, Kluber struck out Alcides Escobar to end the inning and retired the next six batters in order to finish his outing on 101 pitches.
"I think we all would like to finish the game every time we go out there," Kluber said. "Keep going until Tito comes and takes the ball from us."
Francona never did. The manager never even got a reliever up in the bullpen.
That made for a nice afternoon at the ballpark for the Indians.
"Wonderful," Francona said. "To not even warm somebody up, that's rare."
Jordan Bastian is a reporter for MLB.com. Read his blog, Major League Bastian, and follow him on Twitter @MLBastian. This story was not subject to the approval of Major League Baseball or its clubs.