McCutchen's continued HR streak not enough
MVP connects in third straight game; Morton stung by walks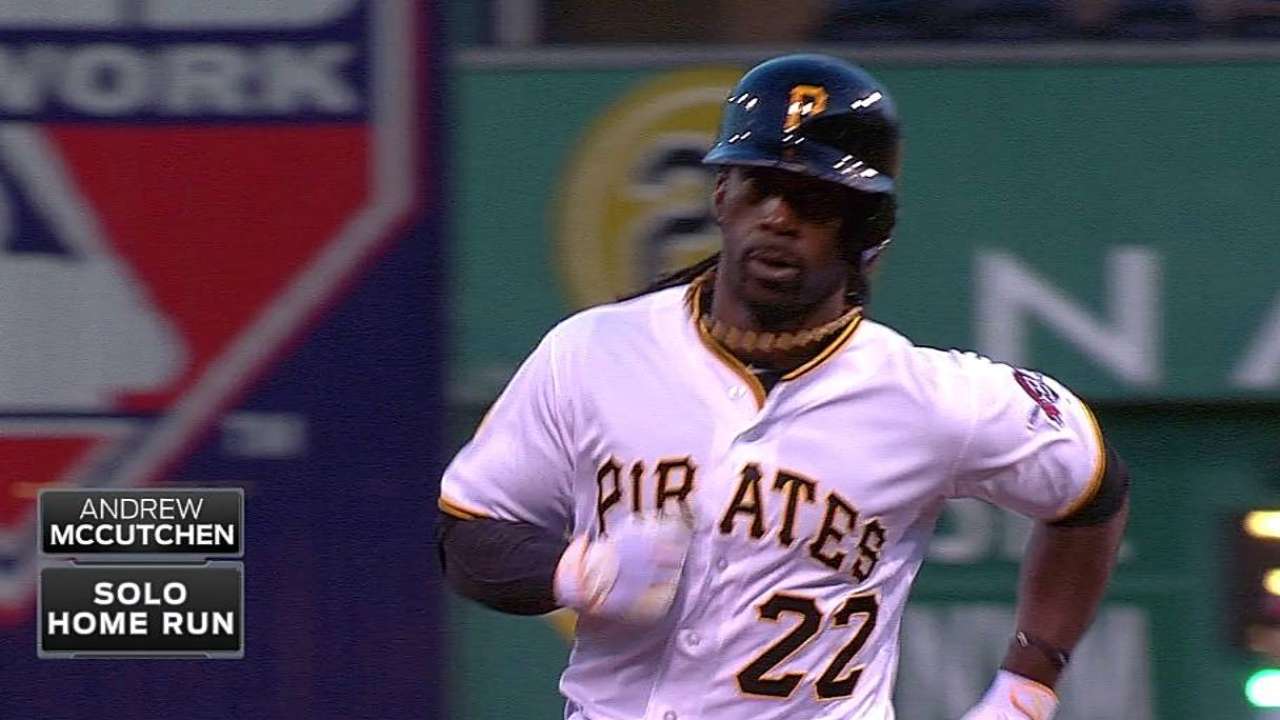 PITTSBURGH -- The Pirates' first-month offense has been reminiscent of someone in a restful snooze. Occasionally, he awakens -- in the Bucs' case, an 11-run game here, a 12-run game there -- then goes back to resting peacefully.
Manager Clint Hurdle noted as much Wednesday afternoon, saying his boys "are still working, fighting, scratching to be more consistent."
One way a team can be roused from such a fix is by having a dominant pitching performance change the mood but, once again at night, that was not forthcoming.
Charlie Morton could not strong-arm the Reds, who took a 5-2 win at PNC Park behind Alfredo Simon and his relief help.
In Pasadena, Calif., Norton Simon is a world-class museum.
In Pittsburgh, Morton-Simon was not a masterpiece. Between them, the two right-handers allowed eight hits -- and issued 10 walks.
Morton got the worst of the deal, giving up only one hit in the two scoring innings that produced all four Cincinnati runs off him.
"It feels like it's one of those stretches -- if it's not one thing, it's the other," Morton said. "And that's usually the way it goes when clubs find themselves in tough stretches. Bad luck, bad timing, not executing ... all of the above."
Not even Andrew McCutchen's daily home run -- he hit his third in as many games to give the Bucs a 2-1 lead in the third -- could prevent a 10th loss in 13 games that spiraled the Bucs' record to 9-13.
It is the first time they have been four games below .500 since April 7, 2013, when they had a 1-5 record before their awakening.
So even the MVP finished the night ruing his last at-bat more than grooving on the earlier one. McCutchen represented the tying run when he ended the game by grounding to short off Jonathan Broxton, who earned his third save.
"I'm feeling pretty good right now, but hopefully I can do it next time with some guys on base," McCutchen said.
Morton remained winless, in five starts this season but also in his last 10 starts since a Sept. 2 victory in Milwaukee. The Pirates' offensive struggles do not afford letdowns in how the ball is handled either by the pitcher or his defense, and there was a little bit of both. In six innings, the righty walked five and also hit a batter, tempering what otherwise was four-hit pitching.
"He just had to battle," Hurdle said of the veteran, who had trouble with his control most of the night, most obviously in the Reds' three-run fifth. "With what he had, he went out there and gave it a real good shot. And we didn't help him out a couple of times, either."
Quite remarkably, the Pirates still have only a Major League-low three victories by their starting pitchers (two by Gerrit Cole, the other by Edinson Volquez). Last season, the Pittsburgh rotation ranked fourth in the National League with 64 victories.
Simon survived issuing more walks (five) than his previous season total. The Bucs benefited from three of the walks coming in the first inning, but otherwise could not take advantage, going 0-for-7 with men in scoring position.
Simon also survived because he had to face McCutchen only once out of every nine batters. As it was, McCutchen wore out Simon. Besides claiming half of the four hits off him -- he added a knockout single in the seventh -- McCutchen worked 23 of the total of 112 pitches made by the right-hander.
"I'm seeing [the ball] decent," said McCutchen, who raised his average to .298 -- it was at .194 on April 11. "You can always improve and things are not always going to go my way, but I'm feeling pretty good for the most part."
The sharp control (four walks in 21 innings) that had abetted Simon's eye-popping start to the season briefly deserted him in the opening frame. With Starling Marte aboard via a leadoff single and two outs, Simon issued three consecutive walks, the last to Travis Snider forcing in a run, and fell behind 1-0.
"The big thing was Simon having a tough first inning and finding his command and finding a way to keep himself in there until the seventh inning," said Cincinnati manager Bryan Price.
The Reds tied it in the second without the benefit of a hit, somewhat familiar territory to Morton, victimized by nine unearned runs last year and already by three this young season.
Roger Bernadina drew a leadoff walk, stole second and continued to third on catcher Chris Stewart's errant throw. That enabled Bernadina to score when Ramon Santiago bounced out to second.
The Reds' three-run go-ahead rally in the fifth at least featured a hit, but was not much cleaner. Morton started it by hitting Devin Mesoraco with a pitch, then walked Santiago and both moved up on Simon's sacrifice bunt. Billy Hamilton's single tied it at 2, but two other runs scored without further offense.
On Hamilton's steal of second, Stewart's throw again bounced into the outfield, the error scoring Santiago and sending Hamilton to third. Consecutive walks -- intentional to Joey Votto, unintended to Brandon Phillips -- loaded the bases before Jay Bruce's force-play grounder brought in another run and made the score 4-2.
The Pirates were ready for the Reds' aggression on the bases, led by Hamilton. That did not make it easier to deal with.
"When you know that a team is aggressive, obviously you're cognizant of the fact they're going to run," Morton said, "and you have to hold the ball well, be quick to the plate. But, really, I try not to let those things affect me too much. In the fifth, it wasn't me worrying about the runners as much as me not making my pitches."
Tom Singer is a reporter for MLB.com and writes an MLBlog Change for a Nickel. He can also be found on Twitter @Tom_Singer. This story was not subject to the approval of Major League Baseball or its clubs.