Reds create havoc on bases to sting Pirates
Simon overcomes early control issues to pick up third win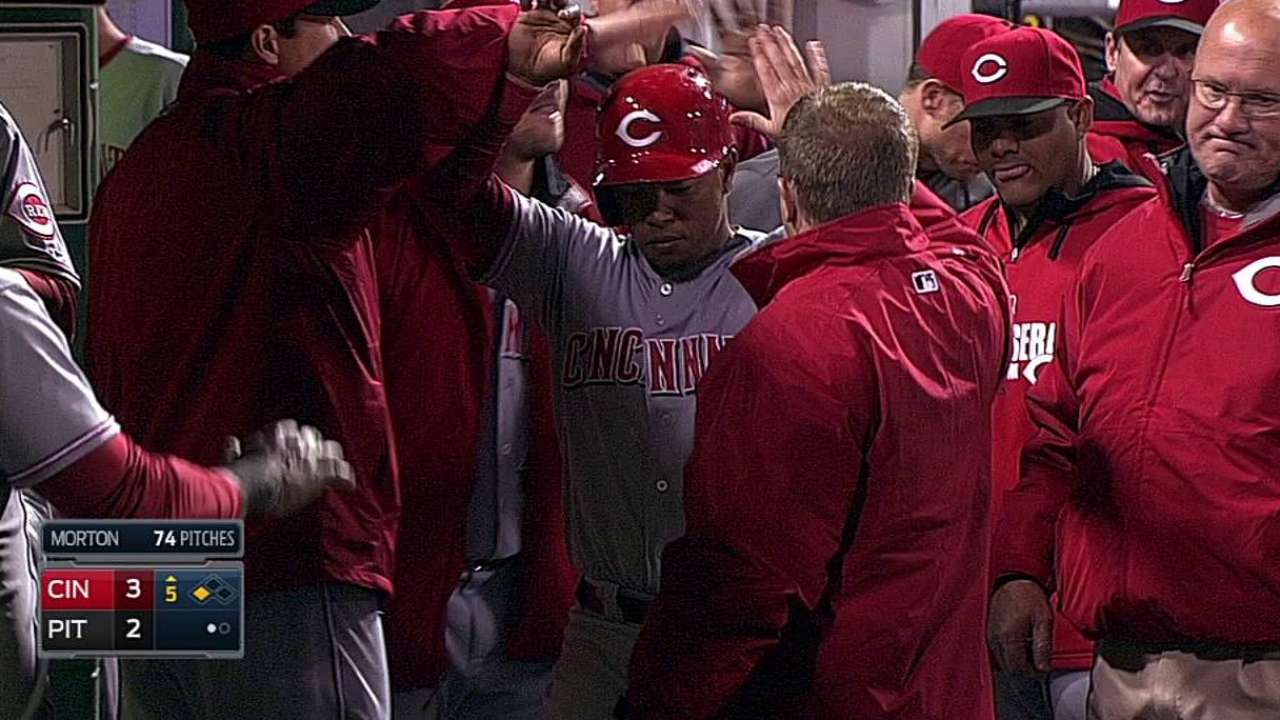 PITTSBURGH -- From the early days of Spring Training, new Reds manager Bryan Price proclaimed that his club would be more aggressive on the bases and take chances. There have been times in the early going where they've been burned by their ambitiousness.
But there also have been several successful scoring chances created, and that was the case during a 5-2 Reds win over the Pirates on Wednesday night.
Reds baserunners were on the move often, going from first to third when they could, seeking extra bases on hits and putting pressure on Pirates pitcher Charlie Morton and catcher Chris Stewart. There were also four steals in five attempts while Stewart had two throwing errors.
"In many ways, it forced their pitchers to have to be a little bit more concerned with our running game and hold the ball and step off and throw over and quicken up their deliveries," Price said. "That benefits us if they're getting uncomfortable on the mound, having to rush themselves to the plate or what might be. We want to take advantage of anything that's out there, and these guys have been aggressive."
The Reds, who are second in the National League behind the Dodgers in steals with 25 this season, had only six hits in the game. So did Pittsburgh.
Overcoming early wildness, Reds starting pitcher Alfredo Simon provided another quality start with two runs and four hits over 6 2/3 innings. Simon, who issued four walks over his first three starts, walked five Pirates and struck out four.
"Having a tough first inning and finding his command and finding a way to keep himself in there until the seventh inning was pretty impressive," Price said.
Simon, who has a 1.30 ERA in four starts while filling in for the injured Mat Latos, pitched himself into trouble in the first inning. Following Starling Marte's leadoff single, he walked three straight batters with two outs. It was Travis Snider's bases-loaded walk that made it a 1-0 game.
"In the first inning, I think with the cold weather, I didn't really feel the ball very well. I walked three guys in a row," said Simon, who had a 29-pitch first frame. "After I got out of that inning, I tried to focus on keeping the ball down and just put it in play."
While the Pirates walked, the Reds ran. Roger Bernadina drew a leadoff walk in the second inning and stole second base. Stewart's first throwing error moved Bernadina to third, which enabled him to score on Ramon Santiago's groundout to second base.
"It complicated it a little for Charlie tonight," Pirates manager Clint Hurdle said of the Reds' running. "With the stuff that he had, his delivery times were a little slow. And when you slow down -- they know. There are 18 watches -- the first-base coach has got one, guys in the dugout got one, and every time they get an opening ... we try to do the same thing, and they were able to take advantage of some situations."
Andrew McCutchen's third homer in three nights vs. the Reds put Pittsburgh ahead by a run in the third inning. Cincinnati came back in the fifth, sending eight to the plate and scoring three runs while needing only one hit. Speedy catalyst Billy Hamilton provided another spark.
It was Hamilton's one-out RBI single into left field that scored Devin Mesoraco and made it a 2-2 game. Hamilton stole second base and Stewart's second error allowed Santiago to score from third base on the play as Hamilton took third. Following an intentional walk to Joey Votto and Brandon Phillips' walk to load the bases, Hamilton scored on a Jay Bruce fielder's choice.
"We took advantage of the opportunities that were presented to us," said Bruce, who stole two bases. "This is a team that might not give you a lot at times. You have to take advantage of them, and tonight we did."
Cincinnati notched an insurance run in the eighth against reliever Bryan Morris. Bruce hit a leadoff double and advanced on a wild pitch. After Bernadina's one-out walk, Mesoraco beat out a potential double-play grounder as Bruce scored.
Following scoreless two-out outings from both Sean Marshall and Sam LeCure, closer Jonathan Broxton pitched a scoreless ninth. Broxton gave up two hits to bring McCutchen up representing the tying run. McCutchen, who came into the at-bat 7-of-9 in the series, grounded out to shortstop to end it.
The Reds have won six of their last eight games and can take the four-game series with a victory Thursday. The Pirates have dropped five of their last six and 10 of the last 13.
"Great win," Price said. "Both pitching staffs really held the offense down as far as multiple-hit innings and things of that nature. We were really able to scratch out our runs."
Mark Sheldon is a reporter for MLB.com. Read his blog, Mark My Word, and follow him on Twitter @m_sheldon. This story was not subject to the approval of Major League Baseball or its clubs.