Crew brings magic home, maintains MLB's best record
Segura's three-run blast and Davis' solo shot back Lohse's gem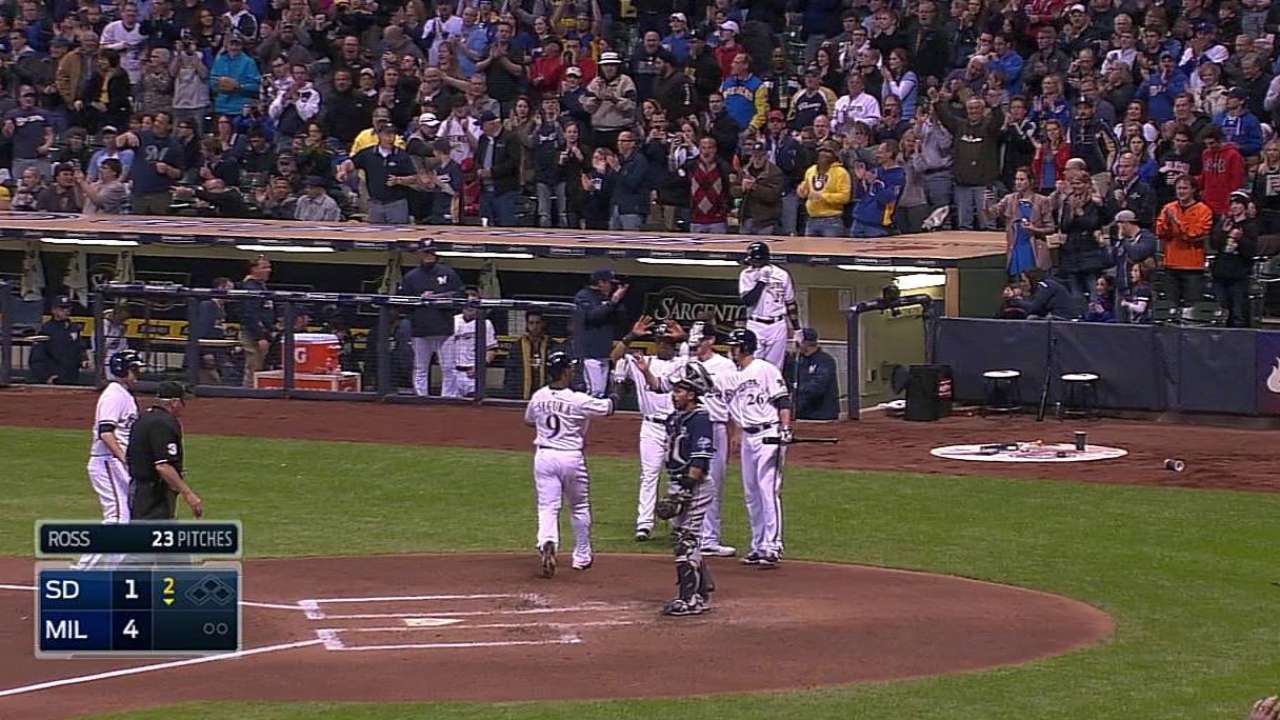 MILWAUKEE -- The Brewers hit like a team tired of hearing about home woes, and Kyle Lohse just kept pitching the way he's been pitching.
So, for that matter, did relievers Tyler Thornburg, Will Smith and Francisco Rodriguez, who combined with Lohse to turn the Brewers' early flurry of runs into a 5-2 win over the Padres on Wednesday at Miller Park. Jean Segura snapped a long home run drought with a three-run shot in the second inning, Khris Davis went deep for another run in the fourth, and the Brewers boosted baseball's best record to 16-6.
Just don't try talking to Lohse about the last part.
Not yet.
"We're doing a good job of keeping our heads down and doing whatever we can to win that one game," Lohse said. "That series in Pittsburgh [where the Brewers won three of four], we found a way to win games. A lot of one-run games, and we've been winning them. You can't do that if you're looking ahead or guys are distracted by something else. We're doing a good job of staying in the moment and staying focused."
The Brewers are off Thursday after playing 16 games in as many days. Is Lohse sure guys won't peek at the big picture?
"I hope not," he said. "It's early in the season. We just have to keep piling the wins up and see where we're at come September. That's the attitude in here, and hopefully everyone is on the same page."
Lohse and catcher Jonathan Lucroy were on the same page Wednesday night, as Lohse limited the Padres to two runs (one earned) on five hits in seven innings, with no walks and five strikeouts. He has allowed only one earned run in each of his last three starts, lowering his early-season ERA to 2.38 through five outings.
It was the Brewers' 17th quality start in 22 games.
"It was total pitching," Padres manager Bud Black said. "He used both sides of the plate extremely well, changed speed and was up in our hands. It was a veteran pitcher making pitches. It was Pitching 101. You can see why he is where he's at now."
The outing came as a relief for Brewers manager Ron Roenicke, whose team played 14 innings in Pittsburgh on Sunday, 12 more against the Padres on Tuesday night, and needed innings from Lohse to avoid dipping into an already hard-worked bullpen.
"We needed the innings," Roenicke said. "I saw the pitch count after the first couple innings and I was a little concerned, but he got right back in it. I was hoping for seven. I thought that would be ideal."
It helped that Brewers hitters, who entered the day batting only .201 at Miller Park, gave Lohse plenty of room to work. They were up against a good young Padres right-hander in Tyson Ross, who had not allowed more than three earned runs in any of his last seven starts dating to last season, and the Brewers scored four earned runs before Ross recorded his fourth out.
Ryan Braun delivered an RBI double in the first inning to tie the game at 1 before Segura followed singles by Davis and Lyle Overbay in the second inning by pulling a three-run home run. It was Segura's first homer since last July 30, snapping a drought of 256 at-bats.
"It always feels pretty good when you hit a ball out of the field, so you know I feel pretty good," Segura said. "I've been feeling pretty good when I play, [so] hopefully I come back and keep grinding. … This game is tough, you know. It's not easy to play baseball, especially in a good league. We're here to learn, we're here to help the team win some ballgames."
Earlier this week, Roenicke dropped Segura from the second spot in the batting order to sixth, and then to eighth, in order to relieve some pressure.
Asked whether he was bothered by the move, Segura laughed and said, "I mean, I don't want to say that it's not [upsetting], but yes. I don't want that they take that decision, but he took that decision, and I don't have any comment about it. I just want to be out there no matter what."
Davis added a solo home run in the fourth inning off Ross, who was charged with five runs on nine hits in six innings.
Lohse allowed only one extra-base hit in his seven innings, a double leading off the game to Everth Cabrera. He advanced to third on a bouncer that barely eluded Lohse -- who was upset he couldn't make the play -- allowing Cabrera to score on Seth Smith's sacrifice fly.
After the Brewers built their comfortable lead, the Padres scored again in the seventh with two singles and an error charged to Overbay. Nick Hundley's RBI pinch-hit cut the Padres' deficit to 5-2.
They would not get any closer. Brewers relievers Thornburg and Smith combined for a scoreless eighth inning and Rodriguez pitched the ninth for his ninth save. Smith and Rodriguez have each made 12 appearances this season without allowing a run. Thornburg has worked 11 straight appearances without being charged with an earned run.
Rodriguez struck out two more batters Wednesday and has 19 whiffs versus three walks in 12 innings, with a .128 opponents' batting average.
"I mean, I can't believe what we're doing right now," Segura said. "We're doing some great things on the field, pitching, bullpen, closing. We've been perfect. We're going in the right direction."
Adam McCalvy is a reporter for MLB.com. Read his blog, Brew Beat, and follow him on Twitter at @AdamMcCalvy. This story was not subject to the approval of Major League Baseball or its clubs.