Ross gives up two homers as Padres fall to Brewers
After four strong outings, starter scuffles and allows five runs in six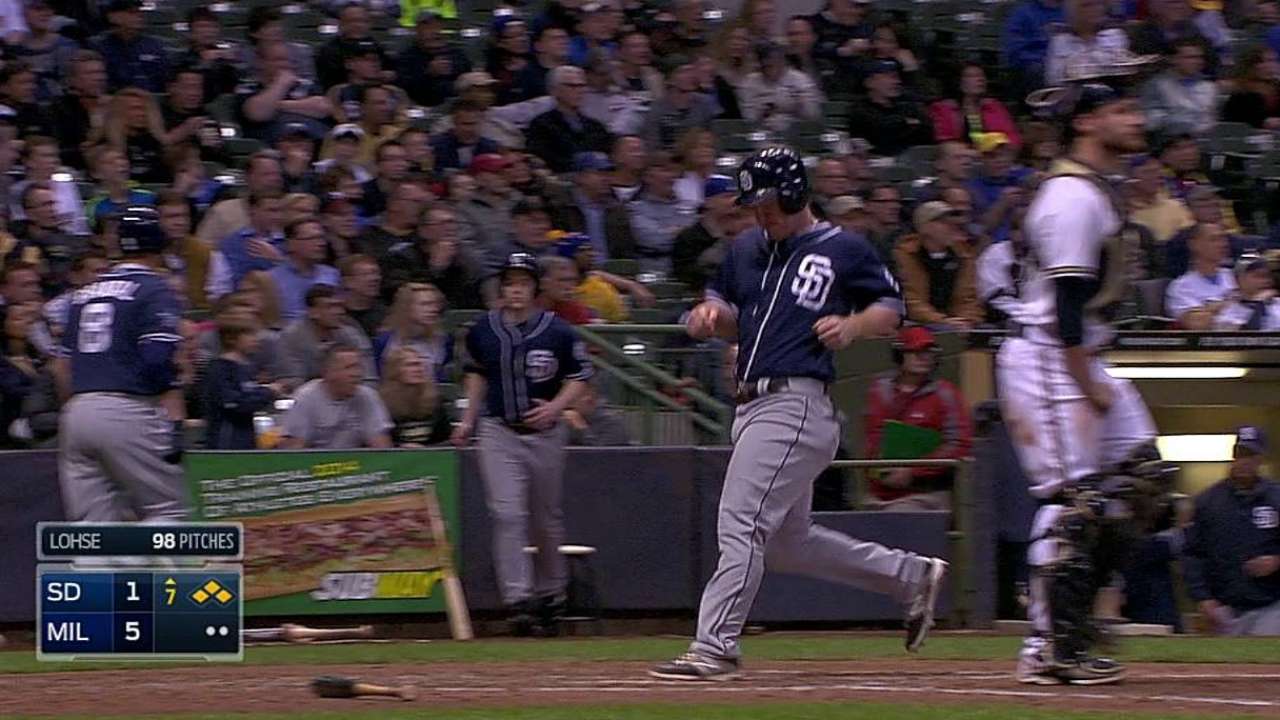 MILWAUKEE -- You certainly can't pin this latest Padres loss on the lack of production with runners in scoring position, a familar fault in this the first month of the season.
After all, you can't steal first base.
Milwaukee starting pitcher Kyle Lohse kept the traffic on the basepaths and any anxious moments to a minimum Wednesday, allowing one earned run in seven innings as the Brewers defeated the Padres, 5-2, before a crowd of 28,095 at Miller Park.
"I felt good the whole way through," Lohse said. "[Catcher Jonathan Lucroy] called a good game. We had a good mix going, a good gameplan there and just executed. We had a couple of things we wanted to do out there, and we got them done."
The Padres finished with five hits.
Lohse (4-1) allowed a double to the first batter he faced, Everth Cabrera, and then later in the inning, he was trailing 1-0 after a Seth Smith sacrifice fly. So far, so good, right?
"Cabby stung that ball and it was good situational hitting for Seth, down 0-2," said Padres manager Bud Black. "But we're just not stringing them together. This was a tough series."
The Padres, who dropped two-of-three games, scored seven runs on 19 hits in the series. Their lone win was a 2-1 decision in 12 innings Tuesday.
As for Lohse, he wasn't tested much after that first inning, as he retired 17 of 18 hitters after Cabrera's double to start the game. Lohse's three-pitch mix, the sinker, slider and changeup, kept the Padres guessing. He allowed five hits with no walks and five strikeouts.
"It was total pitching. He used both sides of the plate extremely well, changed speed and was up in our hands. It was a veteran pitcher making pitches. It was pitching 101. You can see why he is where he's at now," Black of Lohse.
Lohse's counterpart, Tyson Ross, certainly knows a thing or two about tossing a gem. After all, in his last start against the Giants, Ross (2-3) threw eight scoreless innings, striking out nine batters.
But Ross wasn't especially sharp early on as with one out in the bottom of the first inning, he allowed a single to Scooter Gennett and then an RBI double to Ryan Braun.
"I was falling behind on these guys, missing up in the zone. And with a good hitting team, you can't be pitching from behind," Ross said. "It's tough when you're 1-0 a lot of times."
It appeared as if Ross got Braun to swing at a pitch earlier in the count, though umpire Tim Welke ruled that Braun didn't swing. The doubled followed to tie the game.
"At the same time, I've got to execute the next pitch," Ross said.
Things didn't get much better in the second inning as he opened the inning by allowing singles to Khris Davis and Lyle Overbay. The next batter, speedy Jean Segura, got ahold of a Ross changeup, sending it over the fence in left field for a 4-1 advantage.
For Segura it was his first home run in 256 at-bats dating back to July.
"I got a swing-and-miss on the same pitch right before that," Ross said.
Ross was better thereafter, though the damage was done. He did allow a home run to Davis to start the fourth inning and allowed three baserunners in the sixth, his final inning, before escaping with no additional damage.
All told, Ross allowed five earned runs on nine hits with two walks and three strikeouts in six innings. It marked the first time since Sept. 12 of last season that he allowed five or more earned runs in a start.
"He just couldn't get ahead of hitters and put them away," Black said. "They jumped on some balls out over the plate. The ball-strike ratio [45 balls, 58 strikes] wasn't that good."
As for the Padres (10-12), they got a hit from Smith in the fourth inning and an infield single from Chris Denorfia in the sixth inning. In the seventh inning, Will Venable reached on an infield single and later scored after an Overbay error and pinch-hitter Nick Hundley's RBI single.
The seventh inning was the only time the Padres actually had two baserunners on at the same time.
Black is hopeful the hits will come -- sporadic hits, hits bunched together. Just more of them, period. The same goes for runs. The Brewers (16-6), who have the best record in baseball, are having no such problems.
"We hope that hitting is contagious," Black said. "We've got a couple of guys having good at-bats but the other five or six guys are struggling. We've got to get some hits to build some confidence."
The Padres start a four-game series at 4:10 p.m. Thursday against the Nationals in Washington.
Corey Brock is a reporter for MLB.com. Keep track of @FollowThePadres on Twitter. This story was not subject to the approval of Major League Baseball or its clubs.