Bullpen can't overcome Odorizzi's early exit
Relievers perform well but reach limit for second time in two series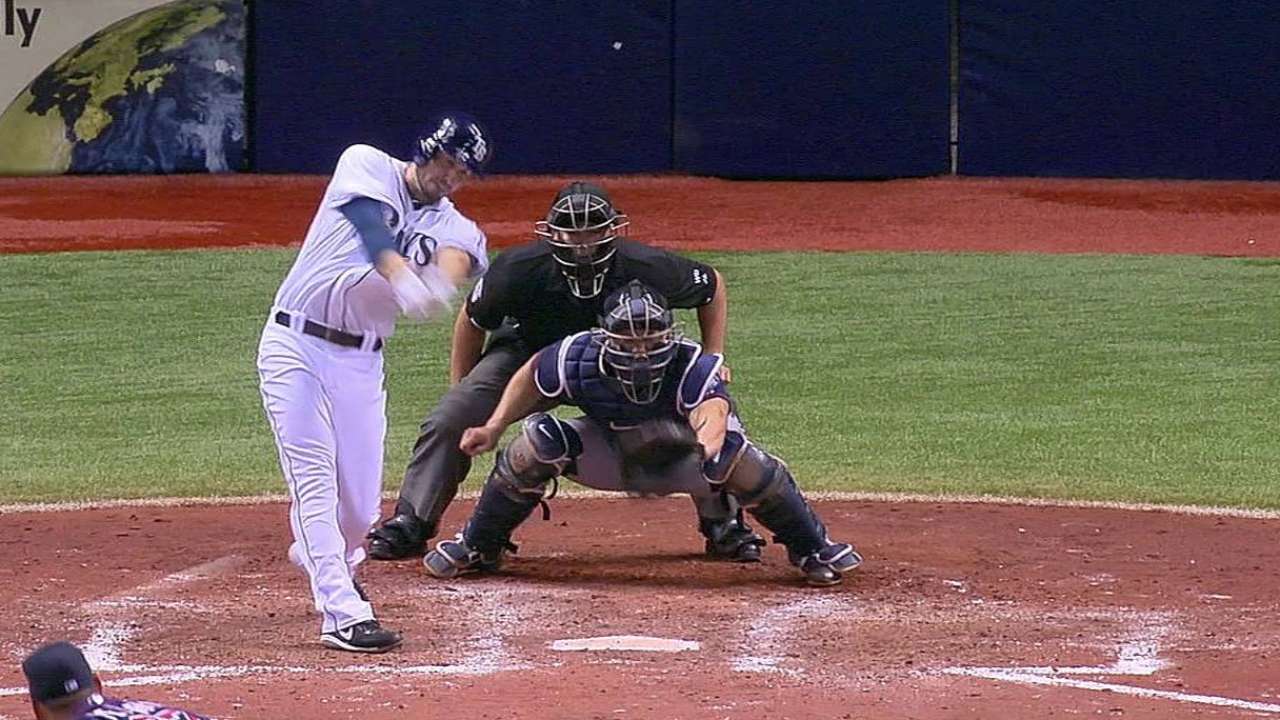 ST. PETERSBURG -- Wednesday night made twice on the current homestand that the Rays pitching did not get its due, once against the Yankees, and, now, against the Twins.
Chris Colabello's two-run single in the 12th led the Twins to a 6-4 win over the Rays on Wednesday night at Tropicana Field.
The loss ended the Rays' Tropicana Field winning streak against the Twins at seven games as Tampa Bay fell to 10-11 on the season with the rubber game of the series to be settled Thursday in a 1:10 p.m. ET contest.
Pitching his second inning of relief, Josh Lueke allowed a chopped infield single to Joe Mauer leading off the Twins' 12th. Trevor Plouffe followed with a double to left that put runners at second and third with no outs. Colabello then threaded a single through the middle of the infield to score two.
"I was just trying to battle after falling behind 0-2 pretty quick," Colabello said. "He threw a couple good pitches to get ahead with a breaking ball for a first strike and a two-seamer on the second one. At that point, I was in survivor mode and was trying to make contact. It wasn't a screamer but was enough to get through."
A frustrated Lueke felt snakebit by Mauer's hit.
"Got that little bleeder ground ball, kind of set the tone for them," Lueke said. "I guess I kind of worked a little bit too quick. I wouldn't say the game sped up, but I made one too many offspeed pitches to Colabello. I should have gone back to the fastball and seen if I could have popped him up or ground out. And then I went to the go-to to try and strike him out, and he ended up hitting it right back through the middle."
Until that point, Rays relievers had pitched 7 2/3 scoreless innings following starter Jake Odorizzi's early departure.
On Sunday the Rays lost to the Yankees after six scoreless bullpen innings before the dam burst in the 12th.
"We did pitch extremely well," Rays manager Joe Maddon said. "And when you play a game like that and you lose at the end, obviously, but you pitched and played so well to win that game. We should have won that game.
"We've lost two games during this homestand that we could have put in the win column. And those are the kinds of things you really have to get beyond. It's not from a lack of effort."
The Rays jumped to an early lead thanks to Matt Joyce, who used a ground out and a sacrifice fly to drive home runs in the first and third innings to put the Rays up, 2-0.
Colabello evened the score with one swing in the fourth when he homered on a 1-0 offering from Odorizzi with a man aboard. And the Twins weren't finished in the inning, loading the bases on two singles and a walk before Eduardo Escobar's sacrifice fly scored a run and chased Odorizzi.
Odorizzi "wasn't as sharp tonight," Maddon said. "I'd like to see him a little more aggressive with his fastball. When you try to trick so many guys soft early, it leads to high pitch counts also.
"A lot of times when you are doing that, you're missing outside the zone with offspeed pitches," Maddon added. "Just to challenge them and make them put the ball in play earlier in the count, would be a good thing."
Former Ray Sam Fuld added an RBI single off Brandon Gomes in the fourth for a 4-2 lead.
But Evan Longoria's two-out infield single in the fifth drove home a run, and Ben Zobrist's sacrifice fly in the sixth drove home another to tie the score at 4.
Minnesota had a chance to take the lead with runners at the corners and one out in the ninth. But Grant Balfour got the ground ball he needed out of Plouffe, and it turned into a 6-4-3 inning-ending double play.
Tampa Bay also had a chance to end the game in nine innings after loading the bases with two outs. But Casey Fien retired Wil Myers on a groundout to shortstop to end the threat.
"I got too aggressive on a cutter and just rolled over it," Myers said.
Both teams will have a quick turnover after Wednesday night's game, which spanned 4 hours, 48 minutes. In the nine games since Alex Cobb went on the disabled list, the Rays' bullpen has thrown 39 1/3 innings, averaging 4 1/3 innings per game. Erik Bedard will start for the Rays on Thursday, and given the state of their bullpen they are looking to the veteran left-hander starter for some relief.
"You definitely need some innings out of Bedard tomorrow; that's a big part of tomorrow," Maddon said. "If we can get some innings out of him."
Bill Chastain is a reporter for MLB.com. This story was not subject to the approval of Major League Baseball or its clubs.