Foreign affairs: Substance leads to ejection, loss
After Red Sox point it out, Pineda exits during second inning at Fenway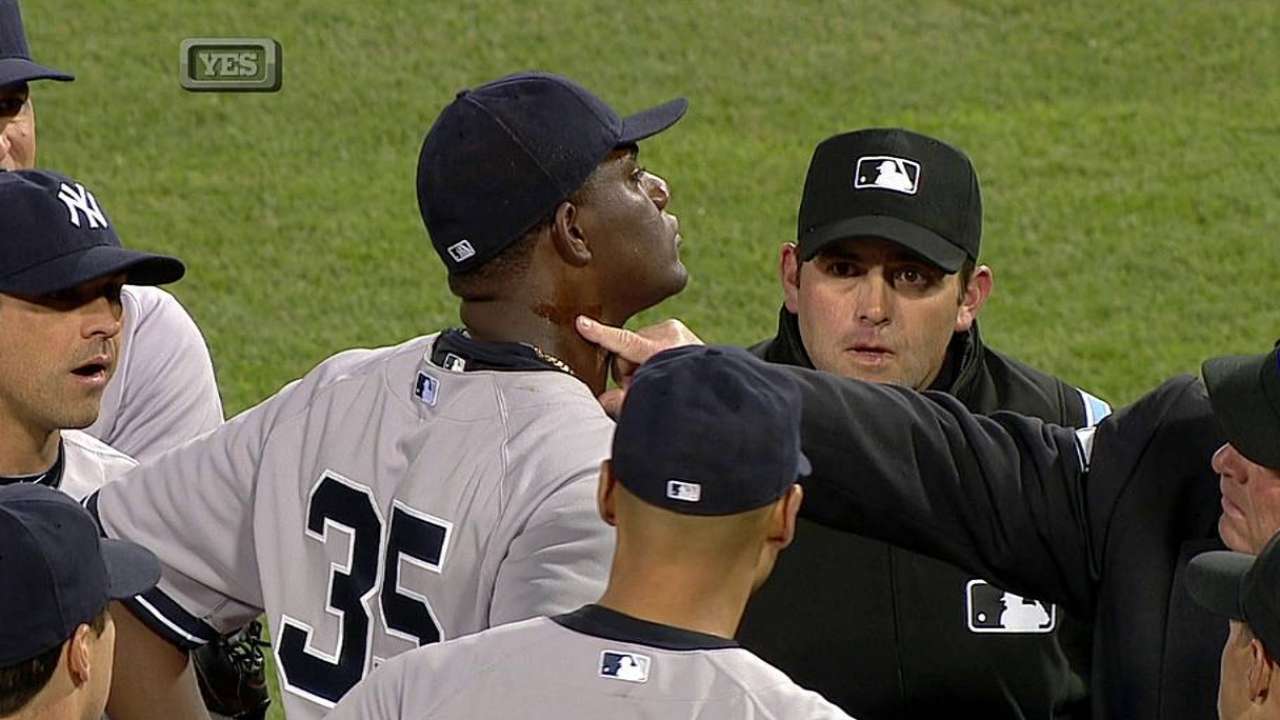 BOSTON -- As they did two weeks ago, the cameras again zoomed in for a better shot of Michael Pineda, this time spotting a glossy brown substance smeared on the right side of the pitcher's neck. And unlike in New York, the Red Sox could not look the other way.
At the urging of Boston manager John Farrell, Pineda was inspected by home-plate umpire Gerry Davis, who dragged his index finger across a sticky glob of pine tar before ejecting the young right-hander. That forced the Yankees to go to their bullpen early in a 5-1 loss on Wednesday at Fenway Park.
"I'll learn from this mistake," said Pineda, whom the Yankees expect will be suspended for violating Rule 8.02, which states that pitchers cannot apply foreign substances to the ball. "It won't happen again."
Rule 8.02(b) says a pitcher shall not ''have on his person, or in his possession, any foreign substance. For such infraction of this section the penalty shall be immediate ejection from the game. In addition, the pitcher shall be suspended automatically.''
Pineda admitted that he applied pine tar to his neck after allowing two first-inning runs because he was having trouble controlling the ball. Pineda said that he did not want to hit any batters, but his application lacked subtlety; Farrell said that he could clearly see the smudge from the first-base dugout.
"I felt like it was a necessity to say something," Farrell said. "You know, I fully respect on a cold night you're trying to get a little bit of a grip. But when it's that obvious, something has got to be said."
General manager Brian Cashman said that the organization was "embarrassed" by the incident.
"It's just obviously a bad situation," Cashman said. "It clearly forced the opponents' hand to do something that I'm sure they didn't want to do, but they had no choice but to do. Obviously we'll deal with the ramifications of that now."
Pineda's ejection dominated the postgame conversation and overshadowed an excellent outing from Boston starter John Lackey. The right-hander held the Yankees to a run on seven hits over eight splendid innings, walking none and striking out a season-high 11.
"We're talking about a guy that got ejected in the second inning instead of talking about the performance of John Lackey, which is a shame in itself," Boston catcher A.J. Pierzynski said.
The Yankees' lone run came in the sixth inning as Carlos Beltran doubled, advanced on a groundout and scored on an Alfonso Soriano sacrifice fly.
Pineda's use of pine tar was a major point of conversation during an April 10 start against Boston in New York, when it appeared for an inning on his palm and wrist, then vanished. Farrell was made aware of the substance too late to complain that day, but Boston's dugout was watching closely on home turf.
Pineda allowed two first-inning runs, on a Dustin Pedroia RBI single and a Pierzynski grounder that scooted through Derek Jeter's legs behind second base and was scored a hit. Photographs of Pineda did not show any substances on his neck in that inning.
Girardi said that he believes Pineda can pitch without pine tar and does not think the incident will rattle the 25-year-old, who had started the year with a 1.00 ERA in his first three starts back from right labrum surgery.
"I think the kid will bounce back, I think the kid will learn from it and we'll move on," Girardi said. "I think he's been through too much the last two years to allow something like this to unnerve him."
As they did on April 10, the Red Sox were less bothered by the fact that Pineda used pine tar than that he made little effort to hide it.
"It's surprising, especially being on TV the first time we played him," Mike Napoli said. "Every pitcher does it. You can't blatantly have it out there showing. It was just kind of silly."
Yankees pitching coach Larry Rothschild rejected the suggestion that the pine tar would have been less of an issue if Pineda had done a better job of hiding it.
"It's illegal, no matter how you do it," Rothschild said. "Obviously you can tell him whatever you want, but it's illegal no matter how you do it. You want me to tell him how to cheat better? That's basically what it is."
Because of the ejection, David Phelps was given as much time as needed to warm up. Phelps allowed a pair of unearned third-inning runs as he completed two frames of emergency relief, with a Jeter throwing error opening the inning.
"I apologize to my teammates," Pineda said. "I put all the relievers in a bad [spot]. I feel so sad."
The Yankees plan on being without Pineda's services for a short period. Major League Baseball will review Wednesday's game and can determine the length of a penalty; in 2012, Rays reliever Joel Peralta was found to have pine tar on his glove and received an eight-game suspension.
"This is not something that we're proud to be sitting in, and we're certainly embarrassed," Cashman said. "When he took the field in the second inning, that should never have taken place."
Brock Holt added a run-scoring single in the eighth inning, driving home Xander Bogaerts and chasing Preston Claiborne. The Yankees used Phelps, Matt Thornton, Claiborne and Adam Warren out of the bullpen following Pineda's ejection.
"I think we handled it pretty well," Girardi said. "I thought we pitched pretty well out of the bullpen, I thought we did a pretty good job. Some pretty good at-bats, obviously John Lackey was tough on us today but we had some opportunities to score. We just didn't get the hit."
Bryan Hoch is a reporter for MLB.com. Follow him on Twitter @bryanhoch and read his MLBlog, Bombers Beat. This story was not subject to the approval of Major League Baseball or its clubs.