Tar Wars: Red Sox top Yanks after ejection
Lackey fans 11 over eight stellar frames while Pineda gets tossed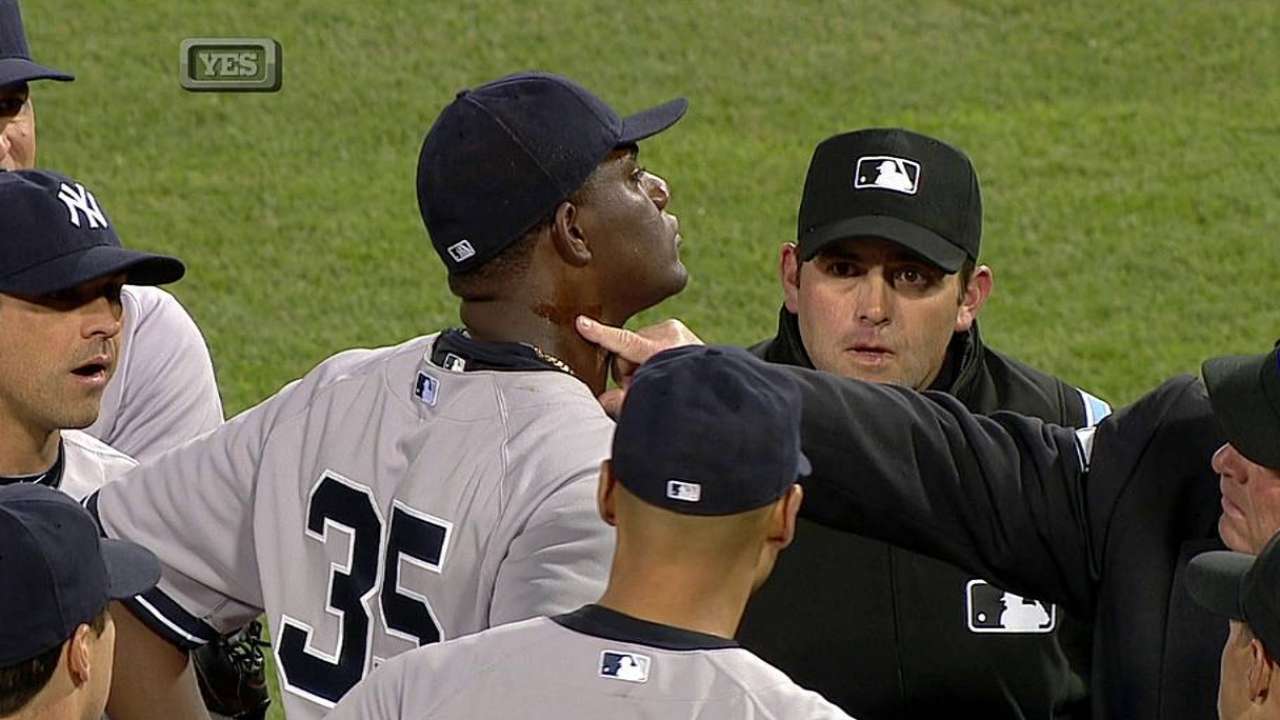 BOSTON -- While controversy swirled around in the other dugout, John Lackey just went out and pitched, leading the Red Sox to a much-needed 5-1 victory over the Yankees on Wednesday night at Fenway Park.
Subpar performance by the starting rotation -- which in turn taxed the bullpen -- had been the biggest reason for Boston's most recent rut.
Lackey responded by firing eight innings in which he allowed seven hits and a run while registering no walks and 11 strikeouts.
So if Michael Pineda was the storyline that generated the most attention after he was ejected for being caught with pine tar on his neck, Lackey's gem was the most important thing that happened for Boston.
"I was thinking about trying to give the bullpen a rest," said Lackey. "We've got some guys down there who've been worked pretty good the last week or so, and trying to get those guys a little bit of a breather and win a ballgame."
Not only did Lackey accomplish that, but he rebounded nicely from giving up six runs in each of his previous two starts, one of which was against the Yankees.
"Yeah, I mean, last start against the Yankees, he kind of struggled," said first baseman Mike Napoli. "You could kind of see him being in here [in the clubhouse] that he wanted to go out there and do good tonight. It's huge overall, because he helped our bullpen with eight strong innings and he came back from two tough starts. Just overall, it was really good for our team."
The Yankees, on the other hand, have had better nights.
In the bottom of the second inning, Pineda was ejected when home-plate umpire Gerry Davis found pine tar on Pineda's neck.
"In the first inning, I didn't feel the ball, and you know, I didn't want to like hit anybody so I decided to use it," said Pineda.
It was a surreal turn of events, considering all the pine tar controversy that ensued when the Red Sox faced Pineda on April 10. In that game, television cameras showed a substance on Pineda's right palm and wrist area, but by the time Boston manager John Farrell was made aware of the situation, Pineda had cleaned up.
This time, it was perhaps even more blatant.
"I mean, it's surprising, especially being on TV the first time we played him," said Napoli. "Every pitcher does it. You can't blatantly have it out there showing. It was just kind of silly."
Not only did Pineda's night end abruptly, but the Red Sox took good swings against him when he was in the game. That was not the case in New York a couple of weeks ago.
Grady Sizemore broke out of an 0-for-13 funk by leading off the first with a triple into the corner in right. Dustin Pedroia followed with an RBI single. Napoli kept the rally going with a broken-bat, bloop single to right. A.J. Pierzynski laced a single off the glove of shortstop Derek Jeter and into center to make it 2-0.
"We've kind of struggled to get some runs early in the game," said Napoli. "It's nice to get a couple of runs early to take the pressure off our pitcher, and John did a hell of a job tonight. It was a good game overall."
The drama started in the bottom of the second. Shortly after NESN footage showed a substance glistening from Pineda's neck, Farrell called for time and asked Davis to check Pineda.
It didn't take long. Davis first asked Pineda to show him the glove and then baseball. Davis then had Pineda turn around, and when Davis put his finger on the side of Pineda's neck, there was ample evidence that there was a brown substance there. Immediately, Pineda was ejected.
"Yeah, in the second inning, it looked from the dugout that there was a substance on his neck," said Farrell. "You could see it. I could see it from the dugout. It was confirmed by a number of camera angles in the ballpark. And given the last time we faced him, I felt like it was a necessity to say something. You know, I fully respect on a cold night you're trying to get a little bit of a grip, but when it's that obvious, something has got to be said."
David Phelps came on for the Yankees on short notice and got as much time as he needed to warm up.
Considering it essentially turned into a bullpen night for New York, manager Joe Girardi had to be pleased with the way his relievers kept it close.
The Red Sox did add to their lead in the fourth. Pedroia opened the inning by reaching on an error by Jeter. David Ortiz followed with a single to right. Napoli roped a ground-rule double down the line in right that was just out of the reach of Brett Gardner and actually hit a fan in the face. Ortiz would later score on a wild pitch to make it 4-0.
Lackey had a shutout going until the sixth, when Alfonso Soriano delivered a sacrifice fly to right.
"It was huge," said Pierzynski. "For him to go eight and give us one run and 11 strikeouts, that was huge. No walks. For him to do that in that situation, especially after last night's game, that's what those guys do. Veteran guys know that situation, they know what they're in for. He went out and proved it tonight."
Ian Browne is a reporter for MLB.com. Read his blog, Brownie Points, and follow him on Twitter @IanMBrowne. This story was not subject to the approval of Major League Baseball or its clubs.