Cruz belts two homers as Orioles win slugfest
Wieters, Davis go deep as offense backs up shaky Tillman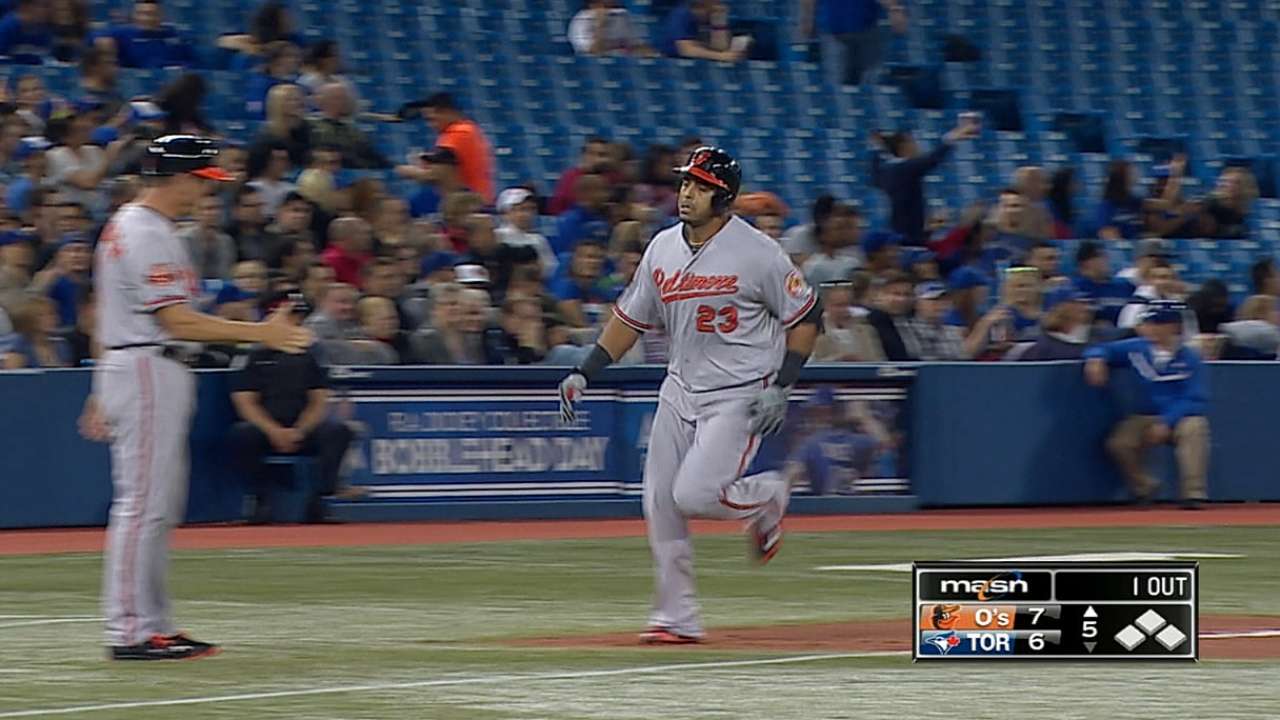 TORONTO -- When the Orioles officially signed Nelson Cruz to a one-year deal on Feb. 24, Spring Training was well underway. Cruz, who had declined a $14.1 million qualifying offer from the Texas Rangers, reportedly turned down two- and three-year deals during the winter, hoping for a four-year deal that never came. When the O's swooped in at $8 million, plus a few incentives, it was seen as a bargain deal, a low-risk, high-reward move.
Three weeks into the season, it's already paid off.
Cruz homered twice, including his seventh career grand slam as part of a six-run fifth inning that helped catapult the Orioles past the Blue Jays, 10-8, on Wednesday night. Baltimore connected for a season-high four homers in the offensive barrage, staving off the Jays, who hit three homers, for a series-evening win that puts the O's back at .500 on the season and their two-city road trip.
"They welcomed me really well and embraced me, which makes it so much easier for me," Cruz, who has a team-leading six homers and 21 RBIs, said of his first few weeks with his new club. "I feel like I've been here forever."
The most consistent force in the Orioles lineup, Cruz extended his streak to six consecutive games with a solo shot in the third inning. He then gave the Orioles their first lead of the night by clobbering reliever Todd Redmond's 2-1 sinker in the fifth, marking the 11th multi-homer night of his career.
"I don't look at it from that side," Orioles manager Buck Showalter said of the investment in Cruz already paying off for his club. "I knew Nellie from when he first came up to the big leagues with us in Texas. We all know what he's capable of. He knows how much guys appreciate his attitude about everything and they're really pulling for him. ... He likes being a good teammate."
Cruz's power surge set the tone for a night full of positives for the Orioles' lineup. First baseman Chris Davis and catcher Matt Wieters chipped in solo shots, in the first and seventh innings respectively, as part of a double-digit hit night for the previously power-starved O's. Baltimore had four runs total in the 10 games entering Wednesday.
"It's awesome, I love watching these guys hit," said Orioles starter Chris Tillman, who was the beneficiary of all the offense. "As a starting pitcher, when they get going like that my only mindset is get back in the dugout as fast as I can so they can go back to work."
After Davis' early homer -- his second of the year -- was erased with the Blue Jays' six-spot off Tillman, the O's started chipping away at the deficit. Jonathan Schoop doubled and scored on Nick Markakis' single and Cruz went deep for the first time, off Blue Jays starter Dustin McGowan. The O's loaded the bases to start the fifth on Ryan Flaherty's walk, Schoop's hit and David Lough's hit-by-pitch, which was enough to chase McGowan in favor of Redmond. After Markakis popped up, Cruz sent a ball screaming into left field to give the O's a one-run lead.
"Look at Baltimore, they've got arguably the best offense in baseball, and they don't even have [Manny] Machado," Blue Jays manager John Gibbons said. "[They were a] homer mill. You're up, 6-1, and you don't really feel good that early in the game because you know what those guys are capable of, and of course they came back."
Baltimore followed Cruz's slam up with a pair of singles from Davis and Jones and Wieters doubled in a run. Shortstop J.J. Hardy narrowly missed a homer, settling instead for a sacrifice fly to push the O's lead to three.
"That's what we need," Cruz said of the top-to-bottom production. "We were facing a really tough lineup on the other side, too. So we got to get as many across as we can. And that's what we did tonight. It wasn't pretty, but we got it done."
The same can be said for Tillman, who survived some early struggles -- including a six-run second inning -- to go 5 2/3 innings. Tillman, who allowed a trio of homers and was up to 50 pitches through two frames, was able to record another 11 outs to help bridge to the 'pen.
"In a lot of ways it might have been one of his best outings this year, the way we perceive it," Showalter said of Tillman, who allowed nine hits, six of which came in the second inning. "He doesn't get involved in ERA and whatever. He want to just give his team the chance to win. I came real close to taking him out there and I told [pitching coach Dave Wallace], let's see the first couple hitters and see how it goes and he came out with a little more stuff. He gave us some needed innings."
Using a steady diet of off-speed stuff, Tillman did an admirable job of keeping Toronto off the scoreboard after homers from Brett Lawrie and Jose Reyes, until Ryan Goins took him deep with one out into the sixth. Tillman exited after Melky Cabrera's two-out single and Ryan Webb recorded an out for the second consecutive night.
"I knew i didn't have it early on and hats off to Wietey to hanging in there with me," Tillman said. "I knew I had to pitch a little more off-speed than normal and I think it's big to be able to make an adjustment like that in-game. I'll take my hats off to the offense for putting up those two runs there, it kind of got me going a little bit."
Wieters pushed the lead back to three with a solo shot off J.A. Happ in the top of the seventh, but lefty Brian Matusz gave it right back on Josh Thole's two-out single. Matusz was replaced by righty Darren O'Day, who recorded the final out of the seventh -- stranding a pair of batters -- and navigated through the eighth before handing the ball off to closer Tommy Hunter.
Hunter got into some trouble in the ninth, loading the bases with one out. But the righty was able to get Jonathan Diaz to bounce into a game-ending double play to pick up his sixth save in seven chances.
"Assume the position and go along for the ride," Showalter said of his team's uneven first few weeks. "This is not a place to panic. It is what it is. These are very good hitters in the Major Leagues and we made some good pitches, too."
Brittany Ghiroli is a reporter for MLB.com. Read her blog, Britt's Bird Watch, and follow her on Facebook and Twitter @britt_ghiroli. This story was not subject to the approval of Major League Baseball or its clubs.