Perez continues to dazzle as Rangers sweep A's
Left-hander extends scoreless-innings streak to 26 with shutout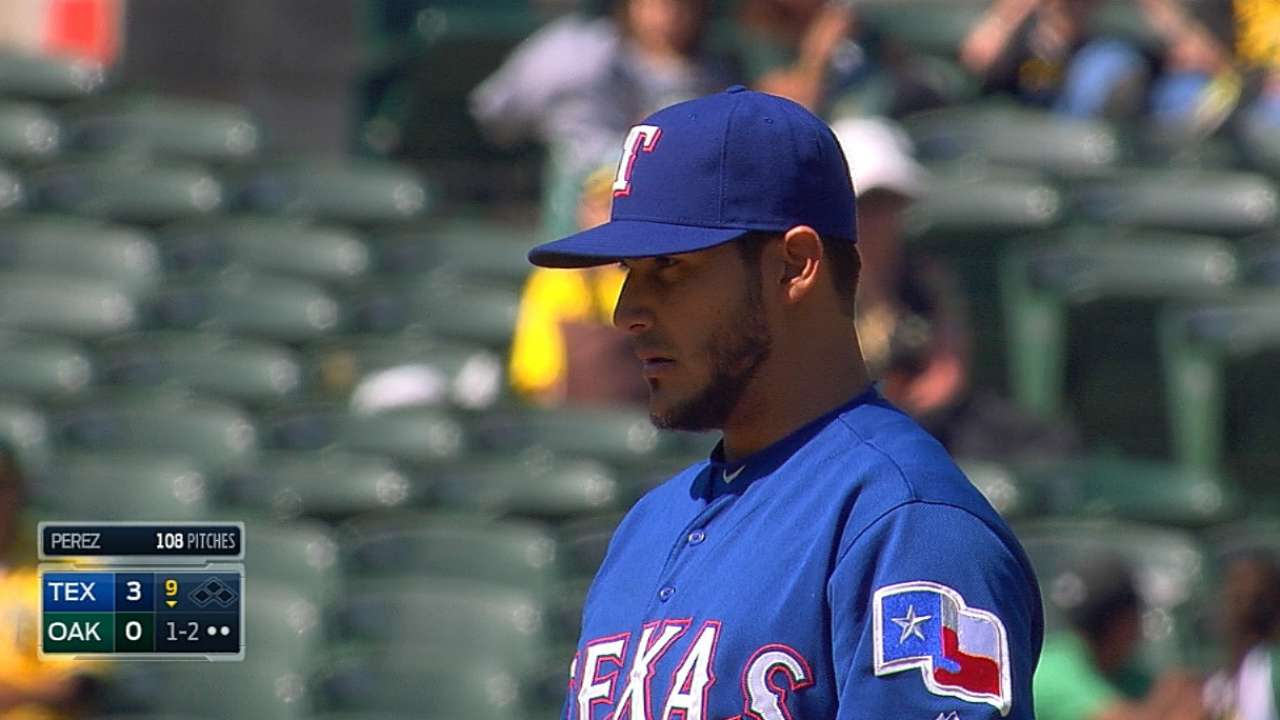 OAKLAND -- Martin Perez extended his scoreless-innings streak to 26, won the battle of the undefeated pitchers and helped the Rangers finish off a three-game sweep of the Athletics on Wednesday at the O.co Coliseum.
Perez, going up against Oakland right-hander Sonny Gray, pitched his second consecutive shutout as the Rangers moved into first place in the American League West with a 3-0 victory. The win gave the Rangers their first three-game sweep of the Athletics since Aug. 12-14, 2011, in Oakland. Texas won 10 of its last 13 games.
Perez, with his fourth victory in five starts, allowed three hits and two walks while striking out three. The 26 consecutive scoreless innings is now the seventh longest by a Rangers pitcher. The record is 39, set by Kenny Rogers in 1995.
"What a pitcher," Rangers manager Ron Washington said. "He did a great job against a great hitting team. He knows how to pitch, he has weapons and he throws them all for strikes. He has poise and he does a great job of staying within the game plan. That's a smart hitting team over there, and he gave up what, three hits? That tells you he's arrived, and he's done it before our very eyes."
Perez also allowed just three hits in a shutout against the White Sox last Friday. He is the first Rangers pitcher to ever throw back-to-back shutouts on three hits or less. Since Charlie Hough threw three consecutive shutouts in 1983, the only other Rangers pitcher to have back-to-back shutouts is Derek Holland in 2011.
"I feel great ... two complete games, but I'll celebrate more when we get a World Series championship," Perez said. "Execution ... executing my pitches and keeping the ball down. That's the big thing for me ... that and trusting my stuff 100 percent."
Perez gave up leadoff singles to Jed Lowrie in the fourth and Derek Norris in the fifth, then erased them both by getting the next hitter to ground into a double play. The Rangers have turned 11 double plays behind Perez in his first five starts. They turned 13 in 20 starts for him last year.
The Athletics didn't get a runner in scoring position until a one-out double by Josh Donaldson in the seventh. Perez responded to that by getting Yoenis Cespedes on a grounder to third and, after Norris walked, Alberto Callaspo on a grounder to short.
"We hit some balls hard on the ground, but obviously, that's what they're trying to do," Donaldson said. "Their defense played well behind him.
"He keeps the ball off the barrel of the bat -- whether it's a little sink, a little cut, changeup, curveball, slider," Oakland manager Bob Melvin said. "The reason he can get deep into games is he's not striking a lot of guys out. He's just keeping it off the barrel of the bat."
Perez, who threw eight scoreless innings in a 1-0 victory over the Astros on April 13 to start the streak, is the first Major League pitcher with two straight shutouts since Cole Hamels for the Phillies in August 2012. Perez is now 4-0 with a 1.42 ERA after five starts.
"He's amazing," catcher Robinson Chirinos said. "He's throwing the ball well, it's tough to hit when everything you throw is down in the zone. I'm happy for him. He prepares himself before every start, he works hard. He deserves this."
Gray was 3-0 over four starts coming into the game, but Michael Choice got the Rangers started in the first inning by drawing a leadoff walk and scoring on a one-out triple by Alex Rios. Prince Fielder, against a drawn-in infield, followed with a grounder to Lowrie, the Athletics shortstop who threw home trying to get Rios. Plate umpire Larry Vanover originally called Rios safe, but Melvin challenged the call, which was overturned on review.
The Rangers added another run in the fifth when Leonys Martin beat out an infield single, was bunted to second by Josh Wilson and scored on a single by Choice. A home run by Donnie Murphy made it 3-0 in the sixth.
Perez did the rest. Washington did not have to get a reliever up in the bullpen until the ninth inning. He had closer Joakim Soria loosening up just in case, but Perez set down the Athletics in order and sent the Rangers off to Seattle in first place with a day off on Thursday.
"It's three games," Washington said. "It's no big significance, because you never know what it will be like the next time we play them. We won three games here because we played very well. We're pleased to get three games here, but we have to continue to play baseball."
T.R. Sullivan is a reporter for MLB.com. Read his blog, Postcards from Elysian Fields, and follow him on Twitter @Sullivan_Ranger. This story was not subject to the approval of Major League Baseball or its clubs.