Gray's solid effort goes unrewarded as A's blanked
Righty strikes out eight in seven innings as Rangers complete sweep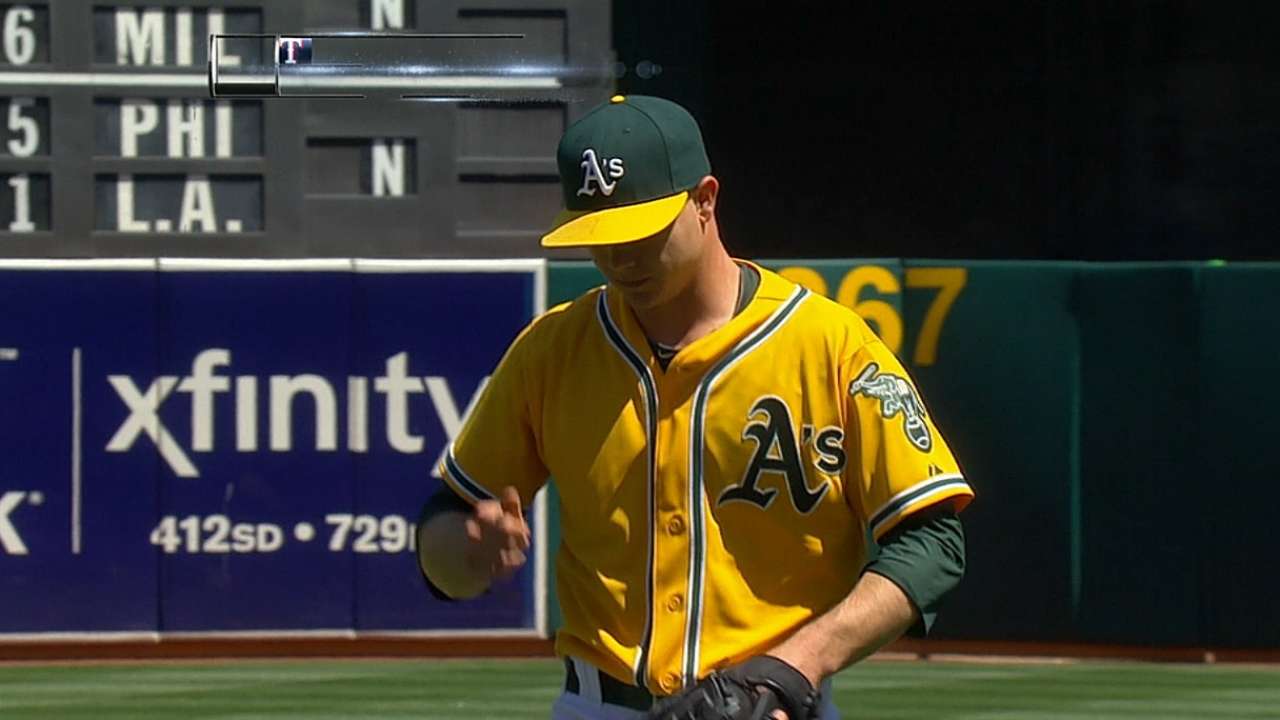 OAKLAND -- When you only get one runner past first base all afternoon, it's probably going to be a long day at the ballpark. Martin Perez made the A's experience it firsthand, as he tossed his second straight shutout in a 3-0 victory as the Rangers finished off the series sweep.
Oakland (13-8) entered Monday's three-game set as owners of the American League's best record, but now they're looking up at the Rangers (14-8) in the AL West standings.
Unlike the past two contests, which featured Oakland bullpen lapses in the late stages, the A's had virtually no chance against Perez.
"He definitely looked great today," A's outfielder Craig Gentry said after going 0-for-4. "He went out and mixed his pitches up, hit his spots real well and kept us off balance. We couldn't get anything going, and he just pitched a great game today."
Gentry was teammates with Perez last year, so he witnessed the young lefty burst onto the scene and become a valuable part of the Texas rotation. But the A's leadoff man said Perez hasn't made any drastic changes to his game, staying with the qualities that make him one of the game's most promising young southpaws.
Perez doesn't have overpowering stuff -- his fastball usually sits right around 90-91 mph -- but he is effective.
"He and the catcher were in sync and mixed it up to where even if you had a bead on him, the next time up he'd pitch you a little differently," Oakland manager Bob Melvin said. "You've got to give him some credit. We didn't look too good, but the reason for it was probably him."
Oakland's offense put five runners on the basepaths, and two of them were wiped out on double plays. When Josh Donaldson ripped a double to left field in the seventh, he became the only A's hitter to reach scoring position all afternoon.
The effort was the latest in what's been a remarkable run of recent starts for Perez, who allowed just three hits and two walks while striking out three. He has now thrown two straight shutouts and accounted for 26 consecutive scoreless innings, bringing his record to 4-0 while lowering his ERA to 1.42.
"Execution. I'm executing my pitches and keeping the ball down," the 23-year-old said. "That's big for me."
As both Melvin and his players noted, Perez was able to get through the game on 109 pitches by trusting his teammates instead of trying to induce swings and misses.
"He did a good job. He pitched well today," Donaldson said. "We hit some balls hard on the ground, but obviously, that's what they're trying to do. Their defense played well behind him."
Meanwhile, the Rangers got to Oakland ace Sonny Gray early. Former A's prospect Michael Choice continued to perform well in his first series against his old franchise, leading off the game with a walk before scoring the Rangers' first run on an RBI triple to left by Alex Rios. Choice would add an RBI single in the fifth.
"He'll be a good player," Melvin said of Choice.
Gray almost found himself in an early 2-0 deficit when Rios appeared to score on a ground ball to shortstop by Prince Fielder, but Melvin challenged the call and it was overturned. Still, the Rangers were able to tack on more, bringing it to 3-0 on Donnie Murphy's solo shot to right in the sixth inning.
Gray allowed three earned runs on five hits and four walks while striking out eight. Even though it marked the first time in 15 career starts that he walked as many as four batters, Gray didn't sound too concerned about his control.
"I felt like I was throwing the ball where I wanted to," Gray said. "Overall, I felt pretty good today. It was just a tough day at the park."
Throughout his young career, Gray has routinely had trouble in the early stages of games. After Rios' RBI triple, Gray now has a lifetime ERA of 5.40 in the first inning, his highest for any frame. But Melvin said he's happy with the way Gray was able to respond and keep the A's in the game.
"We've seen a couple games like that, where he fights a little bit early in the game with his command," Melvin said. "But he always finds a way to come back and keep you in the game and fight and get through those tough periods with limited damage."
Alex Espinoza is a contributor to MLB.com. This story was not subject to the approval of Major League Baseball or its clubs.