Two outs away from sweep, Astros fall on homer
Fields serves up walk-off blast to Seager; Cosart allows just two runs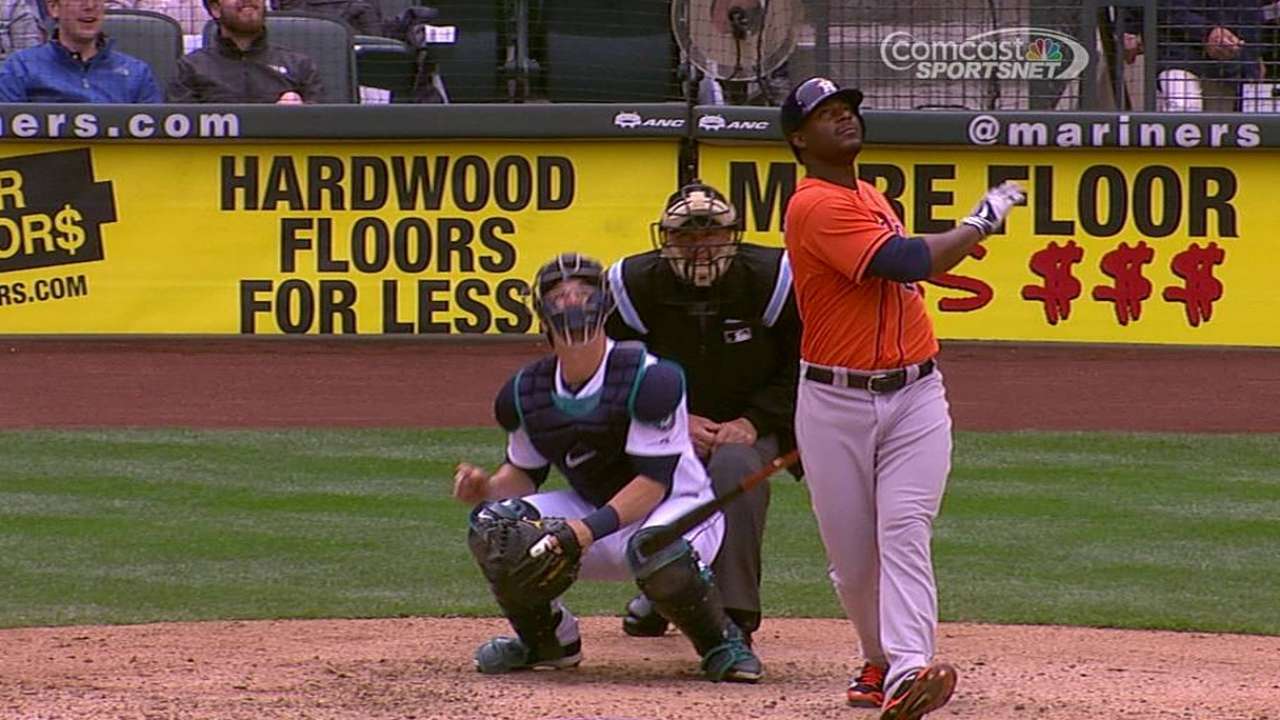 SEATTLE -- Astros manager Bo Porter has said the No. 1 thing he learned during last year's 111-loss campaign was patience. He saw his team blow 29 saves last season, which tied for the most in the Majors, and was hoping the Astros' bullpen struggles were a thing of the past.
For the second time in less than a week, though, the Astros let a ninth-inning lead get away Wednesday afternoon when Kyle Seager blasted a three-run, walk-off homer off Josh Fields to help the Mariners snap an eight-game losing streak with a 5-3 win at Safeco Field.
The loss was a punch in the gut for the Astros, who were two outs from a road sweep and escaping last place in the American League West. Houston has blown four saves this year, including three in the last eight games.
"We had the right guys we wanted out there, and that's one we definitely need to close out," a bothered Porter said.
Fields had locked down his first two save chances of the season in the Astros' bullpen-by-committee configuration. Called upon to protect a 3-2 lead in the ninth, he quickly got in trouble by allowing leadoff singles to Robinson Cano and Corey Hart, and Seager hit the first pitch he saw one out later into the right-field seats for his second homer of the game.
"As soon as he hit I knew he gave it a ride, and there was nothing else I could do after that," Fields said.
Fields said working for the third day in a row didn't affect him.
"It's just something you have to do being in that back end of the bullpen," he said. "I felt fine out there today, but it was one of those days I left a couple of balls up and paid for it. You know it's going to happen. I'm not going to go out there and throw up zeros every time. Now I have to learn and look back at what I did, and being a back-end guy, it's all about that short memory."
The Mariners, though, said seeing Fields the previous two nights might have been to their advantage. It also didn't hurt that Seager had played in the Minor Leagues with Fields, who was drafted by Seattle in the first round in 2008.
"We've faced him the last two nights, and I've gotten behind him both times," Seager said. "He's got really good stuff. And I played with him when he was with us and I know what kind of stuff he has. You definitely don't want a guy like that to get ahead of you."
It was only a day earlier Porter explained to reporters how he had wanted to Fields to get himself better prepared to enter games by pretending to face hitters while warning up in the bullpen and again throwing his warm-up pitches on the mound prior to his outings.
Porter was asked if he thought Fields was ready.
"I don't know how you could not be ready," he said. "He had a whole half an inning. As soon as the last out in the eighth inning was made, the phone call was made and Fields got the ninth."
Porter was trying to piece things together after starter Jarred Cosart had allowed two runs and four hits in 6 2/3 innings. He also didn't have veteran Matt Albers, who was unavailable for a second game because of shoulder soreness.
Cosart, who gave up seven runs in one-third of an inning in his previous start, carried a shutout into the seventh before giving up a two-run homer to Seager that cut the lead to 3-2. Still, when Chad Qualls pitched a 1-2-3 eighth, the Astros were in position for a win.
"I've always said this, that's what's very concerning," Porter said. "The most demoralizing [loss] in baseball is a late-inning loss when you have the game won. Since I've been here, we've had our share of them. But you can only put the guys in the game who are down there."
Astros catcher Jason Castro ripped a two-run double to right field with two outs in the third inning to give his team a 2-0 lead. The Astros didn't get another hit until Chris Carter hit a towering fly ball to left in the seventh that barely cleared the fence for his second home run in as many games. Carter has five home runs and 13 RBIs in 11 games at Safeco since the start of last season.
Cosart, who was helped by double plays in the fourth and fifth innings, worked a 1-2-3 sixth before striking out Hart to start the seventh. Justin Smoak followed with a line-drive single to left, and Cosart battled Seager to a full count before giving up a two-run homer that made it 3-2.
"If I execute my two pitches and it's 3-0 and that home run [off Fields] ties the game, and at worse we go to extra innings," Cosart said. "I think everybody in the bullpen has been throwing the ball really well, especially Fields. It's his third day in a row for the first time all year. He was probably a little tired, whether he says so or not.
"It's a 162-game season, and you try to take positives out of it. We took a series from the Mariners. Obviously, they're struggling a little bit. Our starting pitching created a bond and we're all trying to one-up each other and we're all throwing relatively well."
Brian McTaggart is a reporter for MLB.com and writes an MLBlog, Tag's Lines. Follow @brianmctaggart on Twitter. This story was not subject to the approval of Major League Baseball or its clubs.