Seager snaps Seattle's skid with walk-off HR
Third baseman hits two-run shot in seventh and three-run blast in ninth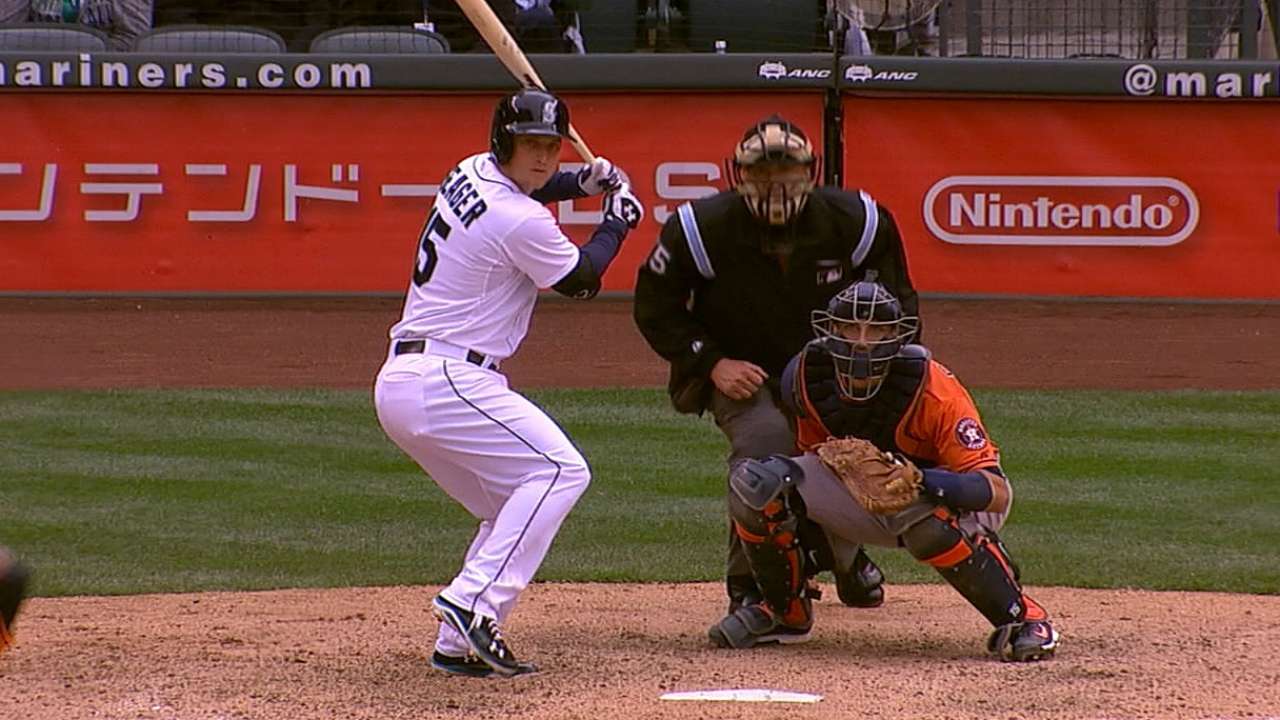 SEATTLE -- With two swings of the bat Wednesday, third baseman Kyle Seager picked up Seattle's slumping offense and tossed aside an eight-game losing streak as the Mariners pulled out a 5-3 win over the Astros with their first walk-off victory of the season.
Seager's second home run of the game was a three-run shot off Houston reliever Josh Fields with one out in the bottom of the ninth and gave him a career-high five RBIs, spoiling the Astros' hopes for a three-game sweep and releasing some of the Mariners' mounting early-season frustrations.
Seager came into the game hitting .156 with no home runs and two RBIs, but he unloaded a two-run shot in the seventh inning and followed with his game-winner two innings later.
"We've definitely been battling a little bit and hadn't had some games go our way, for sure," Seager said after the first walk-off hit of his career. "It's always good to get a victory."
The Mariners were on the verge of their longest losing skid since a club-record 17-game slump from July 6-26, 2011, until Seager turned things around.
"He has a track record, and I've said all along he's going to hit," said first-year Mariners manager Lloyd McClendon. "Obviously when you're in a losing streak and the guys you expect to hit don't hit, it's a little frustrating. But in that case, you have two options: You can sit 'em or you can play 'em. I chose to play him and he didn't disappoint. I think he's going to be just fine."
Robinson Cano and Corey Hart singled to lead off the ninth before Seager's winning blast off Fields, a former Mariners first-round Draft pick who was making his third straight appearance as the Astros tried to close out the sweep.
Seager said he was looking for a fastball and got it on the first pitch from Fields, who was selected by the Astros in the Rule 5 Draft before last season and has emerged as their closer this year.
"We've faced him the last two nights, and I've gotten behind him both times," Seager said. "He's got really good stuff. And I played with him when he was with us and I know what kind of stuff he has. You definitely don't want a guy like that to get ahead of you."
Fields had allowed just four hits in nine innings over his first nine appearances this season and was 2-for-2 in save opportunities prior to his three-hit, three-run blowup.
"I felt fine out there, but it was one of those days I left a couple of balls up and paid for it," Fields said. "As soon as [Seager] hit it I knew he gave it a ride, and there was nothing else I could do after that."
The win kept Seattle from falling into last place in the American League West, as they're now 8-13, 1 1/2 games ahead of the 7-15 Astros.
Veteran right-hander Chris Young threw seven innings of three-run ball to keep Seattle in the game.
The 6-foot-10 Young struggled with his command early and issued five walks in the first four innings, but he only gave up four hits in his longest start since Aug. 21, 2012. Young didn't pitch in the Majors last year while coming back from shoulder issues.
Two of Young's walks came back to haunt him in the third when Astros catcher Jason Castro followed with a two-out double. Those were the only runs the 34-year-old allowed until a solo home run by Chris Carter leading off the seventh.
"My rhythm and tempo was really bad early," Young said. "But in the fourth I found it, and the last four innings I felt real good, minus the ball Carter hit. And the boys picked me up. You can't say enough about Seager and the way he's been battling and grinding. He's a true professional and he picked us up today in a much-needed win. That's awesome to see."
Young, who signed with Seattle just before the start of the regular season, remains 0-0 with a 3.50 ERA in four appearances (three starts). He struck out six in his 113-pitch outing.
Astros right-hander Jarred Cosart kept the Mariners off the board until Seager hit his two-run shot in the seventh to cut the lead to 3-2.
Hart said seeing Seager warm up is a big lift for a Mariners club that had been outscored 46-18 during the eight-game losing streak.
"It was big. He's a big part of this team," said Hart, who has hit .355 over the last eight games. "A lot of guys aren't swinging the way we want to yet. With him, if he can get where he needs to be, this team is going to jump.
"You saw how it was today. He's a great player and if he continues to sneak in there, it's going to be good for us. We just need guys to chip in. It's been tough lately. We haven't had the big hit or big out. Today we had two from the same guy, so it was nice."
The Mariners are just 11-11 against Houston since the Astros moved into the AL West last year, including a 4-8 mark at Safeco Field. But Wednesday's win heading into an off-day looms large for a club looking to find itself in the early going under a new skipper.
"I said when I took the job I wanted them to take on my personality," McClendon said. "And I think you can see I didn't have any panic. The fact is you're going to have losing streaks during a season. How you deal with them will define what type of team you'll become.
"Over the course of a 162-game schedule, nobody said it was going to be a bed of roses every day. We'll see. I like my team, I still like my team and I think we'll be OK."
Greg Johns is a reporter for MLB.com. Follow him on Twitter @GregJohnsMLB as well as his Mariners Musings blog. This story was not subject to the approval of Major League Baseball or its clubs.