Mets take advantage of walks to best Cardinals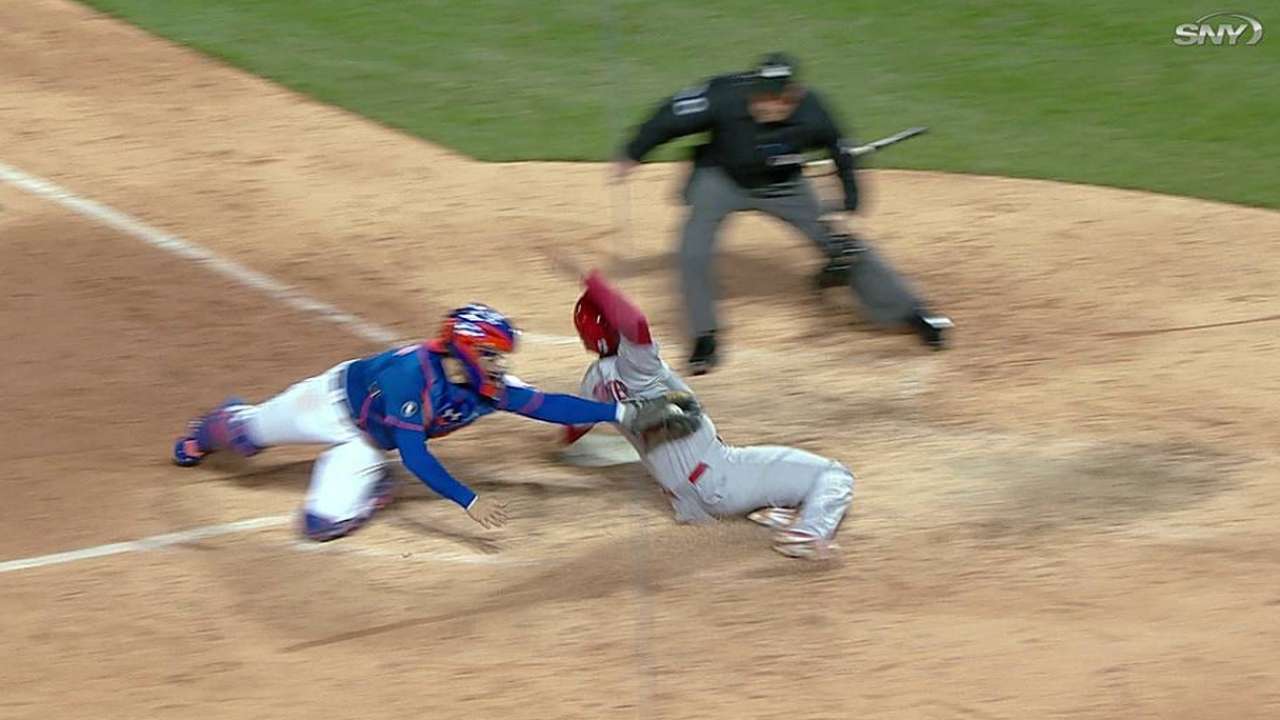 NEW YORK -- Travis d'Arnaud knew he'd made the tag on Matt Carpenter, but he had no idea if it was in time. Carpenter never felt it. From the mound, Kyle Farnsworth had already conceded that the score was about to be tied.
Only it wasn't. In a thrilling ending to a bizarre game amid unseasonal conditions at Citi Field, home-plate umpire Marty Foster called Carpenter out. A video replay confirmed the call, leading the Mets to a wacky 3-2 win over the Cardinals.
"Perfect throw, perfect throw," Carpenter said. "The only chance they have is to make two perfect throws, and they were able to do it."
It was a fitting end to a game that featured Michael Wacha's brilliance-turned-bitter, Curtis Granderson's first hit in more than a week and a wind so fierce that the grounds crew routinely needed to clear garbage from the field.
With all that as a backdrop, the Mets carried a two-run lead into the ninth, handing it to Farnsworth, their newly installed closer. Struggling to pump his fastball any higher than the mid-80s, Farnsworth promptly gave up one-out singles to Jon Jay and Carpenter.
That brought up Daniel Descalso, who boomed a fly ball toward the gap in left-center. By this point familiar with what he referred to as Citi's "garbage wind tornado," center fielder Kirk Nieuwenhuis initially thought he would be able to catch it. But the wind kept carrying the ball from him, and by the time it plopped down near the warning track, Farnsworth had resigned himself to a 3-3 tie.
Nieuwenhuis had not. He found the ball and fired it to Ruben Tejada, who pivoted and threw home. Tejada's relay came just up the line; d'Arnaud corralled it as Carpenter ran past him, then swiped Carpenter on the back just before he reached home plate.
"I don't even remember what happened, honestly," d'Arnaud said. "I knew I tagged him. I just couldn't tell if he beat it or not."
After the review, Farnsworth retired the next batter without issue to end the game. A crowd then gathered around d'Arnaud as he watched replays on a clubhouse television.
It was that kind of win for the Mets, who needed a victory to poke one game back above .500.
"We're hanging in there because we play hard," manager Terry Collins said. "They don't get down. They don't worry about some of the stuff, like the conditions of the weather or anything else. They just go play."
Early on, the weather was no issue for Wacha, who struck out nine over his first three dominant innings, becoming only the 11th pitcher in the expansion era to do so, per the Elias Sports Bureau. But with all those strikeouts driving up his pitch count, he appeared to tire in the fourth. After Daniel Murphy singled to lead off the inning, Wacha walked Lucas Duda, allowed another single to d'Arnaud, then walked Tejada and Nieuwenhuis with the bases loaded to force in a pair of runs. He departed after the inning, having thrown 93 pitches through four.
One of the three hits Wacha allowed went to Granderson, who snapped his career-long 0-for-22 funk. The Mets recorded only three other knocks all night, one of them a critical solo homer by Duda in the sixth.
It was enough support -- barely, but enough -- for starter Jon Niese, who grew resolute after limiting the damage during a first-inning rally to a single run. Niese scattered three singles and one walk over his next five innings, departing after giving up Carpenter's two-out double in the seventh. Daisuke Matsuzaka took it from there, stranding Carpenter to hold Niese's ERA at 2.45.
Torres then pitched into and out of trouble in the eighth with some help from Scott Rice before Farnsworth took over in the ninth.
It was the sixth consecutive game in which the Mets scored four runs or fewer, yet the third time in that stretch that they won regardless.
So many things have gone wrong in April for the Mets, who have endured Granderson's slump, Bobby Parnell's season-ending injury. and inconsistency from their lineup and bullpen. Yet they are 11-9 for the month despite averaging 3.75 runs per game.
They'll take it.
"You know, we've been playing well," said Niese, who watched the ninth-inning fireworks from inside the clubhouse. "I think we can always play better. I think there's a lot of games that got away from us, and our record could be better. I look forward to good things to come."
Anthony DiComo is a reporter for MLB.com. Follow him on Twitter @AnthonyDicomo. This story was not subject to the approval of Major League Baseball or its clubs.