Marlins can't break through in rubber game
After solid effort by Eovaldi, Gattis hits game-winning double in eighth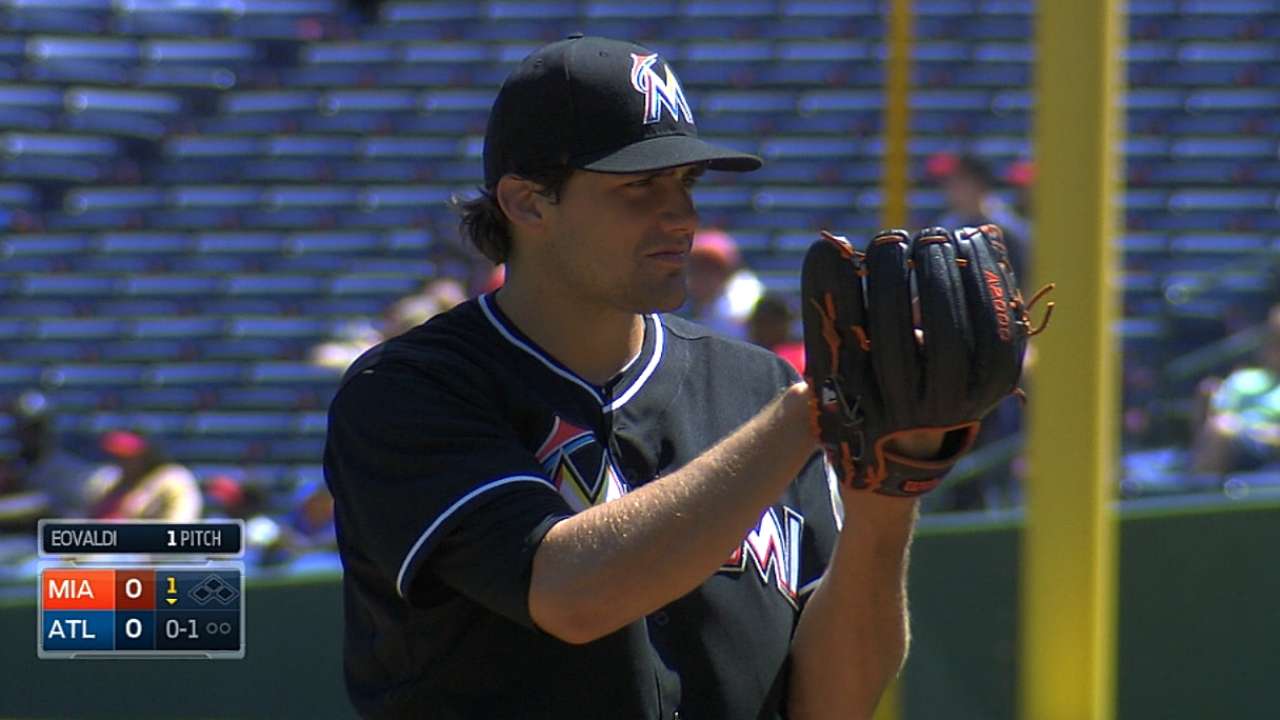 ATLANTA -- For the third game in a row on Wednesday, the Marlins' bats were quiet behind a stellar starting effort, as they were unable to capitalize on Nathan Eovaldi's strong six innings in a 3-1 loss to the Braves at Turner Field.
The Marlins, who have lost eight of their nine road games this season, finished 1-for-7 with runners in scoring position. They were just 3-for-22 in the series loss to the Braves.
"When you should've won or had more than one opportunity to win, then that's when you take this trip and shake your head the whole time," said Giancarlo Stanton, who drove in Miami's lone run on Wednesday with an RBI double in the sixth.
Miami struck out 16 times on Wednesday, upping their total to 41 during the past three games.
"First things first, you've got to put the ball in play," Stanton said. "Even if you have bad contact or something doesn't go right, if you put it in play, something can happen. If you don't, then you obviously know where you're going -- on the bench."
Miami's offensive woes left Eovaldi and the bullpen little margin for error, and Evan Gattis took advantage by hitting a two-run double on a 1-1 A.J. Ramos fastball in the bottom of the eighth.
Gattis, who hit a walk-off two-run homer in the 10th inning of Monday's 4-2 Braves win, is now batting .377 (17-for-46) with four home runs and 17 RBIs against the Marlins.
Ramos gave up the game-winning hit, but the runs were charged to left-hander Mike Dunn, who now owns an 8.31 ERA in 8 2/3 innings of relief this season. The Miami bullpen surrendered four runs in seven innings in the series against the Braves.
"We're making some mistakes pitching-wise, too," Marlins manager Mike Redmond said. "Some of it is pitch selection. You've got a guy like Gattis, who's a really good fastball hitter, and you're thinking we're going to throw him a lot of offspeed pitches and breaking balls and make him hit that pitch. And he ended up hitting a fastball."
Added Ramos: "I wanted to get a fastball. I had faith in my fastball, as well. But I mean, when you throw it that far down the plate, anybody can hit it out and hit it like he did. It was just a bad pitch over the middle, and he did what he was supposed to do with it."
Eovaldi logged his fourth quality start in five outings this season. He gave up one unearned run on five hits, walked one, struck out seven and threw a season-high 104 pitches in his sixth straight start of six innings or more.
The lone run scored against Eovaldi came in the fourth, when Chris Johnson led off the frame by reaching on an Adeiny Hechavarria error. He advanced to second on a wild pitch by Eovaldi and scored an unearned run on a Ryan Doumit single.
Eovaldi also worked out of jams in the first and fifth innings. Atlanta put runners on first and second with one out in both frames, but it couldn't get any runs across.
Eovaldi retired Johnson on a popup to third and Doumit on a flyout to center field to end the first. In the fifth, he overcame back-to-back singles by getting Freddie Freeman, who entered Wednesday's game ranked sixth in the Majors with a .351 batting average, to ground into an inning-ending double play.
"I was able to work the fastball on both sides of the plate," Eovaldi said. "The slider was good. I was able to throw some changeups and curveballs in there towards the end of the game."
Eovaldi had a chance to earn his second win of the season when Casey McGehee walked and Derek Dietrich singled to lead off the seventh. But Braves reliever Jordan Walden came in and struck out Hechavarria, Jarrod Saltalamacchia and Greg Dobbs, who batted in place of Eovaldi.
"I thought we won the game there in the seventh inning with Walden," Braves manager Fredi Gonzalez said. "I thought that was an important part of the game. I know the eighth got a little hairy. But for me, [the seventh] was a big inning to get out of it."
No Marlin reached scoring position until the sixth, when Jeff Mathis singled and advanced to second on a Marcell Ozuna base hit. Stanton then followed with his Major League-leading 27th RBI on a bloop double to center field to score Mathis. Ozuna, who had singled, got a great jump from first, but he was held at third.
Miami threatened yet again in the eighth when Christian Yelich led off the frame with a bunt single to extend his career-best hitting streak to 17 games. But he was retired at second on a fielder's choice, Stanton was intentionally walked for the sixth time this season, Garrett Jones popped out to first base and McGehee lined out to right field.
The Marlins went quietly in a perfect ninth by Braves closer Craig Kimbrel, who struck out Hechavarria and Saltalamacchia. When Saltalamacchia swung and missed at a 3-2 fastball, Miami fell to 4-9 in games decided by three runs or fewer this season.
"These are teams you can't make mistakes on, and if you have an opportunity, you have to advance on it," Stanton said. "There's no second chances vs. teams like this."
Joe Morgan is an associate reporter for MLB.com. This story was not subject to the approval of Major League Baseball or its clubs.