Harang, Gattis do it again as Braves take series
Starter remains superb; pinch-hitter hits second game-winner of series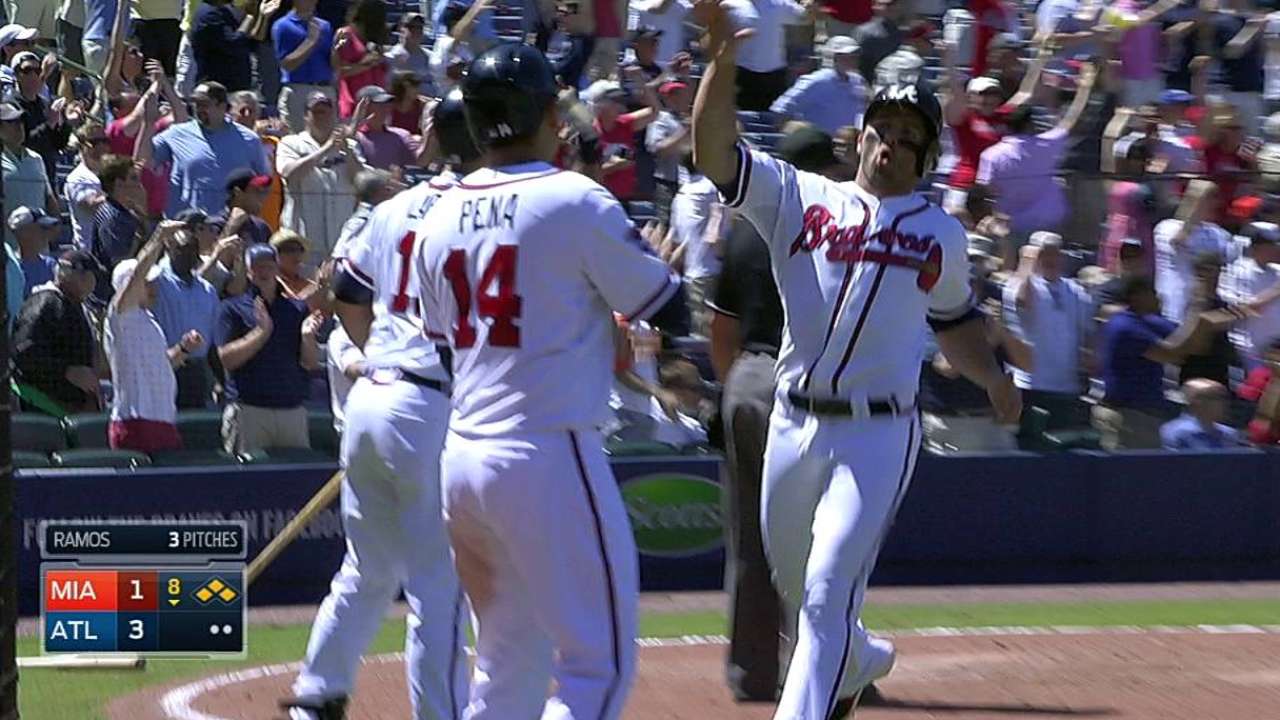 ATLANTA -- Logic says Aaron Harang will come back down to earth at some point. But with every passing start, the Atlanta right-hander continues to provide reason to wonder if his recent success will prove to be more than just a passing fad.
Evan Gattis added to his list of late-inning heroics when he came off the bench on Wednesday afternoon to deliver a two-run, eighth-inning double that proved decisive in a 3-1 win over the Marlins. But Gattis might not have had this opportunity without the latest impressive start the Braves received from the rejuvenated Harang.
"You don't expect a pitcher to go up and give one run up or no runs," Braves shortstop Andrelton Simmons said. "I'm impressed and I'm happy [Harang] has been doing it. Hopefully, he keeps doing it the whole year. Hopefully, he's that guy. You don't expect that day in and day out. But it's nice to see."
Five days after seeing his no-hit bid against the Mets aborted after seven innings because he had already thrown 121 pitches, Harang added to the wonder of his recent success as he notched a season-high 11 strikeouts and limited the Marlins to one run over six-plus innings.
In other words, he was not adversely affected by the physical and mental fatigue that he had felt while chasing the no-hitter in his previous start.
"You always hear them say the next time out, the guy is not going to be as efficient," Harang said. "I didn't even think about it. It was just another start for me, and I'm just out there trying to give us a chance to win."
Through his first five starts, Harang has produced a National League-leading 0.85 ERA and has vastly exceeded even the most optimistic expectations when the Braves signed him March 24, hours after he had been released by the Indians.
According to Baseball-Reference's Play Index, Harang is the first pitcher to allow one or fewer runs and complete at least six innings in each of his first five starts since Pedro Martinez in 1997.
"He's gotten an opportunity to pitch for a good team and a good organization," Braves manager Fredi Gonzalez said. "He sure is getting the most of it."
The Braves concluded their seventh series victory in encouraging fashion courtesy of a perfect ninth inning Craig Kimbrel fashioned with the help of two strikeouts. This outing erased some of the concerns that had developed during the two appearances Kimbrel had made since resting a sore right shoulder last week. He has now struck out five of the past six hitters he has faced.
Before Kimbrel's impressive ninth inning, right-handed setup man David Carpenter stranded two runners he inherited from Luis Avilan in the eighth inning. But the most important bullpen contribution came from Jordan Walden, who struck out each of his three batters after Harang exited with two on and none out in the seventh inning.
"I thought we won the game there in the seventh inning with Walden," Gonzalez said. "I thought that was an important part of the game. I know the eighth got a little hairy. But for me, [the seventh] was a big inning to get out of it."
Once the middle relievers preserved Harang's effort, the Braves finally broke through in the eighth inning against Mike Dunn, who issued a one-out walk to Chris Johnson and surrendered Dan Uggla's two-out single that Derek Dietrich deflected behind second base. When Gattis was announced as a pinch-hitter a few moments later, the Marlins replaced Dunn with right-hander A.J. Ramos.
Gattis saw two straight curveballs before lacing a 1-1 fastball down the left-field line. The decisive two-run double was his seventh hit in 13 career pinch-hit at-bats, but the Braves catcher said he has not yet exactly found comfort coming off the bench.
"I feel more relaxed whenever I get three or four at-bats in a game," Gattis said. "I still haven't pinch-hit that much. But no, I don't feel as relaxed pinch-hitting."
But it's safe to say the Braves have become much more relaxed with the presence of Harang, who retired each of the first six batters and faced just one more than the minimum through Wednesday's first five innings. He finally encountered some trouble in the sixth inning, which began with Jeff Mathis' bunt single. Mathis advanced to second base on Marcell Ozuna's two-out single, and then scored when Giancarlo Stanton blooped a game-tying double to shallow right field.
Stanton's double, which came after first-base umpire Cory Blaser ruled he checked a 1-2 swing, snapped Harang's 13-inning scoreless streak. Adeiny Hechavarria's third-inning leadoff single accounted for the first hit the Braves pitcher had surrendered over a span of 36 plate appearances.
"When you're on a roll, you've just got to ride the hot streak and keep it going," Harang said.
Mark Bowman is a reporter for MLB.com. This story was not subject to the approval of Major League Baseball or its clubs.