Santiago has been dealing with back issue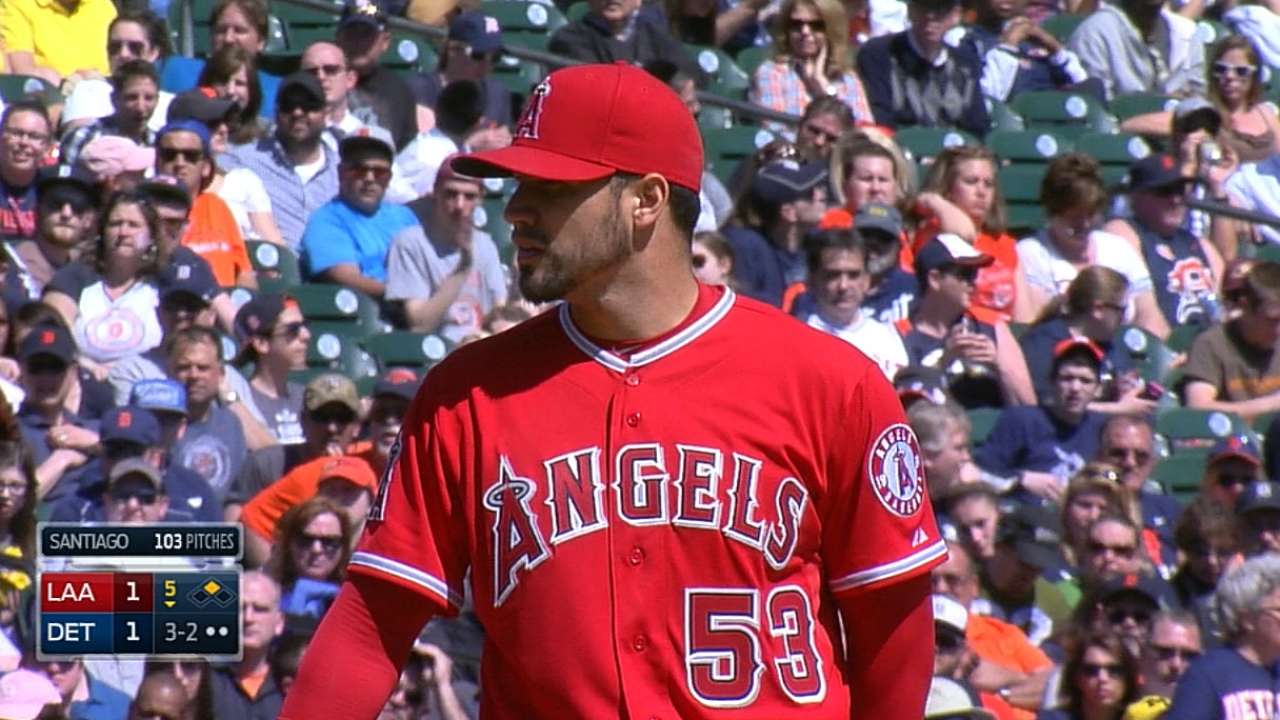 WASHINGTON -- Hector Santiago got through an entire start on Sunday without any flare-ups in his back, and that was an encouraging sign for the 26-year-old left-hander.
It was also a first.
Santiago revealed on Wednesday that he began feeling pain in the middle of his back when he took the mound for his last Spring Training start, against the Dodgers on March 27. It continued through his first two outings of the regular season, then he experienced intermittent pain when he pitched against the A's on April 14.
"It was bad," Santiago said. "The day of the crosstown series, against the Dodgers, every pitch I threw was aching me. Every single pitch I threw, I was like, 'Oh my God, this is not good. The season's about to start.'"
Santiago was fine in the first two innings of his 2014 debut, but the back acted up in the third, and Santiago was pulled after throwing just 83 pitches in five-plus innings, eventually being charged with four earned runs.
"Velocity-wise, command-wise, I wasn't using my lower half at all," Santiago said.
The back then hurt him for most of his April 8 start against the Mariners, when he gave up four runs in 4 1/3 innings, but got a little better, minus two separate flare-ups, when he pitched seven innings of one-run ball his third time out. And while getting charged with two unearned runs in 5 2/3 innings in his most recent outing against the Tigers at Comerica Park, he didn't feel it at all.
"It didn't even cross my mind when I was out there, at all," said Santiago, who kept the ailment under wraps until being asked about it Wednesday.
Santiago has never missed time on the disabled list and said he had never experienced back pain until about three weeks ago. He believes it stemmed from driving a U-Haul truck from Arizona to Southern California just before Opening Day. And he spent most of the first three weeks in the trainer's room, getting heat, stem-cell therapy and "doing a lot of stretching."
"I just kept aggravating it and throwing, and doing all the workouts and stuff," Santiago said. "It went on for longer than I wanted it to.
"It's been fine of late, so hopefully it doesn't come back, because back problems are the worst thing. Once you get a back problem, you're like shut down."
Alden Gonzalez is a reporter for MLB.com. Read his blog, Gonzo and "The Show", and follow him on Twitter @Alden_Gonzalez. This story was not subject to the approval of Major League Baseball or its clubs.