Werth, LaRoche rally Nats for walk-off win vs. Halos
Four-run ninth seals seventh comback victory of season for Washington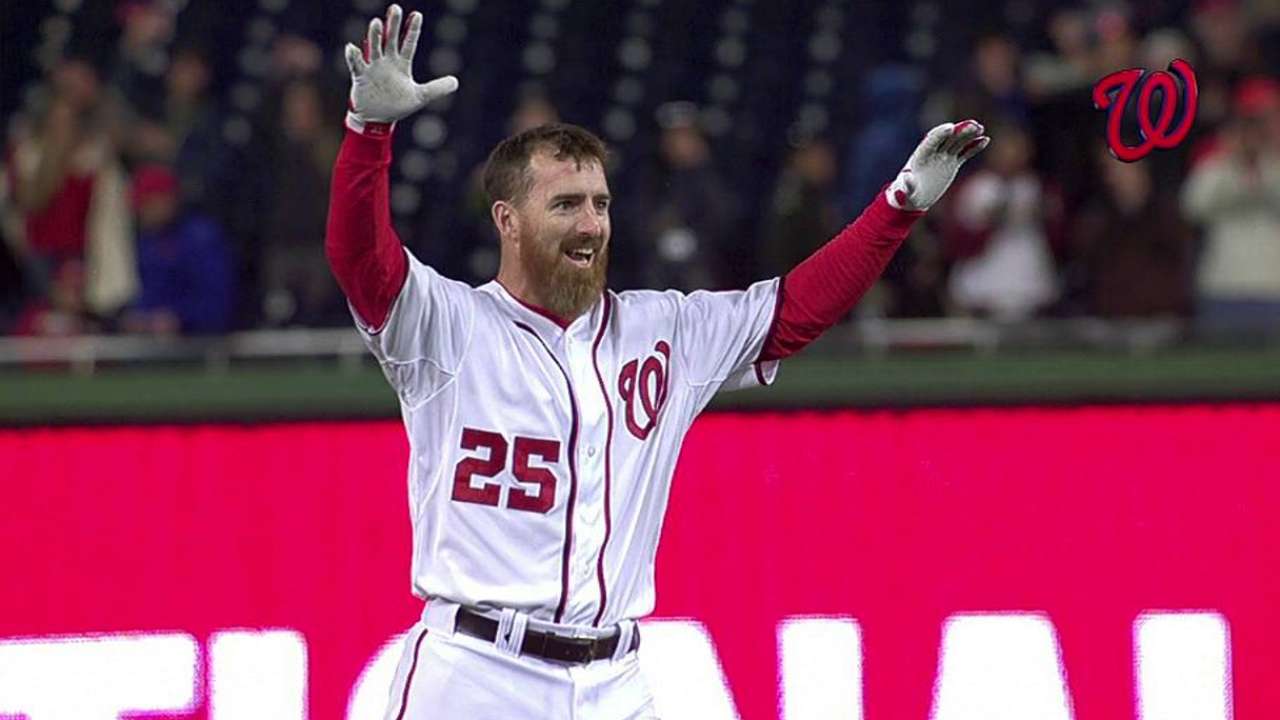 WASHINGTON -- It looked like the Nationals were going to lose their third straight game, but big hits by Jayson Werth and Adam LaRoche helped them walk off with a 5-4 win over the Angels on Wednesday night at Nationals Park. It was their seventh come-from-behind victory this season.
The Angels had a 4-1 lead going into the bottom of the ninth inning, with closer Ernesto Frieri on the mound. Several Nats players went over to shortstop Ian Desmond and asked how to hit Frieri. In Monday's 4-2 loss, Desmond hit a ninth-inning home run against the right-hander.
"Desi was just running his mouth, so that kind of got us going," Werth said. "It's good. I like the way we are playing."
Frieri couldn't close the game, allowing Jose Lobaton's leadoff homer. Then -- after striking out Zach Walters -- Denard Span singled and Anthony Rendon followed with a walk.
That brought up Werth, who was ahead in the count, 3-0. Manager Matt Williams gave him the green light to swing.
"I trust him. He is a veteran player. I trust the fact he has done it a couple of times this year. One was a home run. The other was a double," Williams said. "He is comfortable with it. He knows what pitch to pick, and how to go about doing it."
Werth picked a fastball and doubled down the left-field line, scoring Span and Rendon and tying the game at 4.
"It's one of those situations where if you hit into a double play right there, it's probably the worst play you have ever seen. If you get a hit, it's the best. So I'm glad it worked out, that's for sure," Werth said. "When I played for Charlie Manuel, he always talked about aiming for the foul pole. I was just aiming for the foul pole. It worked out."
Frieri was mad at himself for not being able to save the game for Los Angeles.
"I'm mad at myself, because I keep missing pitches, and if I keep doing that, I'm going to keep getting hurt like that," he said. "I don't know, man. I'm fighting, I'm trying to get better. But if I don't make my pitch, I'm going to get hurt. Even when I'm ahead in the count, I can't be leaving balls down the middle, because I'm going to get hurt."
Frieri was taken out of the game in favor of Fernando Salas. LaRoche then came to the plate, swung at the first pitch and singled to left-center field to score Werth for the game-winner.
"He left a fastball over the plate," LaRoche said. "In that situation, I was trying to hit something hard. He has a good changeup. I can't really sit on the fastball. I tried to put a good swing on something.
"The damage was really done before my at-bat. Lobaton comes up and puts a run on the board quick. I can't imagine anybody thinking [Werth] was going to swing 3-0 right there. It surprised all of us. He came up huge. Big win, needless to say. We needed that one. "
Early in the game, Gio Gonzalez provided the only offense for Washington, and it occurred in the second inning, when he singled to center field off right-hander Jered Weaver, scoring Danny Espinosa and giving Washington a 1-0 lead.
"A blind squirrel finds a nut once in a while," Gonzalez said. "It was one of those lucky swings. I was out in front. Got lucky. It 's one of those things we can smile about and turn the page."
Entering the sixth, Gonzalez had retired 10 consecutive batters and appeared to be on his way to a quality start. But before long, the Angels had a 2-1 lead and Gonzalez was on the hook for a loss.
Mike Trout walked to start the sixth. Albert Pujols followed and doubled down the third-base line, scoring Trout to tie the score at 1. Williams then took Gonzalez out of the game in favor of Aaron Barrett, because Gonzalez was experiencing tightness in his left shoulder. It was cold, and Williams didn't want to take any chances. The injury is not considered serious and Gonzalez is expected to make his next start against the Phillies next week.
"After the fifth inning, it started getting a little colder. It felt a little tight," Gonzalez said. "Matt started seeing it in the sixth inning. I feel fine now. I did all my exercises. I feel great. Next question."
Barrett was able to get Howie Kendrick to ground out. However, Erick Aybar singled to left field, scoring Pujols.
In the next inning, David Freese scored on a wild pitch by Barrett.
A strange play occurred in the sixth inning, when after LaRoche singled to lead off, Bryce Harper tried to bunt for a hit on a 2-2 count, but he fouled out to catcher Chris Iannetta.
Williams defended Harper, saying the Angels gave him the opportunity to bunt.
"I'm not opposed to him laying a bunt down with two strikes. We've seen guys do it before," Williams said. "If he gets that bunt down, it's a base hit. I'm not concern about that. He is trying to do things to help us win."
Weaver pitched well enough to win the game. He pitched six innings, allowed the one run on seven hits, and struck out two batters.
Gonzalez was charged with two runs over five-plus innings, while Drew Storen earned the win with one-third of an inning pitched.
"If they showed anything, it is that they fight. It gives [us] more opportunities. We got a couple of big hits from the middle of the order," Williams said.
Bill Ladson is a reporter for MLB.com and writes an MLBlog, All Nats All the time. He also could be found on Twitter @WashingNats. This story was not subject to the approval of Major League Baseball or its clubs.