Cubs foiled on Wrigley Field's 100th birthday
Shark pitches into eighth inning, but 'pen allows five runs in ninth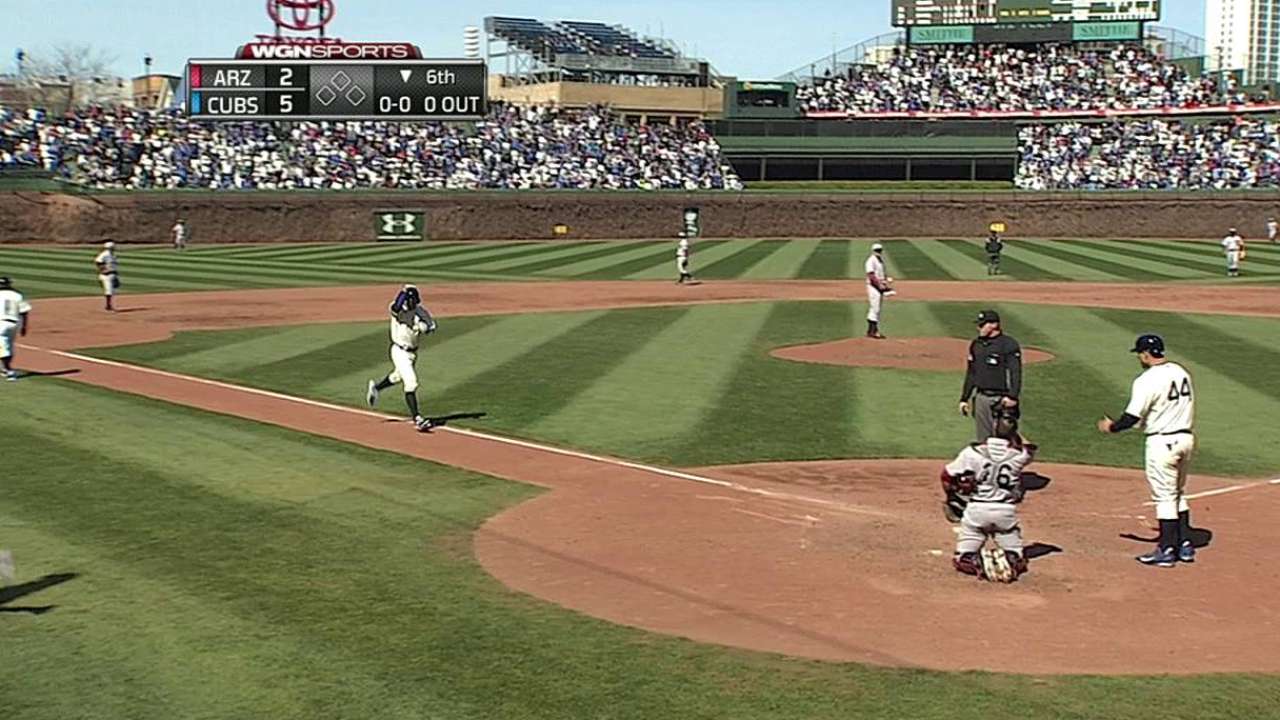 CHICAGO -- Once again, Jeff Samardzija deserved the win, but the D-backs spoiled his day and Wrigley Field's birthday party.
Aaron Hill hit a two-run triple to highlight a five-run ninth inning and lift Arizona to a 7-5 victory over Samardzija and the Cubs, who were celebrating Wrigley Field's 100th anniversary.
"It's a big day; you want to show up. We had a good turnout with the fans and a lot of former players in the crowd, and everyone went out and battled and tried to get it done," Samardzija said. "It just didn't turn out the way we wanted to."
The D-backs' rally meant a no-decision for Samardzija, who was in line for his first win in his fifth quality start of the season. Justin Ruggiano belted a two-run homer for the Cubs, who were trying for their third straight win for the first time since last July 26-28. Ruggiano, though, was injured in the ninth.
Arizona trailed, 5-2, in the ninth against Pedro Strop, who walked Chris Owings. Tony Campana reached on an error by shortstop Starlin Castro, who couldn't turn a potential double play ball.
"I tried to be too quick on that play," Castro said. "It's impossible to make a double play with that kind of guy running. All I have to do there is make sure I get one."
Pinch-hitter Eric Chavez walked to load the bases, and one out later, Martin Prado lined a single that bounced off second base and deflected to right to drive in two and close the deficit to 5-4.
"That was a weird inning," Cubs manager Rick Renteria said. "I've never seen a ball hit the corner of the bag on a ground ball. That's a first for me."
"I think [second baseman Darwin] Barney would have got it," Arizona manager Kirk Gibson said of Prado's grounder. "We probably would have got one run out of it. Instead, it lets the guys advance another base and [Miguel Montero] gets the big hit."
Strop struck out Paul Goldschmidt, and James Russell took over and served up a RBI single to Montero to tie the game at 5. Justin Grimm took over for Russell, and Hill greeted him with a triple to right, driving in two. The play may be costly, as Ruggiano fell on the bullpen mound trying to catch the ball and had to be helped off the field. He underwent an MRI with a left hamstring injury.
The Cubs' lack of a consistent closer is creating problems. Jose Veras lost the job after a blown save April 11 in St. Louis. Strop, Hector Rondon and Grimm are Renteria's options now.
"At the beginning with the first hitter, I really didn't have my command, but after that, I got my rhythm and feeling where to throw the ball," Strop said. "The first hitter, I definitely didn't have my stuff. I was trying to get my body warm. I don't want to make excuses -- I have to be ready for that first hitter. In that inning, you cannot be walking guys. It's dangerous. You fight to get the first out, and when you get the first out, everything is different."
Samardzija may have to throw a complete game to get a win. The right-hander scattered seven hits and walked two over 7 1/3 innings, and his ERA now is 1.53, among the best in the National League. In fact, Samardzija hasn't won in his last 11 starts, and eight of those were quality starts.
Samardzija isn't frustrated.
"I'm going out and doing my job," Samardzija said. "As a starting pitcher, you know when you're pitching every fifth day and you come out -- you have to have a short memory as a pitcher. You start carrying over start to start, that's when it starts to snowball on you. You keep doing your work and competing for the team and hope for the best."
"If he keeps pitching the way he's pitching, he'll have victories," Renteria said. "There are also times when guys don't pitch too well and they garner a win. This one was a tough one, for sure. We have to get over it, because we have another game tomorrow."
It'll be back to normal at Wrigley. Wednesday's pregame birthday festivities featured a parade of past Cubs, including Hall of Famers Ernie Banks, Billy Williams, Andre Dawson and Fergie Jenkins, plus Chicago Bears greats Dick Butkus and Gale Sayers, who also played at Wrigley. Major League Baseball Commissioner Bud Selig took part in the celebration.
The players wore throwback uniforms, with the Cubs dressed in the Chi-Feds outfits and the Diamondbacks as the Kansas City Packers. Those teams played the first game at Wrigley on April 23, 1914, when it was Weegham Park.
The crowd of 32,323 sang "Happy Birthday" to the ballpark in the middle of the fifth inning.
All the hoopla didn't affect the players, however. They had a game to play.
"You're sitting in the bullpen and everything is happening -- 100 years, the celebration and all that," Strop said. "But as soon as you get the call to get in the game, you're not thinking about that, you're thinking about getting your team off the field and into the clubhouse."
The Diamondbacks took a 1-0 lead in the second when a run scored on Owings' fielder's choice.
The Cubs took a 3-1 lead in the fifth. Mike Olt singled to lead off, the first hit off Wade Miley since Junior Lake singled in the first, and he moved up on a wild pitch and a single by Welington Castillo. Barney then hit a chopper to Goldschmidt, who lobbed the ball over the covering Hill for an error, and Olt scored. Samardzija hit a sacrifice fly to go ahead, 2-1, and another run scored on Emilio Bonifacio's groundout.
Cody Ross added a RBI single with two outs in the D-backs' sixth, but Miley walked Anthony Rizzo to open the sixth and Ruggiano followed with his first home run to go ahead, 5-2.
Was Wednesday's game just another Cubbie occurrence? Renteria doesn't think so.
"I don't think about what is or isn't in the past," Renteria said. "That plays no part in my thinking."
Carrie Muskat is a reporter for MLB.com. She writes a blog, Muskat Ramblings, and you can follow her on Twitter @CarrieMuskat. This story was not subject to the approval of Major League Baseball or its clubs.