Bumgarner's complete effort goes unrewarded
Pence's homer lone spark for Giants in duel at Coors Field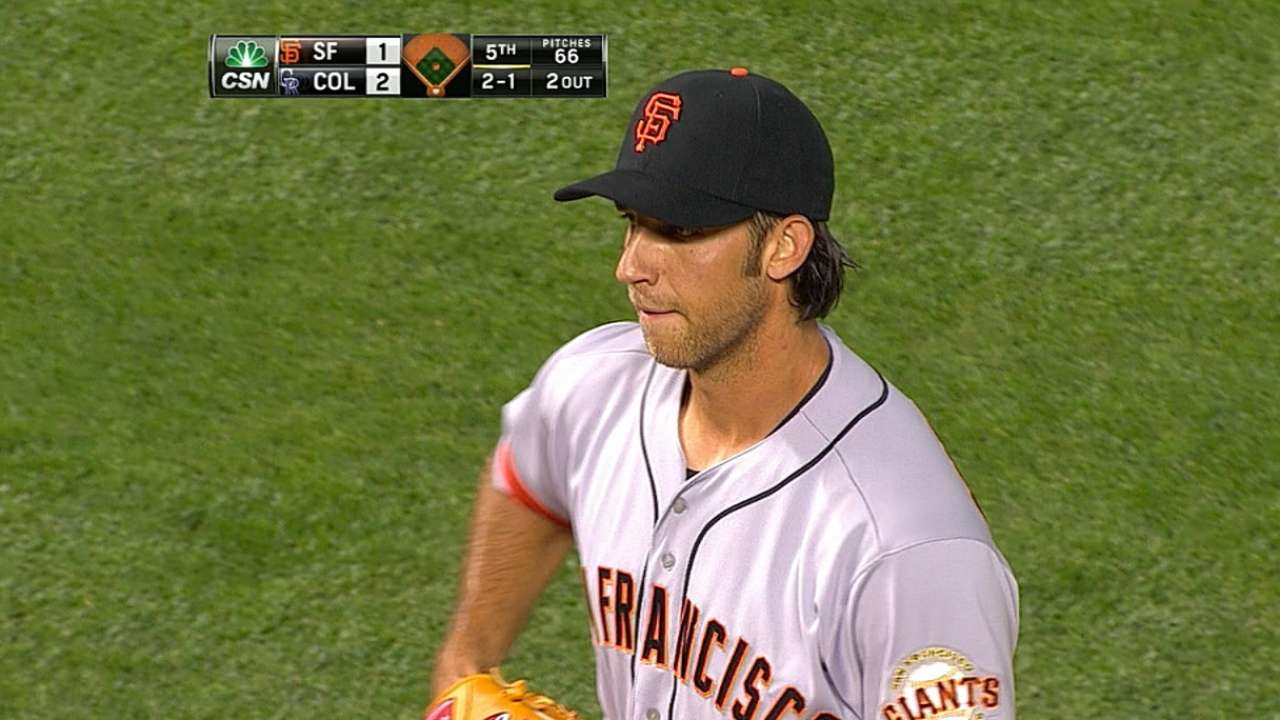 DENVER -- The Giants and Rockies served up a pair of pearls at Coors Field on Tuesday, squaring off in a taut pitchers' duel pitting a pair of surging southpaws against each other. But on a night when all the runs came courtesy of long balls, the Giants fell, 2-1, losing their second straight game in Colorado as the Rockies clinched the three-game series.
Madison Bumgarner pitched about as well as one can and still lose. He threw an eight-inning, complete-game gem, yielding two runs in a hitter's paradise, scattering nine hits and a walk while striking out six on 97 pitches.
He's one of two pitchers to ever throw a complete game at Coors Field while allowing two runs or fewer in a losing decision. The other was Rockies right-hander Jason Jennings on July 25, 2006, against St. Louis. Jennings pitched nine innings, allowing one run -- a solo homer to Albert Pujols -- on four hits and two walks.
"It's not any more frustrating for me than it is for everybody," Bumgarner said. "We all want to win. I'm not frustrated for myself. We should be a winner."
It was certainly a vast improvement over his last outing, when Bumgarner also allowed two runs but lasted only 4 1/3 innings on 99 pitches.
"The biggest thing was just getting ahead, making pitches, and not being behind in the count so much," Bumgarner said, comparing the two starts. "You don't have a whole lot of control over it, but trying to get guys out as fast as you can, three pitches or less, and have somebody else in there."
Over his past two starts, Bumgarner has been supported by a total of one run from his offense. San Francisco has scored two or fewer runs in five of its past six games, hitting .168 (32-for-191) in the span. The 10 runs scored from Bumgarner's last start through Tuesday are the fewest in baseball.
"We're just going through a rough patch," Bumgarner said. "We showed what kind of team we are in the first week or two of the season. No matter how good you are, you're going to go through times like this throughout the year. It's just about getting out of it as quick as you can."
The Giants' lineup picked away at Rockies starter Franklin Morales, putting traffic on the basepaths in all but two of his seven innings on the hill. Pablo Sandoval got to third twice -- once after walking in the second and again after doubling in the fourth -- but was stranded both times.
"Morales has just got good stuff," Hunter Pence said. "He was locating, really good cutter, lot of life on his fastball."
San Francisco is now 3-for-40 with runners in scoring position over the past six games and hit only .129 with RISP over the last 10 games entering Tuesday, compared to hitting .346 during the first 10 games of the season.
"I was encouraged, I really was tonight," manager Bruce Bochy said. "The fact that it seemed like we weren't coming off the ball as much. Morales threw well. He's got good stuff. I thought we did have better at-bats anyway tonight. We had our chances. Double plays are killing us, but we fought back in the ninth too, had a couple good hitters up there. Just couldn't get it done."
Colorado was equally ineffective against Bumgarner, putting runners on base in each of the first six innings, but neither team was able to plate a baserunner. Bumgarner grew stronger in his final two innings, pitching a 1-2-3 seventh and eighth.
"Phenomenal," Pence said of Bumgarner. "He's so crucial to this team, and he's given us every chance to win pretty much every chance we go out there. All of our pitching has been phenomenal. We just have to find a way to get the offense rolling. It's definitely a good feeling when your pitching is keeping you in every ballgame, even when it feels like we're hitting every ball right at them. That turns around. That changes."
The Rockies finally broke the deadlock, with Troy Tulowitzki launching a line drive to left to open the bottom of the fourth. The Rockies then loaded the bases on two hits, a double play, an intentional walk and an error at first from Brandon Belt, but all were left stranded when Brandon Barnes flied out to right to end the inning.
"[Tulowitzki and Nolan Arenado] are obviously among the best fastball hitters in the league," Bumgarner said. "You got to make pitches when you're pitching to them. The one to Troy kind of came back over the middle just a hair. It was still a pretty decent pitch, and he put a good swing on it."
Pence answered in the next inning, putting the Giants on the board as he took a 1-1 fastball from Morales that hung over the fat part of the plate and sent it soaring over the left-field fence to tie the game with his second homer of the season.
"I definitely didn't go up to the box like I'm going to hit a home run," Pence said. "Right now my focus is every time I go up to the plate, to see the ball as good as I can and put a good swing on it. You happen to get a pitch right there."
Arenado followed with an even more majestic solo shot, a towering no-doubter that put the Rockies ahead again in the bottom of the inning and extended Arenado's hitting streak to 13 games.
"Bumgarner was throwing good against me the first couple of at-bats," Arenado said. "I missed a couple of pitches. In that at-bat, I missed a couple pitches, too. Then, luckily enough, he left one over the plate."
The loss dropped the Giants out of second and behind Colorado in the National League West.
Owen Perkins is a contributor to MLB.com. This story was not subject to the approval of Major League Baseball or its clubs.