Cueto twirls second straight complete game vs. Bucs
Ace's 21-inning scoreless ends in ninth inning at end of pitchers' duel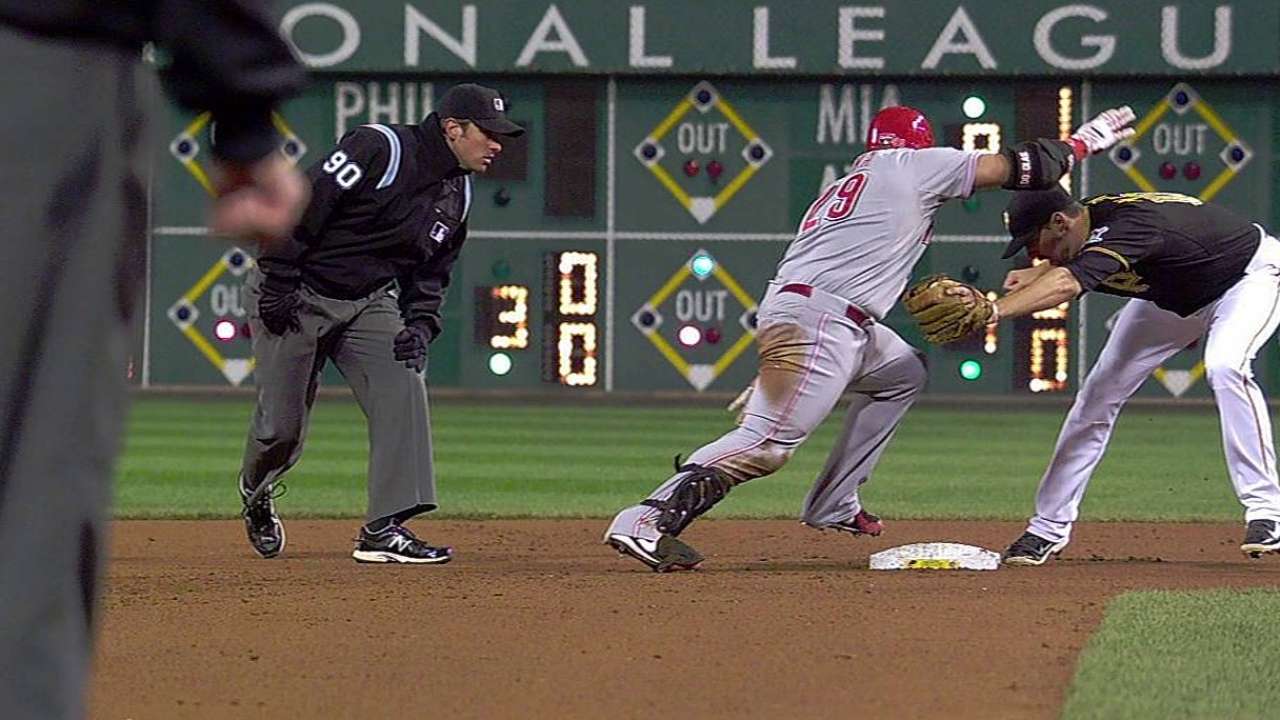 PITTSBURGH -- As much as they tried, Pirates fans' efforts to get into Johnny Cueto's head proved futile. The taunts of "Cue-to, Cue-to," were meant to rattle the Reds' ace into repeating his faltering start in October's Wild Card Game that included Cueto accidentally dropping a ball while on the mound.
"Yes, I heard it. All I can do is just laugh," Cueto said via translator Tomas Vera. "That's their job, the fans doing that. It's part of the past."
Of course, there were far fewer fans in attendance this time in Cueto's return to PNC Park. And Pittsburgh's hitters were the ones flummoxed once again as Cueto buried them for the second time in a week with a complete-game gem and a 4-1 victory. The Reds, who have won five of their last seven games, evened the series with two games remaining.
Cueto walked three and struck out four, allowing three hits and only surrendered Andrew McCutchen's solo homer in the ninth, which snapped his career-high scoreless innings streak at 21 innings.
After he had a three-hit complete game shutout for a 4-0 win over the Pirates on Thursday at Great American Ball Park, Cueto became the first Reds pitcher with consecutive complete games since Mat Latos in 2012.
"It feels good when you throw good against the same team the way I did," Cueto said. "All of my pitches were down. Everything was down and everything was under control except for a few pitches I could not control."
Cueto notched 16 outs via the groundball.
"What we saw in Cincinnati was through the roof, as far as his command and stuff, combined," Pirates second baseman Neil Walker said. "Tonight, his stuff wasn't as good, but his command was still there, to both sides of the plate."
The Reds lineup provided Cueto with enough assistance with two seventh-inning runs against former teammate Edinson Volquez, who was more than up for the challenge of a pitcher's duel.
Volquez, who was Cueto's best friend on the Reds from 2008-11, gave up only the two runs and five hits over seven innings with one walk, a hit batter and three strikeouts.
"We're really good friends, but he has to do his job and I have to do mine," Cueto said. "Thank God I won that battle against him."
Volquez retired a stretch of 13 out of 15 before the Reds put something together in the top of the seventh. Jay Bruce and Todd Frazier started it with back-to-back singles. With one out, Brayan Pena laced an RBI hit into right field and attempted to leg out a double. After a slide that appeared to elude Jordy Mercer's tag, Pena was called safe at second base by umpire Mark Ripperger. Following a manager's challenge by Clint Hurdle, Pena was ruled out on the replay and credited with a single.
"The ball was close to the line. He had to make a good throw because I had momentum," said Pena, who also caught Cueto's previous start. "I was trying to get something going. They called me out. No disrespect to anybody, but I didn't feel his glove at all."
Zack Cozart's RBI double lined to left field off Volquez took some of the sting away from the replay for Cincinnati.
"We were in a little cat-and-mouse game there with the pitcher up, we had [Sean] Marshall in the bullpen and [Roger] Bernadina so we weren't sure if they would pitch to Zack," Reds manager Bryan Price said. "That's a real tough spot to be in. You know they can pitch you tough hitting in the eighth spot with the pitcher on deck or a pinch-hitter. Volquez did. He made some really good pitches to him. Zack hit one of those good pitches down the line for the double and it ended up being a huge impact play for us."
In the top of the eighth inning, the Reds notched three hits against reliever Tony Watson, including Bruce's RBI single to right field that scored Billy Hamilton for a three-run lead. Cueto's own RBI single with one out in the top of the ninth scored Pena to give him more breathing room.
After Travis Snider's one-out single to center field in the second inning, Cueto retired the next 13 in a row and 17 of 18. Mercer reached on a Frazier error to begin the Pittsburgh eighth but was erased when Jose Tabata grounded into a routine 4-6-3 double play.
"It was consistent with what he was doing all night, and that was getting ground balls," Price said. "It was absolutely huge because they were getting ready to turn that lineup over again and we got the double play. It really set things up nicely for the ninth."
Following McCutchen's homer with one out in the Pirates ninth, Cueto walked Russell Martin after having him in a 1-2 count. Price visited the mound as closer Jonathan Broxton warmed up. But Cueto finished the game by getting Ike Davis to fly out to left field.
During the game, Cueto became the first pitcher to log his first 1,000 career innings while pitching for the Reds since Tom Browning from 1984-89. Had he stayed scoreless, he would have been the first Cincinnati pitcher to throw consecutive complete game shutouts since Tom Seaver in 1977.
"Johnny has done some really great things for himself as a young pitcher in this league and he's still a young pitcher," Price said.
Mark Sheldon is a reporter for MLB.com. Read his blog, Mark My Word, and follow him on Twitter @m_sheldon. This story was not subject to the approval of Major League Baseball or its clubs.