Volquez impresses in pitchers' duel, but Bucs fall short
McCutchen goes deep in final frame to save Pirates from shutout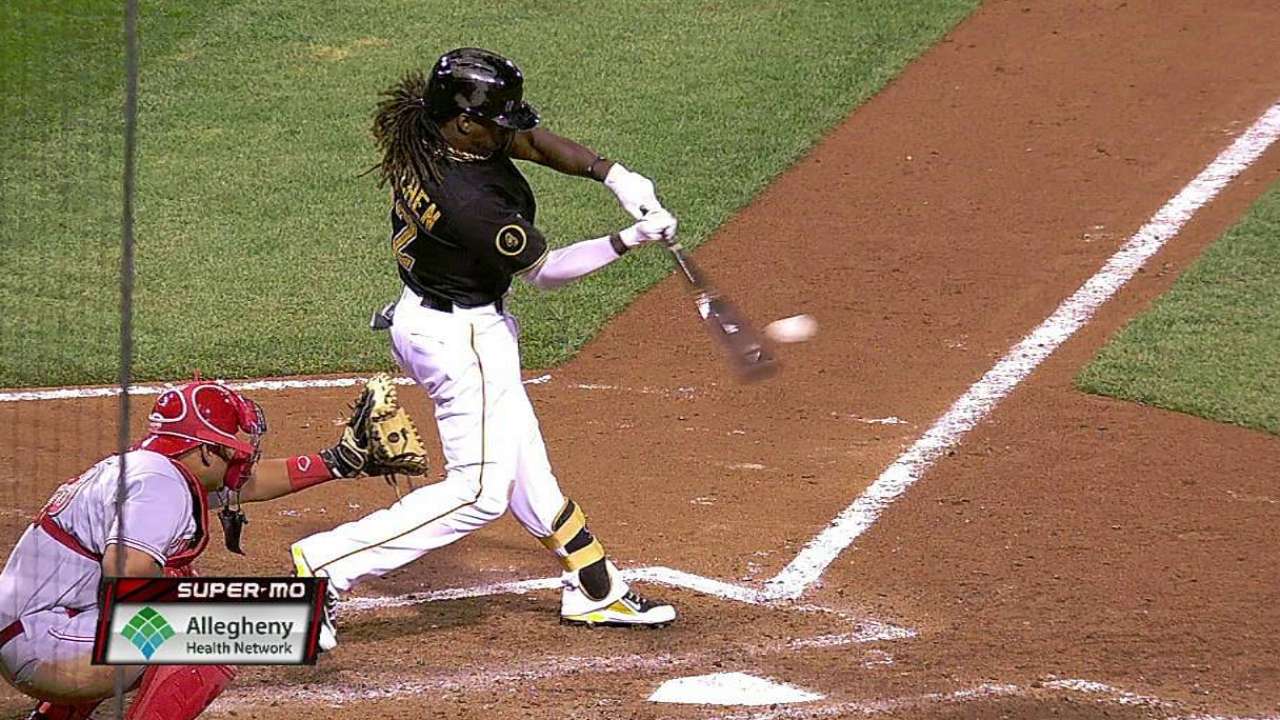 PITTSBURGH -- In honor of Earth Day, the Pirates continued to recycle Edinson Volquez. Too appropriately perhaps, he ended the night green with envy.
The Pittsburgh right-hander was most envious that Johnny Cueto, a good friend he used to start with and not against, got some runs.
"I've got to give him credit," Volquez said. "He had a pretty good day against us."
Again. Last week in Cincinnati, Cueto blanked the Bucs on a three-hitter that had people marveling, "You can't pitch any better than that."
But you can pitch as well again: Cueto painted another three-hitter, lording over the Pirates, 4-1, at PNC Park, with Andrew McCutchen's solo homer in the ninth saving Pittsburgh from a shutout.
"It was unbelievable," said Brayan Pena, who caught Cueto and also broke up a scoreless standoff with a seventh-inning single. "You have to tip your hat to McCutchen, he hit that cutter to the opposite field out of the ballpark. Other than that, he was close to flawless."
Interestingly, Cueto encored with lesser stuff, according to the view from the batter's box, an impressive bit of improvisation.
"What we saw in Cincinnati was through the roof, the combination of stuff and command," Neil Walker said after his 0-for-4. "Tonight, his stuff wasn't as good, but his command was still there, to both sides of the plate. Yeah, that's what good pitchers do; when they don't have their best stuff, they figure out another way to get guys out."
Walker wore one of the seven collars distributed by Cueto. Travis Snider had one hit, and McCutchen claimed the other two.
The MVP's opposite-field shot in the ninth spoiled history, being the only thing between Cueto and the first instance of back-to-back shutouts by a Cincinnati pitcher in 37 years (Tom Seaver, in 1977).
A terrific duel between two good pitchers was broken up in the seventh inning when Pena singled to end the string of mutual zeros and Zack Cozart doubled for another run.
Volquez had taken a one-hit shutout into that frame, the latest stride on a remarkable comeback that had already seen him gradually morph from questionable to surprising to impressive. Tuesday night, he knocked down all the other rungs and went straight to amazing.
Most amazing perhaps was Volquez limiting the Reds to a total of six baserunners in his seven innings, essentially maintaining his game-starting WHIP of 0.95. Yes, this is the same guy who last year had a WHIP of 1.59.
"He's been really aggressive, and it's really encouraging what he's doing," said Walker, with long-range vision. "He's worked really hard, so it's good to see him get results."
If there was a Nobel Prize for recycling pitchers, Pirates pitching coach Ray Searage would already be working on his acceptance speech.
The paid attendance of 11,926 didn't include the players on the two teams, but perhaps they should have paid their way into the park, the way Volquez and Cueto made them feel for six innings.
Through six, Cueto allowed two hits.
And Volquez went Cueto-to-toe with the Reds ace, holding his mates to one hit.
"That was great," Volquez said, of the matchup, if not the outcome. "It's always fun to pitch against a former teammate [with the 2008-11 Reds]. And Johnny, we're pretty close, good friends."
Through six innings, the Reds couldn't hit their way even to second base. They did run that far once, Billy Hamilton following his two-out single in the third with his eighth stolen base.
"Another really solid effort," Pirates manager Clint Hurdle said. "My goodness. He's making pitches, changing speeds, getting ahead early. He had only three three-ball counts [of 27 batters faced]."
The seventh was the rude awakening, despite a successful review challenge by Hurdle that could have been critical.
Singles by Jay Bruce and Todd Frazier led it off and, with one away, Pena ripped a liner to right to score Bruce. Pena attempted to stretch the hit into a double, and second-base umpire Mark Ripperger initially ruled that he had succeeded.
Hurdle asked for a review, on which shortstop Jordy Mercer could clearly be seen keeping his tag on Pena as he came off the base.
The call was overturned, and it saved the Bucs a run when Cozart's ensuing double was good for only one more tally.
However, the Reds added on against the Pittsburgh bullpen in the eighth, Bruce delivering an RBI single off lefty Tony Watson and Cueto himself applying the icing with an RBI single off Stolmy Pimentel in the ninth.
Then Cueto returned to where he was in total control, in every way imaginable: The mound.
"We had to adjust early, because he wasn't pitching the same type of thing," said Hurdle.
The Bucs had prepped for the Cueto they had gotten in Cincinnati, but found themselves dealing with someone different.
"He got the same result, but with pretty much a different game plan," Hurdle said. "When you make pitches and have that type of control, it's a challenge."
"All four pitches … sometimes five," Walker said. "He had his sinker really working that day [last Wednesday] and today he had to rely a little more on his cutter and changeup."
Tom Singer is a reporter for MLB.com and writes an MLBlog Change for a Nickel. He can also be found on Twitter @Tom_Singer. This story was not subject to the approval of Major League Baseball or its clubs.