Quad strain sends Huff to DL; Perez recalled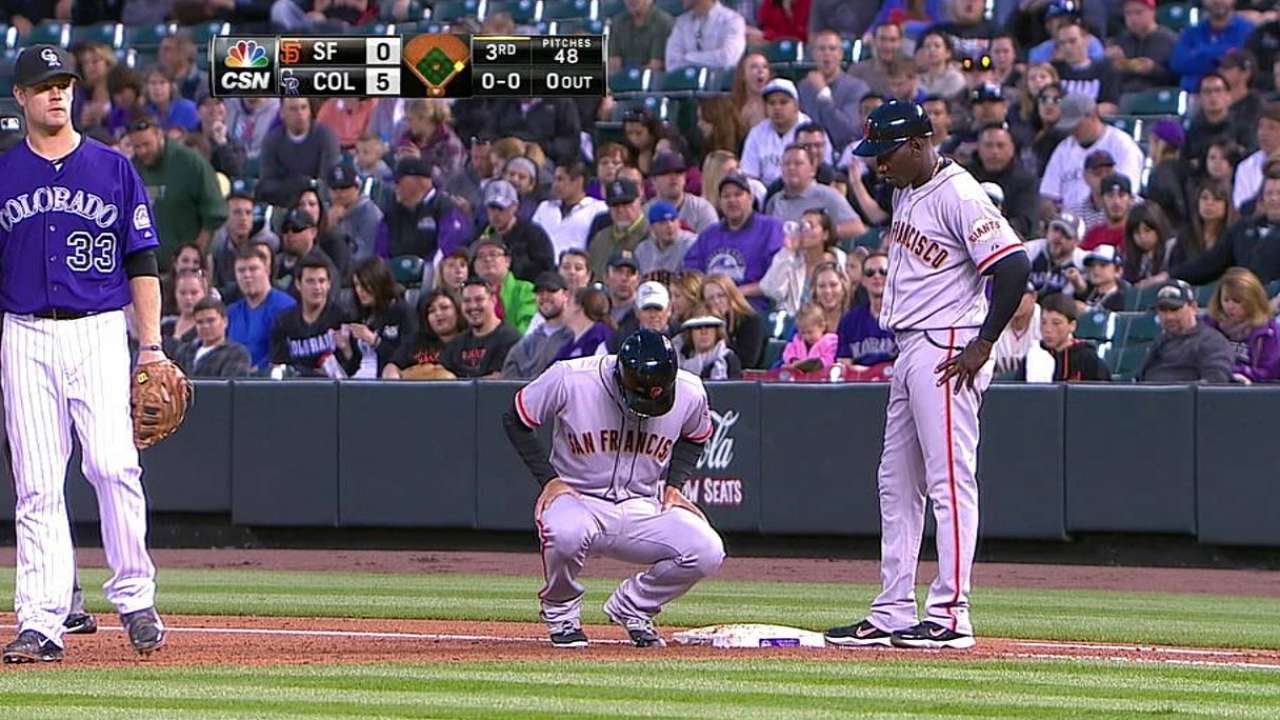 DENVER -- David Huff's strong season was put on hold when the Giants placed him on the disabled list Tuesday with a left quad strain. Outfielder Juan Perez was activated and is with the team for the second meeting in a three-game set against the Rockies.
"It's kind of good news," Huff said of the MRI results he received Tuesday. "It's not a severe strain. I knew it was strained going into it. I just didn't know how bad."
Huff sustained the injury while beating out an infield single to shortstop Troy Tulowitzki in the third for his first big league hit.
"I thought it was going to get through," Huff said. "Then I saw Tulo dive for it and get to it, and I thought, 'Oh, wow, I might have a chance to beat this out.'"
Huff felt something tighten as he approached first, and felt it tighten further as he made his way around the bases on two successive singles and eventually scored the Giants' first run on a double-play grounder from Buster Posey.
He came in to relieve starter Ryan Vogelsong in the second and faced one hitter, inducing an inning-ending double play from Justin Morneau, and after scoring in the third, he did not return for the bottom of the inning.
"He thought it was mild enough that he still could pitch, but I checked on him when he came in," manager Bruce Bochy said. "It's one of those things that it looks like it'll be seven to 10 days before he'd be back playing. We're better off giving him the 15 days and getting it cleared up."
Huff was optimistic the day after the injury and hopes to be ready when his 15-day stint on the disabled list comes to an end.
"It felt pretty good this morning when I woke up, so that's a good sign," Huff said. "Normally the next day it's pretty sore, pretty stiff, pretty painful. I wouldn't say it's better, but it's not worse. For me today, tomorrow, I'll kind of take it easy, and then start getting after it."
Huff is 1-0 with a 3.86 ERA after throwing seven innings in eight games this season.
Owen Perkins is a contributor to MLB.com. This story was not subject to the approval of Major League Baseball or its clubs.