A's catchers struggling to throw out baserunners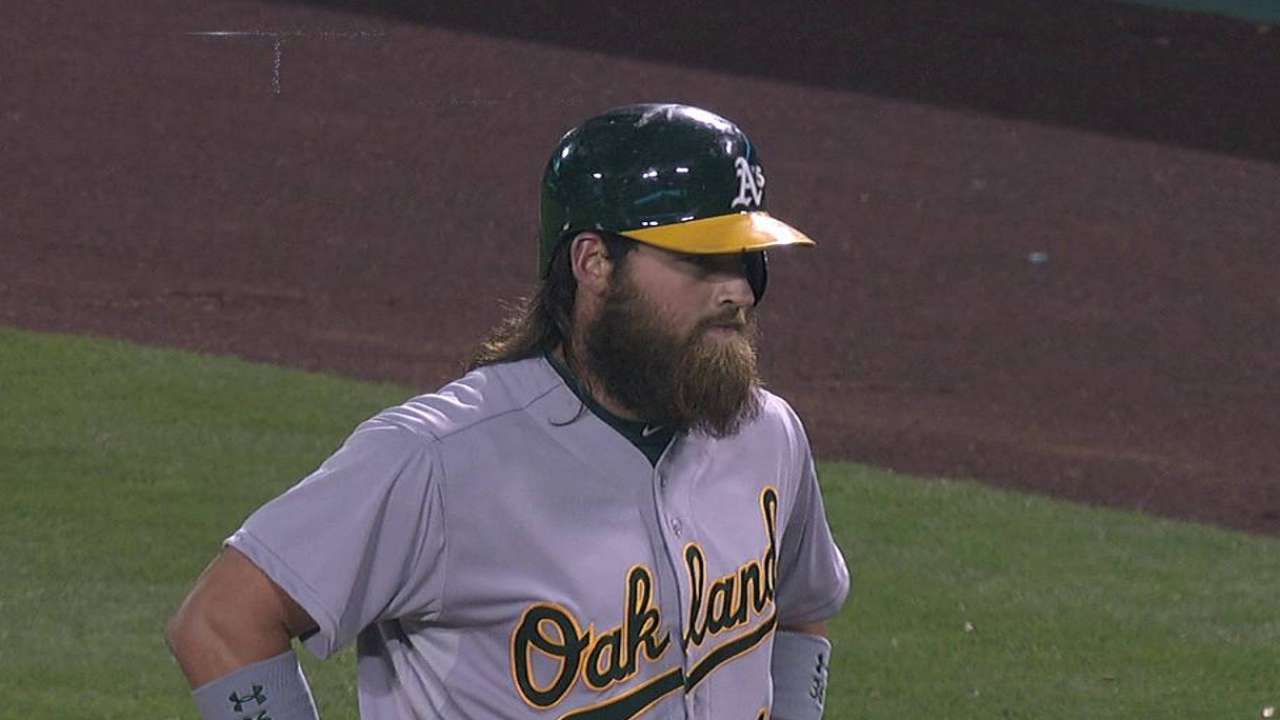 OAKLAND -- John Jaso and Derek Norris were out on the field well before the rest of their teammates Tuesday, but it wasn't a reaction to Jaso's throw into the outfield during the ninth inning the night before. Just standard, scheduled work for Oakland's two catchers along with second-year bullpen coach Darren Bush.
"When you're at home you can work on defensive stuff," manager Bob Melvin said. "When you're on the road, it can be a lot more difficult based on where you hit. When we're home, a couple times a week you'll see that."
But it's hard not to notice other teams' success on the basepaths against Oakland so far this season. Entering play Tuesday, opponents have converted 17 of 19 stolen base attempts, the worst mark for any team in the American League. Conversely, the A's lead the Majors with a 93.3 percent success rate (14-of-15) on stolen bases this young season.
Jaso did a good job to nab Alex Rios at second base in the first inning on Monday, but his wayside throw in the ninth sailed into center and allowed Michael Choice to advance to third base. Jaso's toss wasn't even close to the target, but Melvin attributed part of that to the pitchout from Dan Otero. And it didn't help that Elvis Andrus took a hearty swing at the ball as Jaso tried to execute.
"The pitchout probably wasn't the best pitchout, so it was a combination of both those things," Melvin said.
The Rangers' powerful lineup is well-known by now, but they also boast a versatile bunch of athletes like Andrus, who leads the AL with nine stolen bags. Rios and Leonys Martin also have four steals apiece for Texas, which has totaled an AL-best 19 as a team entering Tuesday's contest.
"You know they have three or four guys who are going to be aggressive on the bases," Melvin said. "But we're aware of it there, they try to push it some."
Alex Espinoza is a contributor to MLB.com. This story was not subject to the approval of Major League Baseball or its clubs.