Phillies cash in on Dodgers' error in 10th inning
Brown drives in Ruiz after dropped fly ball for third straight win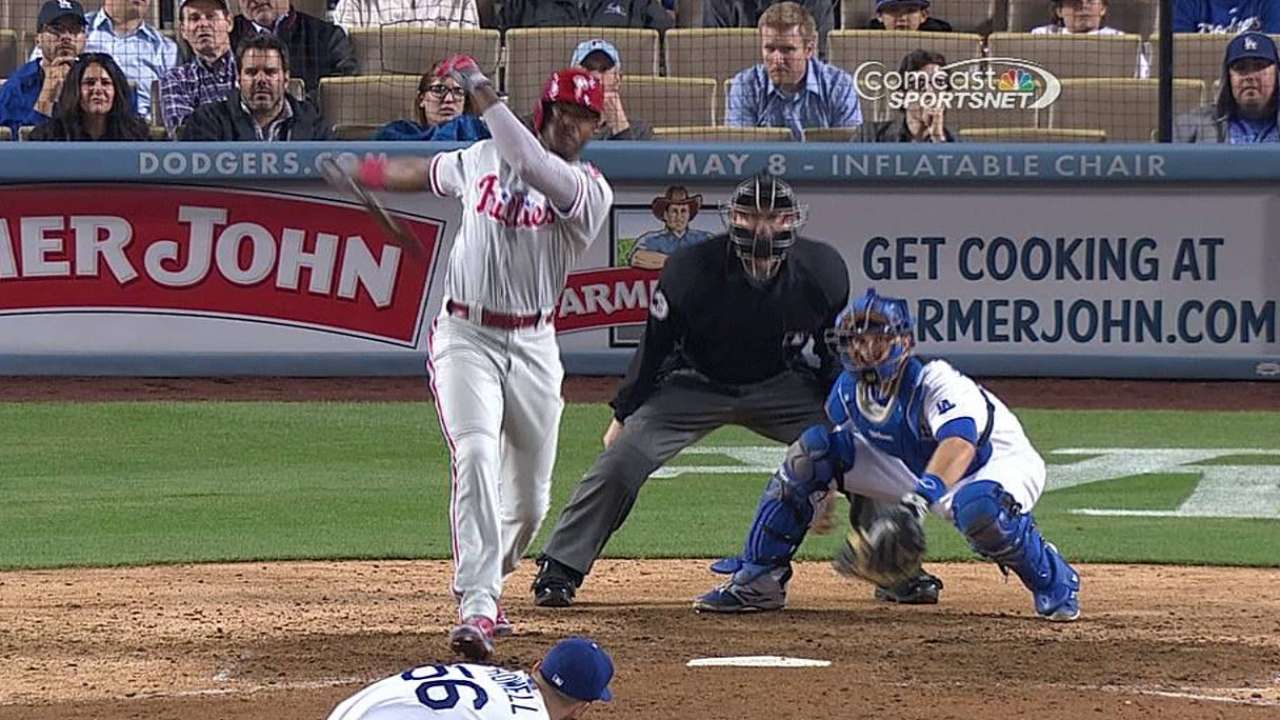 LOS ANGELES -- Hours before Jonathan Papelbon threw his seventh and final pitch in the bottom of the 10th inning on Tuesday night at Dodger Stadium, Phillies manager Ryne Sandberg talked about his team's record and what might have been.
The Phillies had blown three late-inning leads in their first 19 games, including two in the ninth, and they also wasted a one-run complete game from Cliff Lee.
"We've had a chance to win other games, looking back," Sandberg said. "We've had some opportunities."
The Phillies got one back with an impressive 3-2 victory against the Dodgers. Philadelphia improved to 10-10, the first time the club has been at .500 since April 13. The Phillies have won three in a row overall and have a chance to secure a series victory Wednesday when Cole Hamels makes his 2014 debut.
"The guys have battled back to be at .500 right now," Sandberg said. "That says something."
The victory came in unlikely fashion.
Carlos Ruiz popped up a ball to shallow left field with one out in the 10th. He tossed his bat in frustration because he thought he had wasted a hittable 1-0 sinker from Dodgers left-hander J.P. Howell, but he ran hard out of the box anyway. Dodgers left fielder Carl Crawford came in, while shortstop Hanley Ramirez drifted back for the routine play.
"Something can happen," Ruiz said.
It did. The ball fell between Crawford and Ramirez, deflecting off Crawford's glove as Ruiz cruised into second for a two-base error.
"I didn't get to the ball and just missed it," Crawford said. "Neither one of us called for it. We were both coming at the ball and came up short. I didn't think it was clearly my ball. I was in no-doubles [defense], that's a long ball for me."
Baseball players are taught to run hard. Some do. Some don't.
"That's why," Sandberg said of the importance of hustle.
Domonic Brown followed with a double to left-center field to score Ruiz and hand the Phillies the lead.
Ruiz went from frustration to elation in mere seconds.
"It was a tie game and I'm real close to scoring the run we need," Ruiz said, snapping his finger. "It changed everything."
The Phillies had opportunities to score in the first four innings against Dodgers left-hander Hyun-Jin Ryu, but carried a scoreless tie into the fifth.
A.J. Burnett, who is waiting until after the season to have surgery on an inguinal hernia, started the third with a sharp single to right. Dodgers right fielder Yasiel Puig threw to first in an attempt to surprise the pitcher, who had just four hits in 59 at-bats last season and just 10 hits in 144 at-bats since 2005 before tallying three singles on Tuesday, a career high.
Burnett was safe easily and good-naturedly motioned for Puig to relax.
"I think he thought he was going to get the 37-year-old with a hernia," Burnett said.
Ben Revere followed with a single, but Jimmy Rollins struck out looking and Marlon Byrd hit into an inning-ending double play. Ruiz's one-out triple to left in the fourth also was wasted.
But the Phillies broke through in the fifth. Burnett started the inning with a single up the middle. Revere followed with another single to put runners on first and second. Byrd hit a one-out double to left field to score Burnett, and Ryan Howard's sacrifice fly to left scored Revere to make it 2-0.
The Dodgers responded in the bottom of the inning to make it 2-1, and tied the game in the seventh thanks to some serious speed from Dee Gordon.
Gordon hit what looked to be a single to right-center with one out, but ran hard the whole way and turned it into an unlikely double, even with Byrd charging the ball hard all the way. Gordon then stole third and scored when pinch-hitter Justin Turner singled to left.
Burnett allowed two runs on six hits and one walk and struck out five in 6 2/3 innings. Jake Diekman got the final out of the seventh and Mike Adams, making his second appearance of the season, pitched a perfect eighth. Antonio Bastardo worked a scoreless ninth, before Papelbon picked up his sixth save with a 1-2-3 10th.
It was a game the Phillies would have lost the past couple of seasons. Crawford would have caught that ball, or the bullpen would not have been perfect. But things broke their way and the Phillies have a chance to post a winning record for the first time since they were 3-2 on April 5.
"That's baseball," Burnett said. "It's how it goes. We laugh at Cliffy all the time. We laugh about his first game [on Opening Day in Texas], giving up eight and getting that 'W.' It's how it goes. It's a long season, man. It'll pan out."
Todd Zolecki is a reporter for MLB.com. This story was not subject to the approval of Major League Baseball or its clubs.