Miscue looms large as Dodgers fall in extras
Phils capitalize on Crawford's error on shallow fly to left in 10th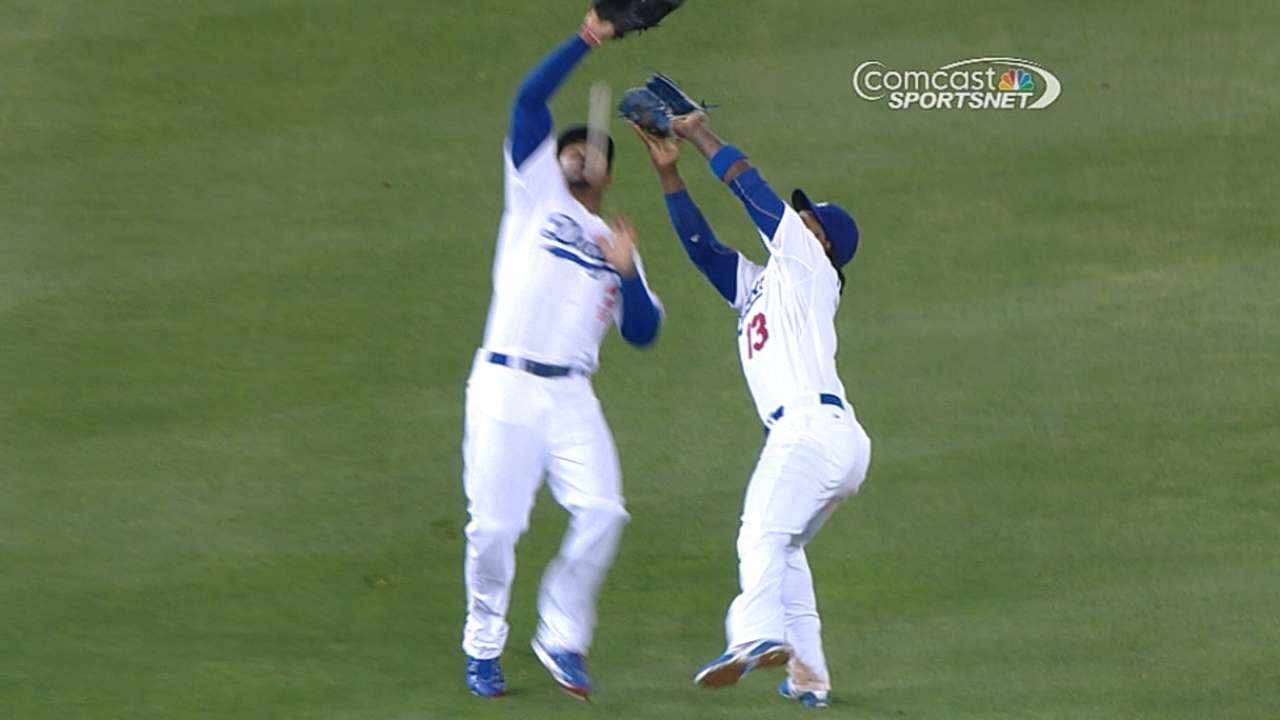 LOS ANGELES -- Throwing his players under the bus is not Don Mattingly's style, but he couldn't protect the guilty after Carl Crawford and Hanley Ramirez missed a routine fly ball that cost the Dodgers in a 3-2 loss to the Phillies in 10 innings on Tuesday night.
"That ball has got to be caught," said the Dodgers' manager. "A number of balls should have been caught in similar situations. We're not going to do anything if we don't play better defense."
The ball that wasn't caught was hit by Phillies catcher Carlos Ruiz with one out in the 10th, a high fly to shallow left field off J.P. Howell. Just before the pitch, Crawford was motioned by the bench to play deeper for Ruiz, who already had a homer, triple and two doubles in the series.
That meant a longer run in for Crawford when the ball went up. Ramirez, who has struggled at shortstop all season, backpedaled tentatively, clearly looking for help from Crawford.
Crawford turned on the jets just in time for the ball to clang off his glove for the Dodgers' 23rd error in 21 games. Ruiz stopped at second only long enough for Domonic Brown to double him home, ruining Los Angeles' comeback from a two-run deficit. The Dodgers have already played five extra-inning games and are 1-4 in them, despite a loaded bullpen.
Said Crawford: "I didn't get to the ball and just missed it. Neither one of us called for it. We were both coming at the ball and came up short. I didn't think it was clearly my ball. I was in no-doubles [defense], that's a long ball for me."
Said Ramirez: "We've got to get better on that. Right now, our pitching staff has done pretty good and we're just making mental mistakes, you know? Just what we're going through right now. We're just passing through a tough time right now. What can I say? It just happened. We'll watch the video tomorrow and see what happened. It's tough we lost a game like that."
Defensive mixups have been commonplace for the Dodgers this year, especially balls in the air to the outfield. Right fielder Yasiel Puig has come flying out of nowhere twice on balls that shouldn't have been his, one he caught in San Francisco, another he didn't in the first inning against the Phillies here on Monday night, when center fielder Matt Kemp didn't react fast enough.
"It always costs something," Mattingly said of the mistakes. "It costs more pitches from the pitchers, using an extra guy from the bullpen. We always talk about it: If we want to get where we want to go, this can't continue. It's just a ball that's got to be caught, simple as that. It's a fly ball. A routine play we've got to make."
The Phillies scored two runs in the top of the fifth inning off Hyun-Jin Ryu on an RBI double by Marlon Byrd that Crawford just missed at the fence, and a sacrifice fly by Ryan Howard. The rally started with the second of three singles by Phillies starting pitcher A.J. Burnett and included the second of four hits by Ben Revere.
The Dodgers scored one run in the fifth on a double by Tim Federowicz and sacrifice fly by Crawford.
They tied the game in the bottom of the seventh with the speed of Dee Gordon, who celebrated his 26th birthday by tormenting the team he used to practice with when his dad, Tom "Flash" Gordon, was their closer.
With one out in the seventh, Gordon hustled a single into a double, stole third base and then scored the tying run on Justin Turner's pinch-hit single. Gordon left the game after the inning, shaken up on the steal when he hit his head on third baseman Jayson Nix's knee during a head-first slide.
Mattingly praised Ryu, who allowed nine hits in six innings, but stranded five runners in scoring position. His scoreless-innings streak was snapped at 18 innings.
"He was really good again," said Mattingly. "Not quite as sharp, but he kept us in the game and got out of jams. Our bullpen was really good - Chris [Withrow], Willie [Brian Wilson] was sharper tonight. Kenley [Jansen, two strikeouts] was good. J.P. was pretty good, too."
Ken Gurnick is a reporter for MLB.com. This story was not subject to the approval of Major League Baseball or its clubs.