Blanked by Cards, Mets still searching for offense
Gee allows two runs in six innings, but bats flummoxed by Wainwright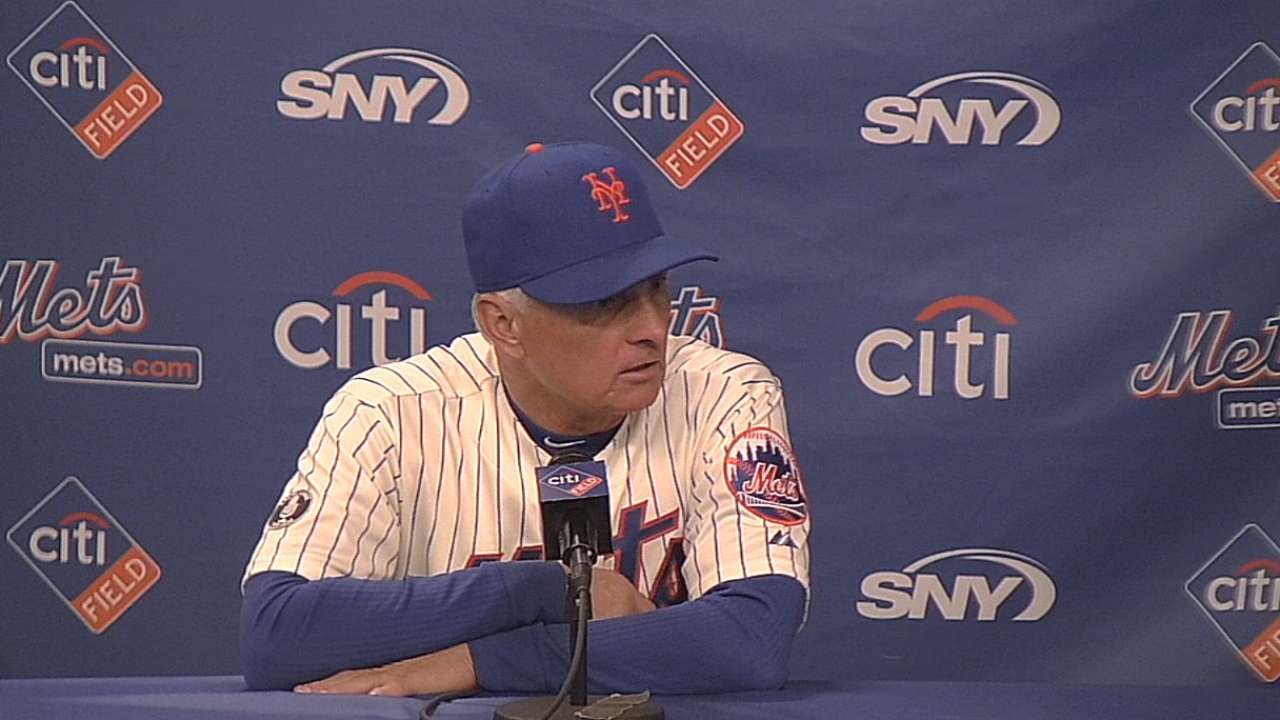 NEW YORK -- Though Adam Wainwright's strike-three curveball to Carlos Beltran in the 2006 playoffs will always define his career in Flushing, that single pitch has obscured New York's success against him ever since. The Cardinals ace came into Tuesday's game with a 6.02 career ERA against the Mets, his worst mark versus any National League team.
It didn't matter. Whatever secrets the Mets may have uncovered against Wainwright, they forgot in a 3-0 loss at Citi Field. Wainwright was exquisite, giving up just four stray singles in seven innings, while the Mets continued to scuffle on offense.
On this night, they had no answers. Asked how his team might go about improving its offense, Mets manager Terry Collins said simply: "Get more hits."
Facing the minimum number of batters over his first four innings, Wainwright needed merely 79 pitches to mow through seven. He might have gone the distance had he not hyperextended his right knee chasing Chris Young's ground ball on the final play of the seventh, an injury that the Cardinals consider minor.
"It's hard to get on track against a guy that might win a Cy Young," second baseman Daniel Murphy said. "It's tough to read too much into that."
Added Cardinals manager Mike Matheny: "He's pitching like I've never seen him."
Though Mets starter Dillon Gee was sharp for the second straight outing, he cracked for Jon Jay's two-run single in the fourth. It turned out to be enough. Gee gave up nothing else in six innings, striking out four and walking two, but took his first loss of the season while Wainwright improved to 4-1.
"You know you're going up against Wainwright, you know it's going to be pretty tough," Gee said. "The guy's a great pitcher."
Upbeat after his outing, Gee did take some positives out of the fact that, despite loading the bases with no outs in the fourth, he prevented that inning from snowballing into something bigger.
"It could have gotten really ugly, and in the past it has," Gee said. "So for me, that was kind of a big step."
It just wasn't enough to win the game. The Mets, who came into the night with the worst slugging percentage and fifth-worst on-base mark in baseball, simply could do nothing against Wainwright, Kevin Siegrist or Trevor Rosenthal. They are averaging 2.2 runs per game over their last five contests, and have not hit a home run in six straight games. When the Cardinals tacked on an insurance run against Jose Valverde in the ninth inning, it spelled trouble for an offense that has scored two runs or fewer seven times in 20 games.
Collins' advice of getting more hits may be more apt than anything, considering the Mets rank 26th in that department as well. Most of them chalked up Tuesday's struggles to the presence of Wainwright, who has finished in the top three in NL Cy Young Award voting three times in the past six years -- and who, in his own words, is currently "more of a complete pitcher than I've ever been."
Yet the Mets have struggled against many lesser pitchers throughout April, often masking those issues thanks to an improving rotation and bullpen.
On Tuesday, their team-wide struggles ran deep enough that the Mets did not advance a single runner past second base. Curtis Granderson was again among the primary culprits, finishing 0-for-3 with a walk to extend his career-long hitless streak to 22 at-bats. David Wright was also 0-for-4 to snap his hitting streak at 12 games, though those two were hardly alone. The bottom third of New York's lineup finished a combined 0-for-9 with a double play, ensuring that the Mets would never really threaten.
Collins, for his part, insisted that it is too early to alter anything to any great extent. Benching Granderson, for example, would accomplish nothing for a team that needs his $60-million bat to survive. Shifting players up and down the lineup can only do so much.
For now, the Mets will continue searching for answers in the form of base hits and homers that have yet to come.
"We've got to get some guys on," Collins said. "Singles count. We've got to get some guys in scoring position, get base hits, score runs. Today we had a couple chances with guys at second base and we didn't come through. We've just got to keep swinging."
Anthony DiComo is a reporter for MLB.com. Follow him on Twitter @AnthonyDicomo. This story was not subject to the approval of Major League Baseball or its clubs.