Offense remains quiet as skid reaches eight games
Ramirez allows three runs over six frames; Smoak hits third homer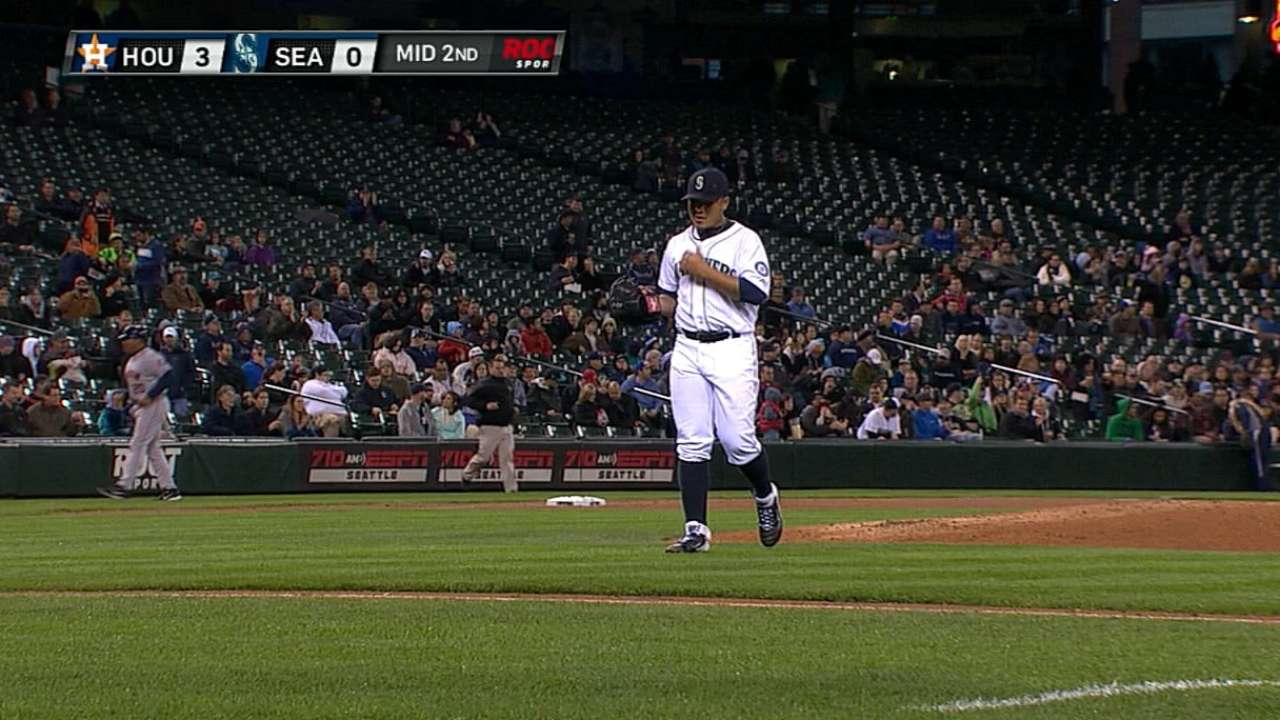 SEATTLE -- When you drop eight games in a row, there aren't any good losses. But the Mariners added an even-more frustrating setback to their skid Tuesday as freshly-promoted Astros right-hander Collin McHugh dominated them in a 5-2 victory for his first career win.
The 26-year-old McHugh brought an 0-8 record and 8.94 ERA in 15 games with the Rockies and Mets the past two years into his Astros debut after being called up from Triple-A to replace the injured Scott Feldman.
By the time he was done, the 6-foot-2 McHugh had fired 6 2/3 scoreless innings with 12 strikeouts, no walks and just three singles in a dominant outing that left the Mariners shaking their heads.
"It was a little different than the scouting report we got," said manager Lloyd McClendon. "He was throwing 94 with a pretty good cut slider or cut fastball in. He commanded the strike zone pretty good. He was exceptional tonight."
How much did the reeling Mariners help, as they struck out 14 times for the second night in a row against an Astros team that came into the series riding its own seven-game losing streak?
"I think you have to give him some credit," McClendon said. "He was 94 and in the zone. He threw 3-2 sliders. He was pretty good tonight. I think it was a combination of that and the fact our guys are probably trying to do a little too much right now."
The first-year Mariners skipper was far less impressed with his own young right-hander after Erasmo Ramirez suffered his third straight defeat.
Though Ramirez retired 14 of the last 17 batters he faced after allowing a pair of homers and three runs in the first two frames, McClendon was in no mood to offer praise for righting the ship after the bad start.
"He did not make quality strikes when he needed, particularly ahead in the count with two strikes and it cost him tonight," McClendon said. "For me, he's got to pitch better than what he pitched. If you saw an adjustment that was good, that's probably a question you should ask him."
The Mariners rotation has been hamstrung by injuries to Hisashi Iwakuma, Taijuan Walker, James Paxton and Blake Beavan, who are all on the disabled list. But after a season-opening seven-inning gem in Anaheim, Ramirez has struggled over his last four starts and is now 1-3 with a 6.75 ERA.
Seattle doesn't seem to have many options until some of their starters get healthy, with Iwakuma likely the closest. But he's at least 10 days from being available if he pitches well in Sunday's Minor League rehab start for Tacoma. So Ramirez seems safe for now.
"That's something [general manager Jack Zduriencik] and I will sit down and talk about," McClendon said. "But the fact is, the club is struggling and you need to go out and throw strikes and put up zeros. We didn't do that early."
The Mariners offense continued its own struggles, failing to get on the board until reliever Raul Valdes replaced McHugh and gave up a two-run homer to Justin Smoak with two out in the seventh.
Seattle managed just five hits and has now been outscored 46-18 over its eight-game skid.
The Astros have won six in a row against their new American League West rivals since Sept. 1 and also six in a row in Seattle since June 12 of last season. Houston is 10-4 all-time at Safeco Field.
The Astros snapped a seven-game losing streak with a 7-2 win in Monday's series opener and now have a chance to go for a three-game sweep on Wednesday afternoon.
Seattle dropped to 7-13 as Houston moved to half a game back of the fourth-place Mariners in the AL West at 7-14.
Ramirez's two early home runs both came on 0-2 pitches as the Astros jumped to a 3-0 lead. Catcher Jason Castro drove a fastball just over the left-field fence for a two-run shot in the first and designated hitter Chris Carter crushed a hanging curveball into the upper deck in left in the second.
Ramirez felt his offering to Castro was a decent pitch, though perhaps a little too high. But leaving anything up in the zone with a favorable count is a recipe for trouble.
"It's just something I have to work on to make better pitches in that situation" Ramirez said. "It's hard to get to 0-2-or 1-2. I have to work hard at that and not let it happen again."
Meanwhile, McHugh was striking out the side in the first and third innings and wound up with the second-most strikeouts ever for a pitcher making his Astros debut and he breezed to his long-awaited first career win.
"It was good to get the proverbial gorilla off your back with a 'W,'" McHugh said. "Castro had a great game plan coming in between him and the coaching staff. They did a real good job of preparing me. I didn't know a lot of these guys in the lineup, so I was going to go with him, whatever he had. We were fortunate enough to execute pretty well and play some great defense, and getting some early offense really takes the pressure off."
Mariners DH Corey Hart managed a leadoff single to left off McHugh to open the second, but was thrown out trying to stretch that to a double. Hart extended his hitting streak to six games with a 1-for-4 night.
Smoak's home run was his third of the season, but first in the past 16 games, and he increased his team-leading RBI total to 12.
Greg Johns is a reporter for MLB.com. Follow him on Twitter @GregJohnsMLB as well as his Mariners Musings blog. This story was not subject to the approval of Major League Baseball or its clubs.