Headley hits 12th-inning homer off weary bullpen
Roach earns first career win after two innings of relief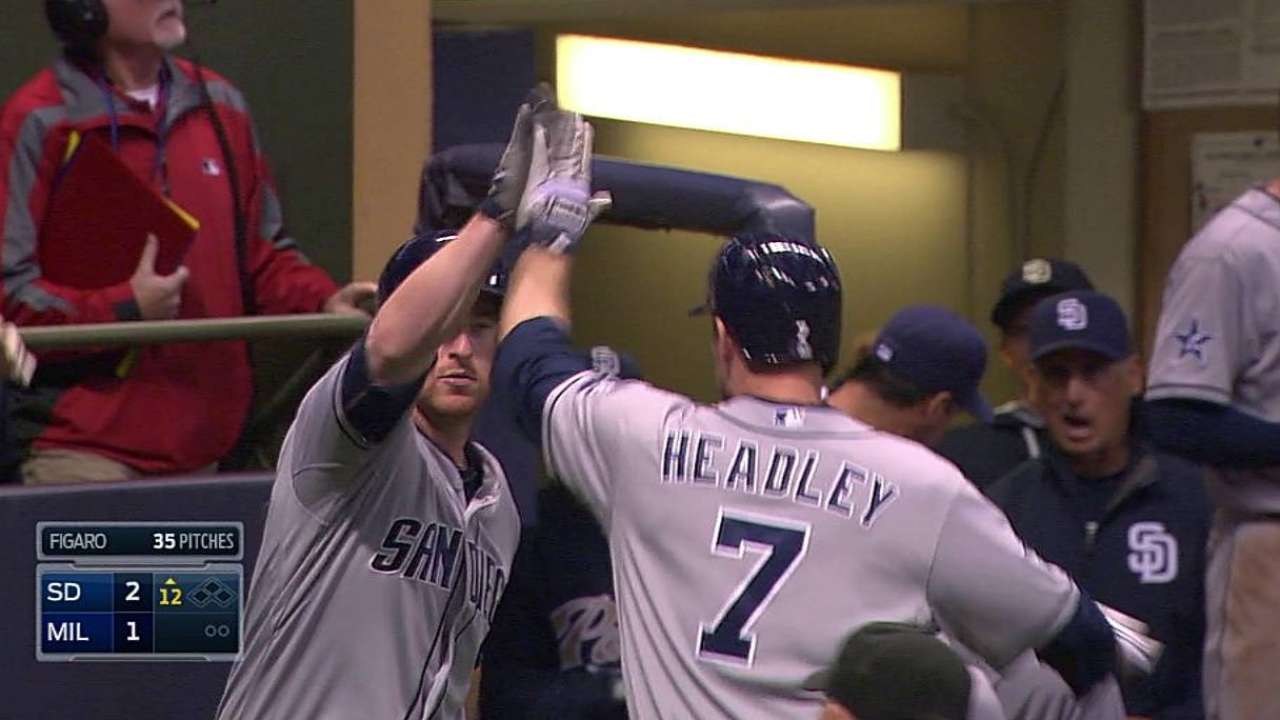 MILWAUKEE -- In a critical situation during Monday's loss to the Brewers, Chase Headley took a curveball for a strike and then swung through two sliders with runners in scoring position in the seventh inning of a one-run loss.
In a season that's been chock full of vexing at-bats for Headley, this qualified as the most exasperating.
"I think I was a little too anxious … because I wanted to get the job done there," Headley said. "So no, it wasn't my best at-bat."
A day later, Headley made amends in a big way -- 447 feet big -- as his home run in the 12th inning on Tuesday lifted the Padres to a 2-1 victory over the Brewers before a crowd of 25,815 at Miller Park.
For Headley, it was his second home run of the season. It also marked the best contact he's had during a month that hasn't included enough solid contact, as the Padres' third baseman entered Tuesday's game with a .180 average.
"It's not even close," Headley said. "I knew I hit it pretty good … but I had no idea I hit it as far as I did."
Headley's home run was just one highlight in a game that featured few of them from the offensive side, a familiar refrain for the Padres (10-11), who have stayed afloat this month almost entirely on the arms of their starters and relievers.
Ian Kennedy overcame a rough start where he was stressed early by the Brewers (15-6), who not only had a lot of traffic on the bases early but had 18 fouls balls in the first three innings alone, driving his pitch count to 73 after he recorded just nine outs.
"It was a grind to get through," Kennedy said. "I knew I had to get more efficient."
Kennedy got through six innings, allowing one run on four hits with three walks and five strikeouts. The only run he allowed, a fifth-inning home run to Scooter Gennett, came after he called timeout earlier in the at-bat because of a muscle cramp in his right calf.
"I babied a couple of pitches to Gannett there, so I'm kind of mad about that," Kennedy lamented.
The Padres' bullpen of Nick Vincent, Joaquin Benoit, Dale Thayer, Donn Roach (1-0) and Huston Street, who got the last three outs for his seventh save, sufficiently covered the final six innings. Roach, who had thrown 18 pitches in the last 16 games, went two scoreless innings, getting two strikeouts.
"It's tough," said Padres manager Bud Black. "Donn's usage hasn't been high. He hasn't really been needed."
He was Tuesday, though, as the Brewers and Padres scuffled along offensively. The Padres struck out 13 times in the game while the Brewers had 12 strikeouts. The Padres were 1-for-6 with runners in scoring position, the Brewers were 0-for-6.
Milwaukee pitcher Yovani Gallardo allowed one run on five hits over seven innings with two walks and four strikeouts. He got 13 groundball outs before handing it over to the bullpen.
"It takes a lot to keep the lineup that we have to one run," Gallardo said. "As far as being a pitcher, we know the guys can hit. We know the guys are going to hit. You just have to keep us in the ballgame and wait for that to happen."
It never happened, other than the Gennett home run. The Padres got their first run of the game when Kennedy's bunt allowed Yonder Alonso to scoot home from third base on a safety squeeze in the fifth inning, as Gallardo mishandled the ball.
"I think I would have. I think I would have been able to get him there at home, but it hit the palm of my hand and kind of bounced off," Gallardo said.
From there, this one was all about pitching until the 12th inning when Headley, who had a hit and a walk earlier in the game, got ahead in the count against reliever Alfredo Figaro (0-1), one ball and no strikes.
"I was looking for a fastball I could handle," said Headley, who got a 95 mph heater. "At 1-0, I was sitting dead-red on a fastball. I was trying to get a pitch in a good location and put a good swing on it."
In a season where little has gone right for Headley, one swing Tuesday lifted his spirits and lifted his team. And, if nothing else, it reminded him again, that with each day brings a new opportunity.
"It's a fickle game," Headley said. "As much as you can, you try to leave the last game as the last game. Fortunately, I was able to put that [Monday's strikeout] behind me and move on."
Corey Brock is a reporter for MLB.com. Keep track of @FollowThePadres on Twitter. This story was not subject to the approval of Major League Baseball or its clubs.