Olt's homer, Hammel's strong start lift Cubs
Third baseman takes advantage of start, launches three-run shot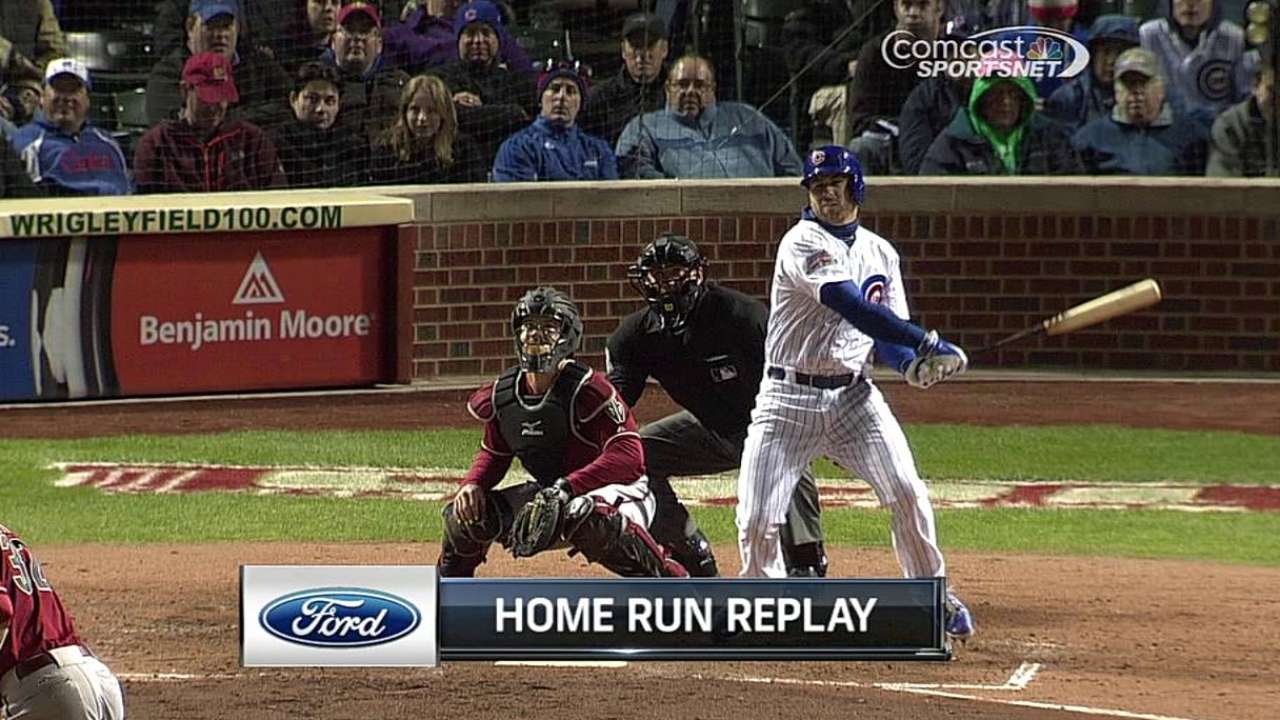 CHICAGO -- Mike Olt is doing his best to lobby for regular playing time, and it's working.
Olt belted a three-run homer and Nate Schierholtz drove in two runs to back Jason Hammel and lift the Cubs to a 9-2 victory Tuesday night over the D-backs. It's the first time the Cubs have won two games in a row since Sept. 9-10 last year against the Reds.
Manager Rick Renteria has used Olt primarily against left-handed starters, but this was his second straight start against a right-hander and his 10th start of the season. Olt now has homered in three of his last nine games.
And Renteria said Olt will start on Wednesday as well.
"We've talked about him gradually getting into that role," Renteria said of the third baseman. "Do I plan on playing him tomorrow? Yes. Everything is very calculated. I'm going to throw him out there and let him run with it a little bit. We're still measuring everything, but he'll be in there tomorrow."
The Cubs were careful with Olt this spring because of a tender right shoulder. He's looking like the player the Rangers had hoped Olt would be when they drafted him in the first round in 2010.
"I know a lot might be said of complete immersion," Renteria said. "We've been trying to graduate and make sure he's healthy."
So far, Olt is 4-for-17 (.235) against lefties and 4-for-24 (.167) against right-handers, and his home run Tuesday was his first off a right-handed pitcher this season.
"I've been working a lot to make sure I can take as many reps as I can to get as comfortable as I can," Olt said. "My main goal is to stay comfortable and it's been working."
It isn't that Olt hasn't faced right-handers before.
"I'm comfortable facing whatever pitcher is going," Olt said. "I've been doing only lefties, and it's good to see some righties."
It was impressive that anyone hit a ball into the bleachers considering the weather at Wrigley Fieid. The temperature at game time was 41 degrees and the 10-mph easterly wind created a wind chill that resulted in three heaters in each of the dugouts, balaclavas on the players, and lots of hot chocolate for the 35,381 fans.
Hammel scattered four hits over seven innings, including Tuffy Gosewisch's first Major League home run off the first pitch to open the sixth. Hammel struck out four and did not walk a batter, posting his fourth quality start in as many outings.
The right-hander lowered his Major League-leading WHIP to 0.69. He's given up 14 hits and walked five over 27 2/3 innings so far.
"You get yourself in a lot of trouble if you don't throw strikes," Hammel said. "I had to battle through it. I didn't really have command of the two-seamer, so I used the four-seamer a lot tonight. It's simple math -- if you don't let anybody on base, you don't give up runs. That being said, outstanding defense up the middle. Olt saved a big play with the line drive in the second inning [off Gerardo Parra's liner]. I think Mike thinks he has to hit a home run every time I pitch and that's fine with me."
Said Olt: "If he wants to buy dinner, I'll take him up on that."
Luis Valbuena doubled with one out in the Chicago third against Brandon McCarthy, and scored two batters later on Schierholtz's single to right.
Valbuena, leading off for the first time this season while Emilio Bonifacio got a day off, singled to open the fifth. He advanced on a groundout by Justin Ruggiano and an error by second baseman Martin Prado, who couldn't get his glove on Anthony Rizzo's grounder, before scoring on Schierholtz's sacrifice fly. Starlin Castro singled and Olt followed with his opposite-field home run off a 3-1 pitch to right-center field.
"We were moving along all right and then really one bad pitch [to Olt] and even looking at it, it's still a 3-1 sinker away that I like my odds usually with that pitch," McCarthy said. "He did a good job of staying back on it and driving it. It's kind of the way it's been going that that ends up being not a solo home run, not caught at the wall, it's a three-run home run that puts the game out of reach. It's just kind of in line with the way it's been going."
Things have been going well for Olt. Is he ready for more regular work?
"I definitely did a lot of work to get myself ready and I feel I'm ready for the task and will build off the last couple games and go from there," Olt said.
On Wednesday, Wrigley Field will celebrate its 100th anniversary, and Hammel is looking forward to being a spectator.
"I love being a Cubbie right now," Hammel said. "I'm still waiting for the ivy to turn green. I hope we see some warm weather soon, but from what I hear, it's a long ways out.
"It's a lot of fun and a big tradition here, and to wear the blue pinstripes is an honor," he said. "We have a good group of guys here and we're still learning. There's a lot of expectations from the fans and the front office, but inside the clubhouse, we have high expectations, too. We're trying to make it even better here than just the 100th year anniversary."
Carrie Muskat is a reporter for MLB.com. She writes a blog, Muskat Ramblings, and you can follow her on Twitter @CarrieMuskat. This story was not subject to the approval of Major League Baseball or its clubs.