Price throws complete game for third victory
Lefty strikes out 12; DeJesus drives in three runs, Loney, Joyce two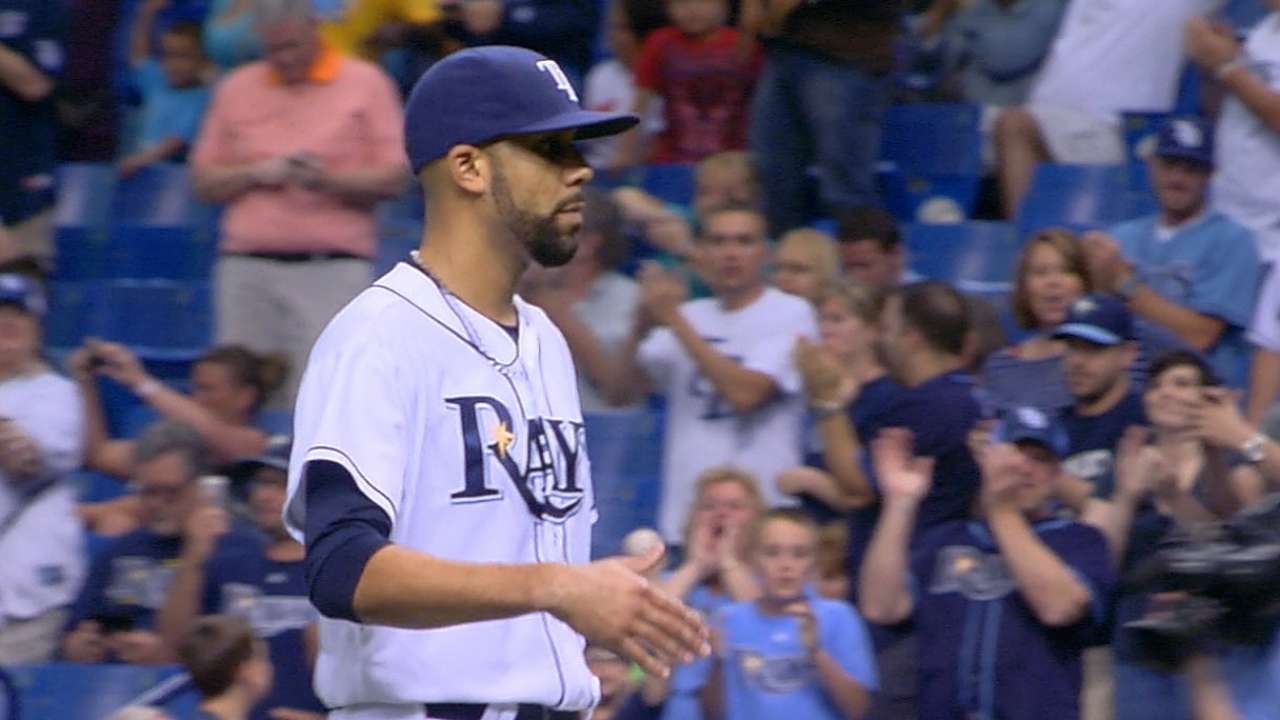 ST. PETERSBURG, Fla. -- A dozen David Price strikeouts plus 13 Rays hits equaled a complete-game 7-3 victory over the Twins at Tropicana Field on Tuesday night.
"That 27th out is always something special," said Price, who allowed six hits, two of them home runs, in boosting his record to 3-1. "It felt good to be able to go out and finish that one. I always like to finish everything I start."
In going the distance for the first time this season and the ninth time in his career, Price dominated the Twins, walking only one.
"One walk and 12 strikeouts, that's pretty good stuff," said manager Joe Maddon. "I was encouraged by his velocity. I thought his fastball was actually better toward the end of the game. His velocity was actually going north today."
The 12 strikeouts were Price's second-most in a complete game and the third-most in his career. He has now struck out 40 batters and walked just four this season.
"It was their night," said Twins manager Ron Gardenhire. "It was Mr. Price. He threw the ball great and was dominant against us.
"He was good. He located his pitches early and was on a good roll there. The type of pitcher he is, he ended up staying in there and wanted to finish that thing. He made some pitches there at the end and made it tough on us."
The Rays took advantage of Monday's off-day to shuffle their starting rotation, moving Price ahead of Jake Odorizzi, thus keeping their ace on his regular five-day schedule.
Obviously, the switch paid dividends.
David DeJesus, who entered the game mired in a career-long 0-for-24 slump, collected three hits and knocked in three runs, James Loney also had three hits and two RBIs, and Ben Zobrist, Desmond Jennings and Matt Joyce had two hits apiece in support of their ace left-hander.
"We'll take all the runs we can get," an appreciative Price said.
The performance by DeJesus was particularly encouraging.
"That's a great sign," said Maddon. "We've been keeping sharp objects away from him recently."
"His confidence is headed in the right direction," Price said. "He's a big key for us."
"I'm trying not to press," DeJesus said. "Through the struggle we're behind each other, no matter what."
Price's only struggles came in the fourth inning, when he surrendered the Twins' three runs and served up two homers.
Price was perfect for the first three innings before Brian Dozier, leading off the fourth, belted his sixth home run of the season to left-center.
The next batter, Minnesota's Joe Mauer, lined a ball up the middle off Price for a base hit. One out later, Chris Colabello launched a two-run homer to left on a 3-2 pitch to cut the Rays' lead to 5-3.
"He just made a couple of mistakes," Maddon said. "The ball was up to Dozier and then he just made a bad pitch to Colabello. Otherwise, he was pretty much on top of his game."
"I just didn't execute there in the fourth," Price admitted.
"He's a good pitcher," Colabello said. "Obviously, his reputation precedes him. We got to him a little bit in the fourth. After Dozier hit the home run, Joe hit the ball back up the middle off him and he looked a little shook up. But he settled in obviously."
The Rays batted around in the bottom of the first and scored three times against the Twins' Kyle Gibson, who came into the game with a 3-0 record and a 0.93 ERA.
Singles by Zobrist and Joyce, plus a walk to Evan Longoria, loaded the bases with one out, setting up Loney's two-run single to left-center.
DeJesus followed with a long single off the right-field wall, knocking in another run.
The Rays pushed two more runs across in the third when Longoria singled, Loney doubled for his fourth multi-hit game in a row and DeJesus drove them both home with a base hit to right.
The Rays chased Gibson in the fourth, scoring two more runs to increase their advantage to 7-3 as Zobrist and Jennings both singled and Joyce delivered a two-run double.
"I don't think I did anything too differently, other than the fact that I didn't execute and they did a good job up there of working the at-bats," Gibson said. "Unfortunately, this was the outing where I didn't have everything going."
The loss was the Twins seventh in a row at Tropicana Field.
Mauer's hard-hit ball back to the mound in the fourth inning struck Price in the midsection.
"That's probably one of the last places I want to get hit," Price said. "I don't know how I didn't feel it or how it didn't break my [protective] cup. I'm extremely lucky. If that ball is two feet up, it's in my face or in my throat. I don't know how it didn't hurt."
Jim Hawkins is a contributor to MLB.com. This story was not subject to the approval of Major League Baseball or its clubs.