Gibson struggles in loss against Rays
Allows seven runs over three-plus innings; Dozier, Colabello homer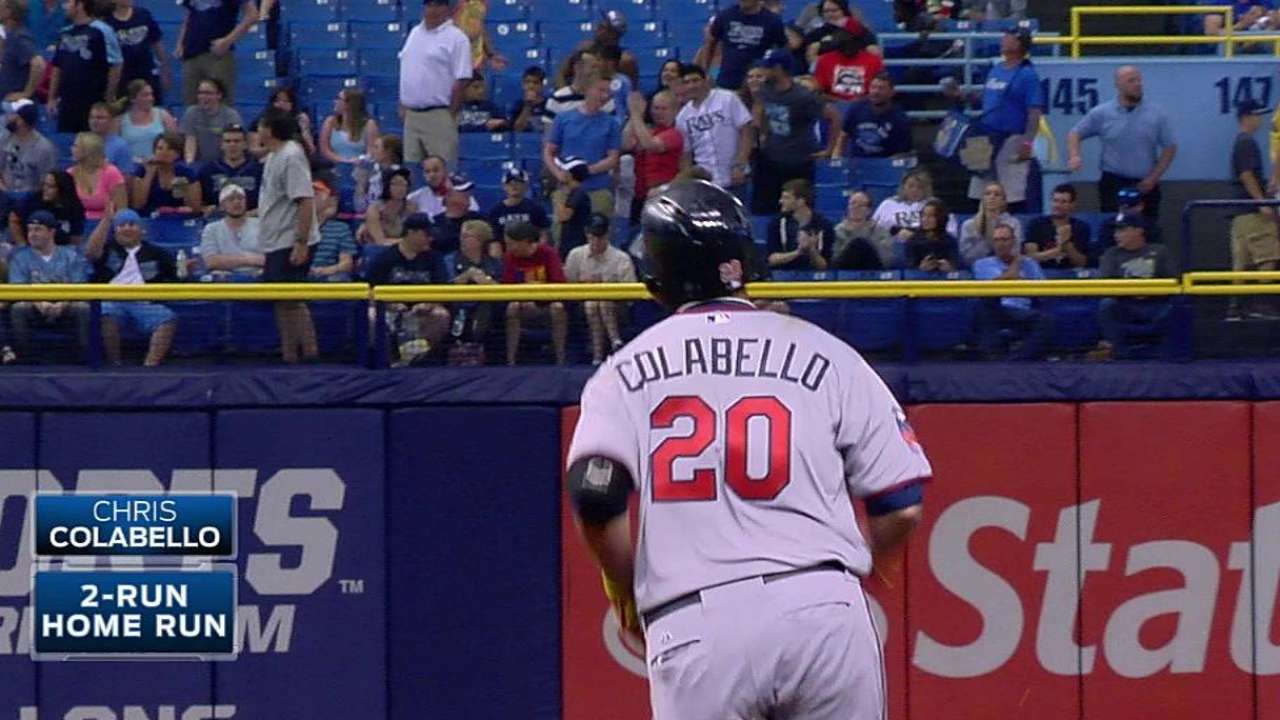 ST. PETERSBURG -- It was Kyle Gibson's chance to keep his early-season success going while matching up against Rays ace David Price in a potential pitchers' duel, but it simply wasn't to be on Tuesday night.
Instead, Gibson saw his streak of three straight strong starts to open the year come to an end, as he struggled through just three-plus innings in a 7-3 loss to the Rays at Tropicana Field.
Gibson, who entered with a 3-0 record and a 0.93 ERA, had trouble from the start, giving up three runs in a 41-pitch first inning. He ended up allowing seven runs on 10 hits and two walks to see his ERA climb all the way up to 3.63.
"I don't think I did anything too differently, other than the fact that I didn't execute and they did a good job up there of working the at-bats," Gibson said. "Unfortunately, this was the outing where I didn't have everything going."
He started off his outing by allowing a leadoff single to Ben Zobrist, and then wasn't helped defensively by shortstop Pedro Florimon, who lost a popup in the infield that dropped for a gift-wrapped single by Matt Joyce with one out that Twins manager Ron Gardenhire believed should've been ruled an error.
Evan Longoria followed with a walk to load the bases for James Loney, who doubled to left-center to bring home two runs. David DeJesus then laced an RBI single off the wall in right for the third run of the inning.
"The kid just didn't have it tonight," Gardenhire said. "They were putting some balls in the right places. He ended up pitching behind a few times tonight, which cost him. He was just missing, as they say. Some pretty close pitches that didn't go our way."
Gardenhire was hinting that Gibson was getting squeezed by home-plate umpire Paul Schreiber in the first, but Gibson said he didn't want to use that as an excuse for his troubles.
"Some of them were close, but it doesn't matter," Gibson said. "There's always gonna be some borderline pitches and sometimes you get the call and sometimes you don't. In the first inning, I had to do a better job of being around the plate. Some of that comes from my mechanics being a little off tonight."
DeJesus, who entered the game on an 0-for-24 skid, struck again in the third, when he stroked a two-run single with one out to bring home Longoria and Loney.
Gibson ran into trouble again in the fourth, giving up a pair of singles to Zobrist and Desmond Jennings to open the inning. He was then removed in favor of right-hander Samuel Deduno, who promptly gave up a two-run double to Joyce.
It was enough offense for Price, who opened with three perfect innings and threw a complete game. The left-hander surrendered three runs on six hits and a walk with 12 strikeouts.
"It felt good," Price said of his first complete game of the season. "I've been close a couple of times this year, and to be able to go out there and finish that one, especially after the first guy got on [in the ninth], was big."
The Twins didn't get their first hit off Price until the fourth, when Brian Dozier launched his team-leading sixth homer of the season. Joe Mauer followed with a single that deflected off Price before Chris Colabello blasted a two-run shot to left field. It was the second homer of the year for Colabello, who leads the American League with 22 RBIs.
"He's a good pitcher," Colabello said. "Obviously, his reputation precedes him. We got to him a little bit in the fourth. After Dozier hit the home run, Joe hit the ball back up the middle off him and he looked a little shook up. But he settled in obviously."
The Twins were unable to mount any rallies after the homers from Dozier and Colabello, as Price was able to get through nine innings on 113 pitches.
"It was their night," Gardenhire said. "It was Mr. Price. He threw the ball great and was dominant against us."
Rhett Bollinger is a reporter for MLB.com. Read his blog, Bollinger Beat, and follow him on Twitter @RhettBollinger. This story was not subject to the approval of Major League Baseball or its clubs.