A's can't hold another ninth-inning lead
Gregerson gives up a pair of two-out runs in final frame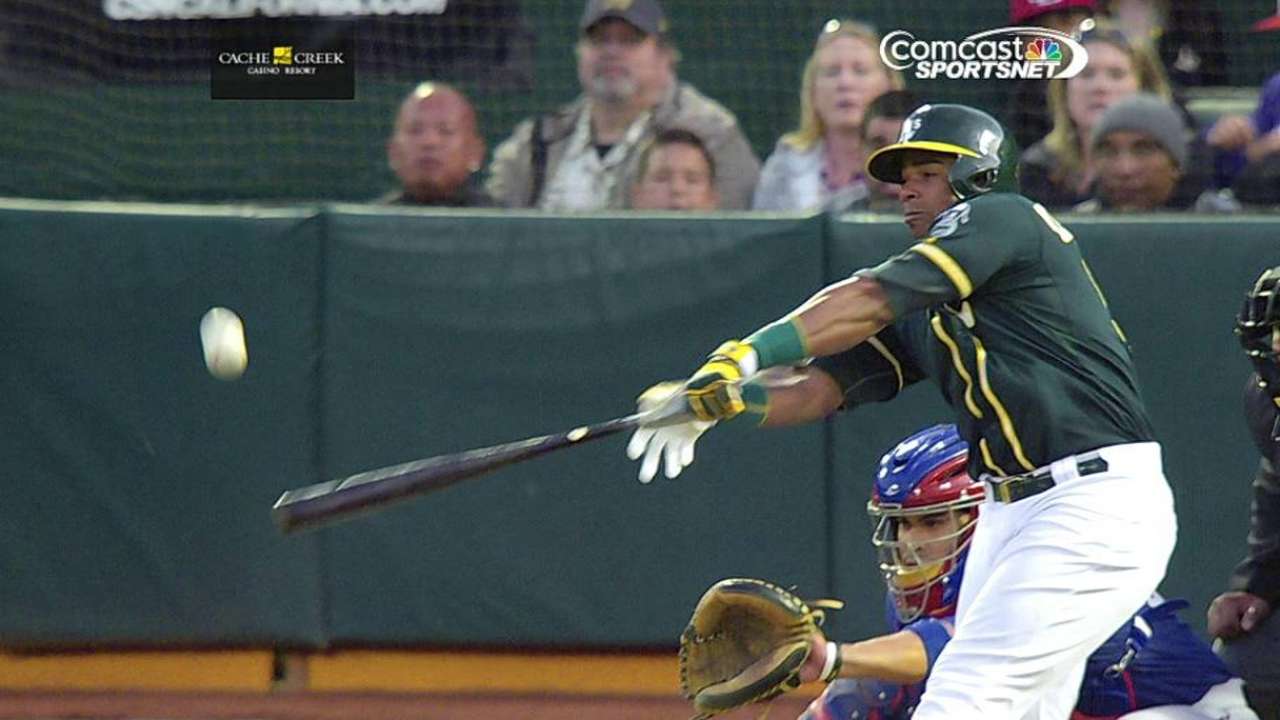 OAKLAND -- In the span of about 24 hours, the A's have suffered a pair of tough defeats to their most heated division foe. As bad as Monday's one-run loss was to swallow, Tuesday's was even worse.
The usually reliable Luke Gregerson needed just one strike to put the Rangers away, but he couldn't get the job done and allowed a late two-run rally, sending the A's to a tough 5-4 defeat.
"That's why you play 27 outs," A's manager Bob Melvin said.
Facing journeyman infielder Josh Wilson with a 2-2 count and two outs in the ninth, Gregerson was tagged for a double off the base of the left-field wall. Wilson's hit scored Leonys Martin from second base and set up the game-winner from Michael Choice, a single that was laced up the middle to complete the comeback victory.
It was quite the stage for Choice, who was one of Oakland's top organizational prospects in recent years before being traded to Texas as part of the Craig Gentry deal this past offseason.
"To be able to come through in that situation was huge," Choice said. "We've got a lot of fighters on this team. You just have to stay with it, get up there and make something happen."
Just as Sean Doolittle was charged with the late loss in Monday's 4-3 defeat to Texas, another key member of Oakland's vaunted bullpen was at fault in the second game of the series. But Gregerson said he'll be quick to move past the blown save, his third of the year and the team's sixth.
"It's not that easy, but it's something that we have to do," Gregerson said. "It's something that if you don't do, it's going to carry over to the next and that's not something that you want."
Melvin and the A's are sticking to their plan to go with a closer-by-committee after Jim Johnson struggled in the ninth-inning role to start the year. In Gregerson and Doolittle, Oakland has two of its most trusted relievers so far in 2014, regardless of the recent results.
For whatever reason, Gregerson said he felt uncharacteristically "rushed" as he worked on the mound. Even though the pitchers might not have bullpen roles set in stone right now as the relief corps figures itself out, Gregerson didn't use that as an excuse for his problems.
"For the most part, we all kind of know where we fit in in that committee," Gregerson said. "I had a pretty good idea that that was going to be the situation. You got to go out there and get outs no matter what inning it is."
Making the loss even tougher to swallow was the second out of the ninth inning. Martin laid down a squeeze bunt and Mitch Moreland busted down the third-base line toward the plate, but Gregerson relayed the ball back to catcher Derek Norris in time to nab Moreland for Texas' 26th out of the game. The crowd was pumped and on its feet as Wilson took to the plate with a two-strike count, but out No. 27 alluded Gregerson for too long.
What ended in late-game drama began as a battle of attrition between a pair of starters trying to find their command.
From the get-go, it was clear that A's southpaw Tommy Milone didn't have his best stuff. He needed 31 pitches to get through the top of the first inning, throwing just 13 of them for strikes. Texas sent eight men to the plate and manufactured a couple of runs on two hits and three walks, but Martin popped out behind the plate to kill the rally.
"[I was] just trying to nibble a bit, maybe trying to be too fine," Milone said.
The game followed a familiar script in the bottom of the first. Rangers spot starter Nick Martinez, who was called up from Double-A Frisco earlier in the day, also battled with his control and the A's were able to do some early damage, using a pair of doubles and a single to knot the score up at 2.
But the tie game didn't last long, as Kevin Kouzmanoff grounded into a 5-4-3 double play, scoring Alex Rios in the third and giving the Rangers a one-run advantage. Milone seemed to find a groove from there, though, retiring 10 of the final 11 batters he faced.
Despite the early battles, he still turned in a quality start, going six innings while allowing three earned runs on five hits and four walks while striking out one.
"Dogfight," Milone said. "First three innings were a little rough. Luckily, I was able to kind of keep my composure, settle down and get through the last three innings."
As Milone handcuffed the powerful Texas lineup, Oakland went ahead with a pair of runs in the fourth inning. Eric Sogard drove John Jaso home with a sacrifice fly before Coco Crisp hit a double to plate Josh Reddick and give the A's a 4-3 lead after four, but the bullpen was ultimately charged with the loss for the second straight night.
While the offense went a respectable 4-for-11 with runners in scoring position on Tuesday, Melvin said he still thinks the bats could have provided some more insurance for the bullpen down the stretch.
"No doubt," Melvin said. "That's been an issue for us. We have to be able add on some runs so we're not getting late into games with giving teams a chance to score a couple runs and beat us."
Alex Espinoza is a contributor to MLB.com. This story was not subject to the approval of Major League Baseball or its clubs.