Happy homecoming: Ellsbury powers Yanks
Tanaka yields just two solo homers, notches seven strikeouts to get win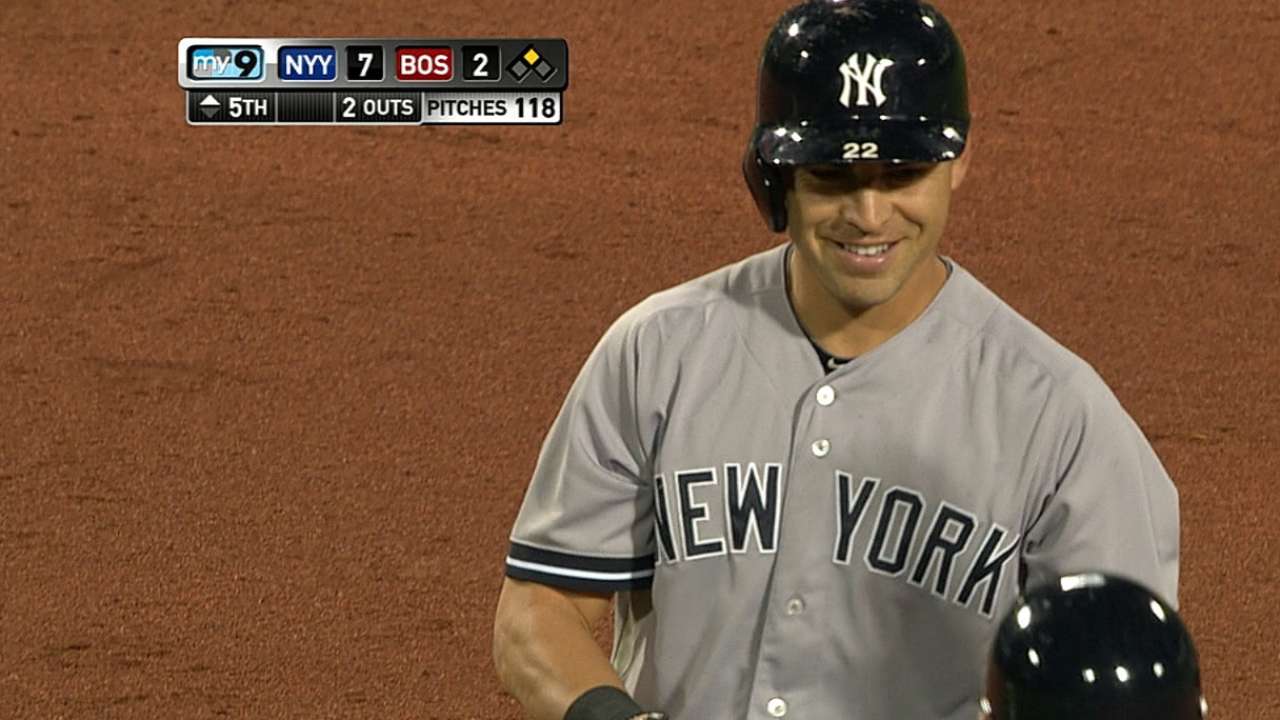 BOSTON -- They booed Jacoby Ellsbury, seemingly out of duty, for his first Fenway Park at-bat wearing that hated road gray uniform. That was understood by all parties to be part of the deal, even after helping the home team to a pair of World Series championships.
Yet to some surprise on Ellsbury's part, the harsh reaction that dented Johnny Damon's pride back in 2006 never materialized. Instead, Ellsbury was doffing his cap on the top step of the visiting dugout, hearing warm applause during a brief highlight video of his memorable moments with the Red Sox.
It was an evening of mixed reactions, to be sure, but Ellsbury did not need the high-definition video screen to show off his dynamic talents. Ellsbury did plenty of that in real time, keeping busy on the bases and in the field to help the Yankees to a 9-3 victory on Tuesday.
"They've seen it for seven years," Ellsbury said, with a smile. "They know."
In his first game at Fenway since switching sides in the rivalry with a seven-year, $153 million contract, Ellsbury doubled, tripled, drove in two runs and contributed a sliding catch as the Yankees stroked 15 hits to support Masahiro Tanaka's Fenway debut.
"I thought it was pretty good," manager Joe Girardi said, "and I thought the tribute to him was very classy and really nice."
Instead of the visceral reaction many predicted, Ellsbury was being begged for warmup baseballs by the spectators beyond the center-field wall -- one of whom laid a hand on his first hit, a fan-interference triple that started Jon Lester's night on a sour note.
"They were cheering me," Ellsbury said. "I was like, 'I feel like this is a home game.' But you're going to get a little bit of it. You expect it, but as a whole, 35,000 people show up each and every night, and I thought they were tremendous."
Derek Jeter also had two hits and two RBIs as the Yankees put an unprecedented pounding on Lester. The left-hander surrendered 11 hits, the most he has allowed to New York. He left after 4 2/3 innings, charged with eight runs (three earned) as shoddy defense contributed to that damage.
"He's tough. He knows how to pitch," Jeter said of Lester. "He mixes it up; he's not fun to face. We were able to score those few runs early on and Tanaka did a great job keeping them off-balance."
The Yankees built a 4-0 lead through three innings for Tanaka, who continued to live up to the hype through his fourth big league start. Tanaka said that he was cognizant of Fenway's rich tradition, something he felt while standing on the mound.
"I think I was a little bit pumped up today, just because I know how good their lineup is, and also how small the stadium is, which is something I had in mind," Tanaka said through an interpreter.
David Ortiz and Mike Napoli slugged back-to-back home runs in a loud fourth inning against Tanaka, who then impressed by again flashing the ability to put a clamp on the damage.
"I try to tell myself, 'I gave up those runs but no more,'" Tanaka said through an interpreter. "And then just go ahead."
"I think that's a really good quality for such a young pitcher," Girardi said. "Sometimes we forget that he's only 25 years old. To be able to do that, we've seen him do it in really every start that he's had; three of the four."
Ellsbury made a nice sliding catch to take a first-inning hit away from Grady Sizemore, and Tanaka didn't need much more help. Tanaka allowed seven hits and rung up another seven strikeouts, running his season total to 35 through 29 1/3 innings, with just two walks.
"We knew his command was good, but it's been really, really good," Girardi said. "He didn't walk people in Spring Training. We saw that. He's got a real good idea of what he's doing out there."
"I'm not particularly surprised," Tanaka said. "But the number of walks I'm giving up is satisfying, the two walks."
New York scored twice in the first inning on run-scoring singles by Jeter and Carlos Beltran, an inning marked by catcher A.J. Pierzynski's throwing error. Mark Teixeira and Brian McCann drove in third-inning runs as the Yankees touched Lester for three consecutive doubles.
The Yankees pulled away with four runs in the fifth, as Ellsbury knocked Lester out by belting his former teammate's 118th pitch for a two-run double. A run scored on Brian Roberts' liner that tipped Napoli's glove at first base for an error, and Jeter greeted Chris Capuano with a run-scoring single.
Beltran extended the Yankees' lead in the eighth with his fifth homer of the season, digging out a low fastball for a solo shot to right field off Edward Mujica. All around, it was a good night for the Yankee newcomers, and no one enjoyed it more than Ellsbury.
"It's a great feeling," Ellsbury said. "I spent nine years in that organization, gave that organization everything I had every day I stepped on that field. For them to take a moment to have some cheers, it was nice."
Bryan Hoch is a reporter for MLB.com. Follow him on Twitter @bryanhoch and read his MLBlog, Bombers Beat. This story was not subject to the approval of Major League Baseball or its clubs.