Salazar unable to shake early-season issues
Tribe confident young righty will find groove despite latest brief start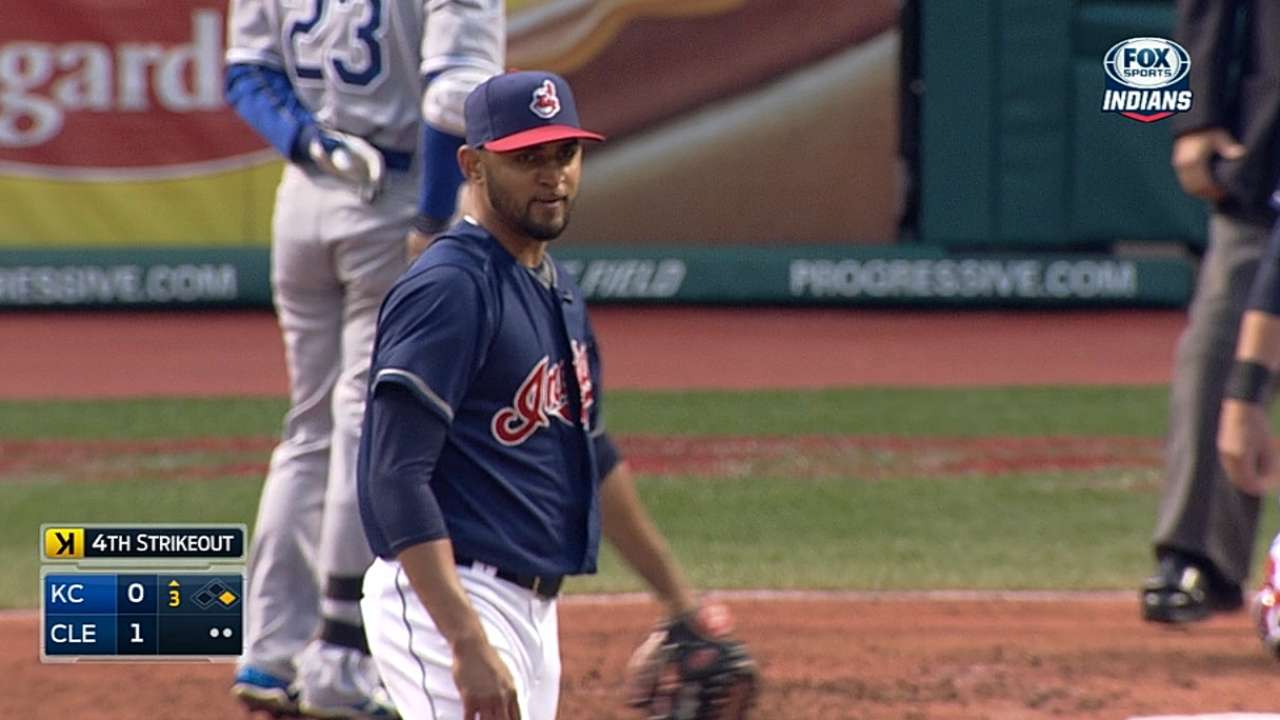 CLEVELAND -- This was not supposed to be an experiment for the Indians. Putting young right-hander Danny Salazar in the Opening Day rotation was supposed to be the arrival of a future ace, an arm capable of carrying Cleveland back to the postseason.
That all might prove true, but Salazar is clearly a work in progress.
On Tuesday night, Salazar's early-season struggles continued in another abbreviated outing -- this one coming against the rival Royals. The righty teased with three no-hit innings out of the gates, but then fell apart in the fourth and was gone in the fifth, sending the Indians on their way to an 8-2 loss at Progressive Field.
"I don't always want to put it on youth," Indians manager Terry Francona said, "because this is a kid we gave the ball to in the playoff game [last year]. But I do think, with health and experience, he's going to learn how to do this better. I think right now he's having a tough time and he's getting tested a little bit."
The kind of sequence experienced by Salazar on Tuesday has been somewhat of a common occurrence for him this month. Three starts might not be enough to declare it a trend, but the 24-year-old starter has seemingly hit a wall midway through his recent outings. After looking crisp for the first three frames against Kansas City, Salazar was hit hard by the visitors.
Salazar suffered a similar series of events Thursday in Detroit, where he gave up one run through four innings before then yielding a four-spot in the fifth. Over his past three starts, the righty has been hung with 15 runs (14 earned) on 19 hits in just 12 2/3 innings, in which he's piled up 19 strikeouts against seven walks.
"It's a short sample size," Francona said. "We can't forget last year when he was pitching, he was on a pretty strict limit for health reasons. So now he's starting to get stretched out a little bit. It's been a while since he's done that. He's never done it at the Major League level, so sometimes you have to be patient."
Against the Royals, Salazar allowed five runs (four earned) on seven hits in 4 1/3 innings, marking the third straight start he has not been able to log at least five. He ended the evening with six strikeouts, two walks and 89 pitches (52 for strikes), sitting around 93-95 mph with his fastball.
"I'm out there competing the whole game. I guess some pitches didn't work," Salazar said. "I've been feeling great -- strong. I'm aggressive out there compared to last time I pitched. Today, I just felt like every pitch, I was totally focused on throwing it and on being aggressive."
Kansas City's rally against Salazar was ignited by back-to-back singles from Eric Hosmer and Billy Butler to open the fourth. The pitcher appeared poised for an escape when -- two batters later -- he struck out Salvador Perez, who flailed badly and lost his grip on the bat, which helicoptered down the third-base line as the crowd roared.
Mike Moustakas quickly brought on a stunned silence by ripping a 1-1 changeup from Salazar down the right-field line for a three-run home run. The home run -- the third on the season for the Royals third baseman -- put the Tribe in a 3-1 hole.
After reviewing video, Salazar said he believes he might have been tipping his pitches, especially his changeup.
"With my changeup sometimes, I open up my glove too much," Salazar explained. "That's the only thing I've noticed. Sometimes, I just try to, when I'm going to throw my fastball, I try to open my glove, too, just to try to confuse. I think sometimes I forget."
Alcides Escobar followed with a base hit, stole second and advanced to third on the play thanks to a throwing error by catcher Yan Gomes. Jarrod Dyson brought Escobar home with a perfectly placed bunt single that skipped down the first-base line.
Salazar avoided further harm in that frame, but the Royals struck for one more run off the starter in the fifth courtesy of consecutive doubles by Hosmer and Butler. The two-base hit off the bat of Butler carried to deep center field, where it bounced off the glove of leaping outfielder Michael Bourn at the wall.
"He made a very good attempt, just didn't quite get it," Francona said. "That'd have been a heck of a play."
Complicating matters for Cleveland was the fact that Royals right-hander James Shields was turning in an admirable performance. The Indians scored one unearned run in the second (Bourn contributed an RBI single to capitalize on a fielding error earlier in the inning) and plated one more run in the sixth, when Gomes delivered an RBI double.
Beyond those two missteps, Shields was solid for Kansas City, striking out nine and walking just one in his six innings.
"Unfortunately, he's pretty much the same every time you see him," Francona said. "He pounds the strike zone, very difficult to run on. He can cut his fastball, he can throw it in to lefties, he can change speeds off of it and he competes. That's why he's one of the best."
That is the kind of top-of-the-rotation effort that Cleveland hopes to see consistently from Salazar. His rise through the Minors last season was impressive, convincing the Indians to hand him a job, trust him with the start in the American League Wild Card Game last fall and reward him with a spot in the rotation this year.
So far, Salazar has shown that he still has plenty of work to do.
"It's growing pains," Indians first baseman Nick Swisher said. "This is his first real go-around. We have the utmost trust in him. He has plus stuff. When he figures it out, it's going to be a lot of fun to be on this side. He's a young cat. He's going to figure it out."
Jordan Bastian is a reporter for MLB.com. Read his blog, Major League Bastian, and follow him on Twitter @MLBastian. This story was not subject to the approval of Major League Baseball or its clubs.