Shields continues road success in Cleveland
Righty fans nine over six; Moustakas, Hosmer lead 13-hit attack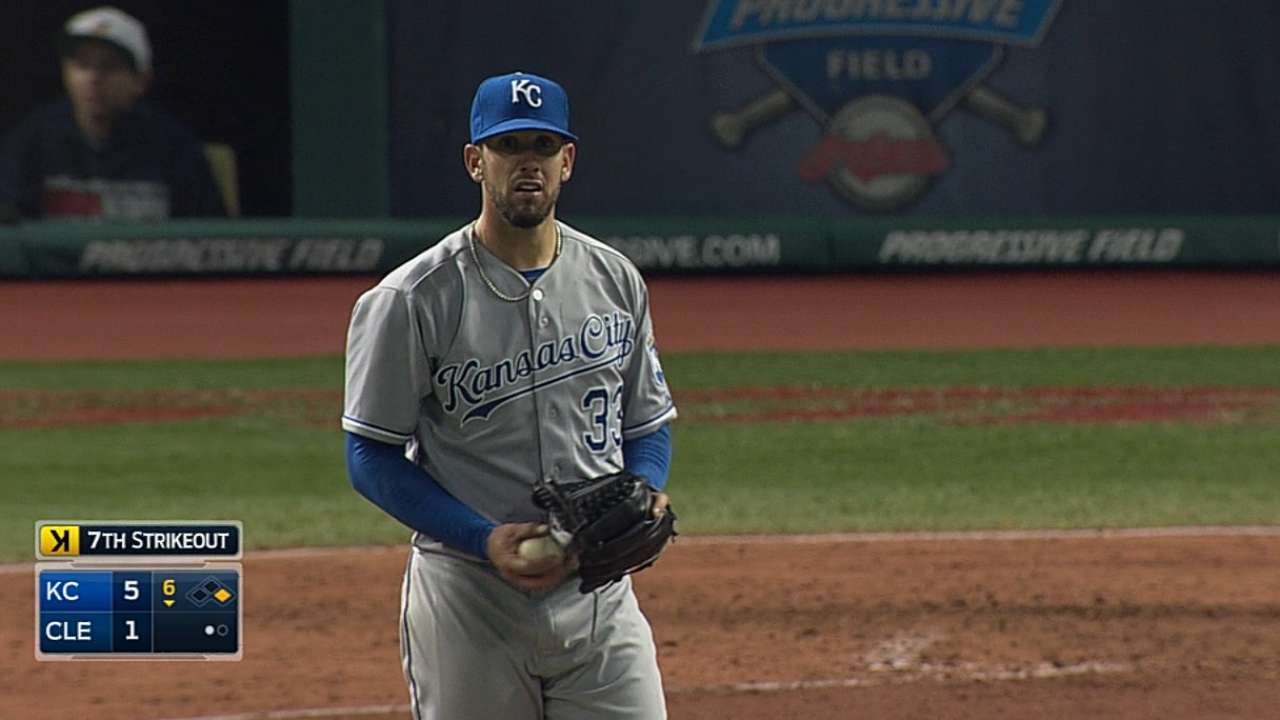 CLEVELAND -- On the road again, just can't wait to get on the road again. That's James Shields for you.
Since joining the Royals, Shields has become quite the happy traveling troubadour with a dozen victories away from Kansas City. His latest win came over the Indians, 8-2, with Mike Moustakas pounding a three-run homer and Eric Hosmer going 4-for-5 on a chilly Tuesday night at Progressive Field.
Shields went six innings in his 22nd road start since being acquired by the Royals before last season. In addition to a 12-4 record, he has a 2.07 ERA on the road. By contrast, at Kauffman Stadium he's 3-7 in 17 starts with a 4.18 ERA.
This was his fourth road start this season.
"I've been feeling comfortable on the road," Shields said. "What have I got -- five games under my belt now and four of 'em on the road? And I think I had five out of six games on the road in Spring Training, too, so I'm getting used to pitching on the road."
As a bonus, Shields' nine strikeouts gave him 21 in his last two starts, most in back-to-back outings by a Royals pitcher since Zack Greinke struck out 23 on Aug. 19 and 25, 2009, his American League Cy Young Award year. Shields had six of his strikeouts in his last two innings.
All that despite Shields' admission that he didn't have his best stuff going and Indians manager Terry Francona had his hitters making him work hard.
"I was telling the guys that was vintage Francona over there. He makes all the pitchers work," Shields said. "Those guys did a great job. Every time I face these guys, they give me a battle. They work the count, they go deep in the count."
Shields had a workload of 106 pitches in his six innings.
"They did make him work," said manager Ned Yost, "and he started to labor a little bit right at the end of the sixth, his pitch count got up but nine punchouts and combine that with what he did his last start, that's pretty impressive work."
After Shields left, Danny Duffy worked two innings, giving him 8 1/3 shutout innings since joining the bullpen, and Aaron Crow added a scoreless ninth.
Moustakas' three-run blast ignited a four-run fourth for the Royals. He connected against right-hander Danny Salazar, who had just thrown three hitless innings.
"He's a great pitcher, he's got a lot of good stuff and his pitches are electric," Moustakas said. "We were able to get to him that inning, and when you put up a couple of runs with Shields on the mound, it's a tough task for any team to battle back."
Hosmer and Billy Butler launched the inning with back-to-back singles and waited while Alex Gordon fouled out and Salvador Perez fanned. On Salazar's 1-1 pitch, Moustakas sent a 405-foot shot soaring into the right-field stands.
It was just the seventh home run for the Royals this season, but the third for Moustakas.
In hindsight, Salazar thought perhaps he was tipping his pitches and perhaps Moustakas knew a changeup was coming.
"He maybe didn't know, but maybe he was ready for that pitch," Salazar said. "That was a mistake [by] me of throwing it. I should've thrown a fastball outside or something. Not back-to-back changeups."
Alcides Escobar followed with a single, then stole second and went to third as catcher Yan Gomes' peg sailed into center field. Jarrod Dyson dropped a bunt along the first-base line and was safe easily as Escobar scored for a 4-1 lead. After that it was just a matter of tacking on insurance runs.
Salazar's evening ended with back-to-back doubles by Hosmer and Butler off the wall in the fifth. The Butler belt, to dead center field, came within inches and a touch of Michael Bourn's glove from being his first home run.
"I thought me and Hoz both did it. I'll get one eventually," Butler said.
The Royals finished with 13 hits, matching their season high for a game, indicating that perhaps the offense is coming around after a slow start.
"You knew it would sooner or later, the offense is just too good. We've got too much faith in these guys as an offensive unit," Yost said. "The first three innings, Salazar was nails. His split was tough. Moose finally got a split that was hanging a little bit up, and just drove it into the seats."
Hosmer had two of his four hits off Salazar.
"We know any time that Shields is on the mound, we know we've got to do what we can to produce any kind of runs because we know it's not going to take many runs when he's on the mound," Hosmer said. "So after that big swing from Moose, it just kind of loosened everybody up to play with a lead and play comfortable."
For his part, Shields feels that the Royals are getting all phases of their game in sync.
"I think the hitters are starting to get it going here," Shields said. "And our defense is playing phenomenal right now and I think that kind of gets overlooked quite a bit. It's nice to play well in all facets of the game."
He modestly didn't mention that the pitchers are doing all right, too, with the second-best ERA in the AL.
Dick Kaegel is a reporter for MLB.com. This story was not subject to the approval of Major League Baseball or its clubs.