Fantasy facts: Early-season trade targets
Now's the time to get deals on slumping players, sell high on fast starters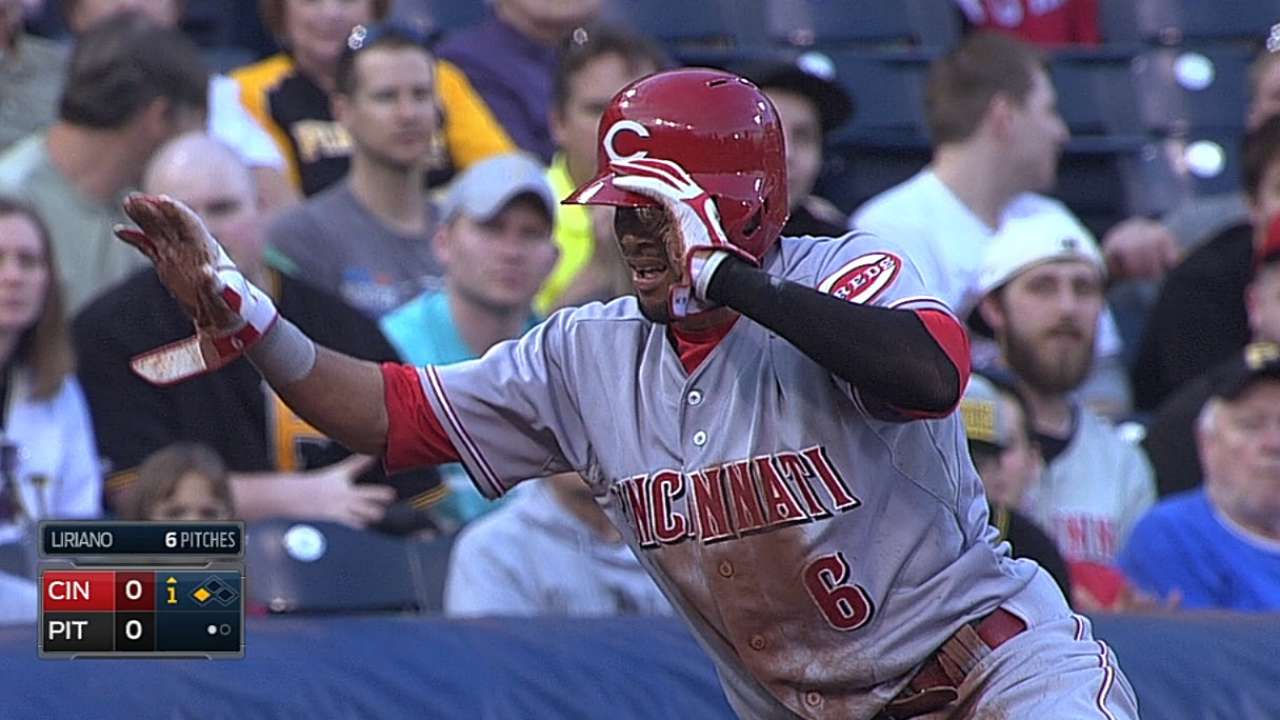 With more than three weeks in the books, fantasy owners are starting to get frustrated and infatuated with various parts of their rosters. This is a good time for smart owners to look beyond the basic early-season production, and use key statistics to make smart decisions on the trade market. A wise April swap will yield more than five months of added production. Here are some players that deserve a closer look:
Billy Hamilton: 3 -- The speedster is off to a slow start in his rookie year, as he has reached base safely just 17 times in 71 plate appearances. But Hamilton has started to show off his legendary wheels in recent days, and he stole three bases in a three-game weekend set against the Cubs. The 23-year-old is in the top 10 in the Majors in swipes, despite having limited opportunities due to a .246 on-base percentage. The book on Hamilton has not changed -- he will get the green light the majority of time he gets on base. Smart fantasy owners could try to buy low on Hamilton, before his OBP rises and he becomes the Major League leader in steals.
Jose Bautista: 23 -- Bautista is off to a fine start, with six homers and 13 RBIs in 19 games. And while his .258 batting average does not excite fantasy owners, his 23 walks should open some eyes. Joey Bats is normally one of the most patient hitters in baseball, but this season he has taken his batting eye to another level. The 33-year-old has stated that he is making a point to be even more selective, and wait for a pitch that he can drive out of the park. By following this plan, he has collected five more walks than any other hitter in baseball. The additional trips to first base are allowing Bautista to score runs at a higher rate, and he could be even more dangerous once the slumping Edwin Encarnacion heats up.
Chris Tillman: 7 -- Tillman was a breakout performer in 2013, but there was some worry that he would be unable to sustain mixed-league usefulness in the tough American League East. Early 2014 results suggest that the 26-year-old will not only warrant a mixed-league roster spot, but he may also be a regular lineup fixture. After four starts, Tillman has walked just seven batters, which put him on pace to walk fewer than his total of 68 last season. The lower walk rate has dropped his WHIP to 1.10, and while his 1.71 ERA is sure to rise, he could post a 2014 ERA lower than last year's mark (3.71) by continuing to limit baserunners. The most encouraging news for Tillman owners is that his excellent early-season work has come against Detroit, Toronto and Boston (twice). If Tilllman can pitch well against those teams, he could be outstanding once he lines up against some of the AL's weaker foes.
Kyle Farnsworth: 4.70 -- Following the ninth-inning struggles of Jose Valverde, Mets manager Terry Collins anointed Farnsworth as the team's closer on Sunday. Fantasy owners are always ready to pick up closers in hopes of finding a 30-save stopper on waivers, but Farnsworth is likely the wrong target. The 38-year-old posted a 4.70 ERA last season, and in 2012 his ERA was 4.00. He owns a 1.36 career WHIP, and nothing in his profile suggests that he will be able to stay in the ninth inning for more than a few weeks. Farnsworth is worth a low-cost pickup for those in dire need of saves, but he is not worth a serious investment. In the big picture, the Mets' weak bullpen could affect the team's rotation throughout the season. Pitchers such as Dillon Gee and Zack Wheeler would be candidates to win 12-plus games on most teams, but it is likely that they will see some of their leads disappear in the late innings.
Mark Buehrle: 21 -- No one could have predicted that after three weeks of action, Buehrle would be 4-0 and the AL leader in ERA (0.64). The southpaw definitely deserves praise for his early-season success, but he is the ultimate sell-high candidate. Over the course of his career, Buehrle has allowed roughly one hit per inning (3,015 hits in 2,910 2/3 innings). Nearly 3,000 innings is a large sample size, and it is hard to see any age-35 player making a serious improvement in his skill set. This season, Buehrle has allowed just 21 hits in 28 innings, which is a big reason for his additional success. His strikeout rate is no better than it was in 2013 and, as a soft-tosser, it is hard for Buehrle to pitch his way out of trouble. His end-of-season ERA will likely be near his 3.81 career mark, so this is a great time to trade him away. A smart idea would be to target teams who are near the bottom of the league in ERA and WHIP. Figure out which high-upside arms are giving them the most headaches and develop a deal around Buehrle and those players.
Jonathan Schoop: 0 -- Buck Showalter and the Orioles have recently had success by letting talented hitters such as Adam Jones and Manny Machado swing aggressively at the dish. But Schoop is taking this approach to another level, as he has yet to draw a walk in 58 plate appearances. The 22-year-old is a keeper-league asset, but it will be hard for him to help fantasy owners this season if he continues to hit low in the lineup and post an on-base percentage near his current .259 mark. Schoop was not a patient hitter in Triple-A last season, and he swiped just one base in 270 at-bats at that level. He can help AL-only owners by offering some extra-base power and driving in his share of runs, but mixed-league owners should find someone who can score more often, swipe a few bases or offer a more secure batting average.
Fred Zinkie is a fantasy baseball writer for MLB.com. This story was not subject to the approval of Major League Baseball or its clubs.