Vogelsong stung by long ball in short outing
Right-hander allows five runs on three HRs; offense held in check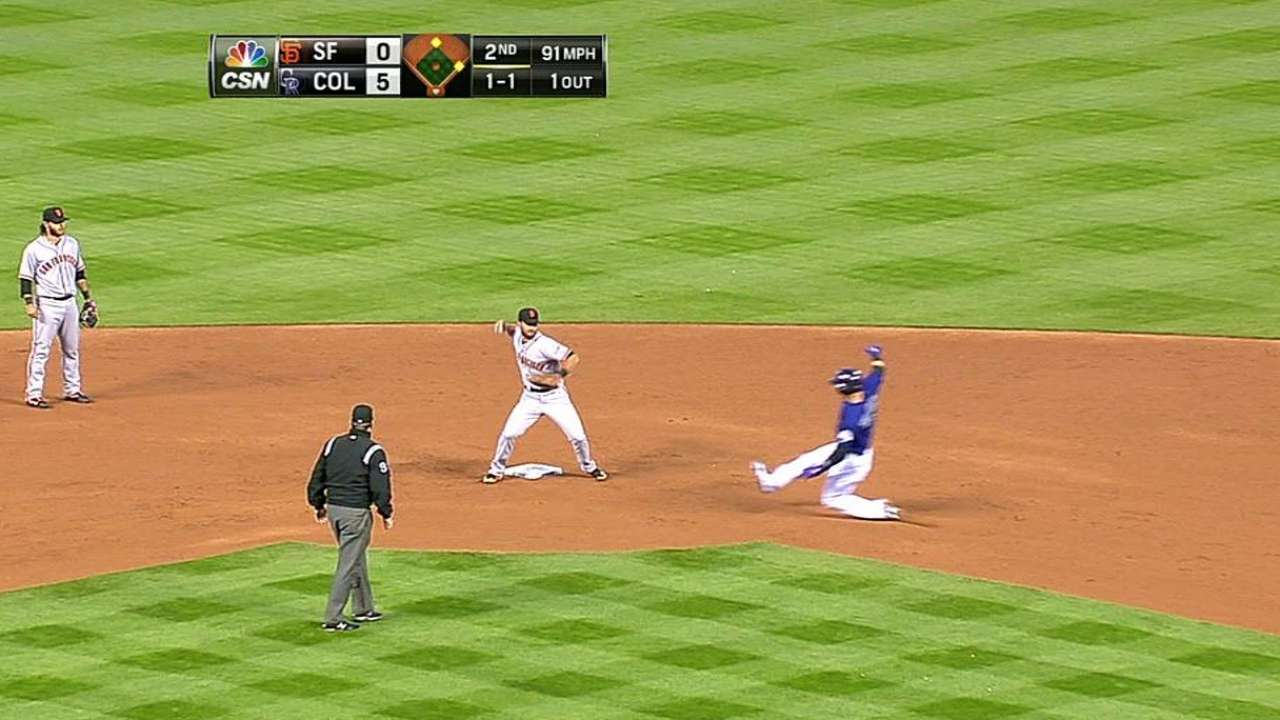 DENVER -- The Giants came to Coors Field in search of an antidote to a deep funk up and down their lineup. They felt bolstered by the depth to handle the "if it can happen, it will" nature of the ballpark. But with their bats kept quiet, their starting pitcher out before two complete innings, their long reliever injured after facing one batter and their leadoff man ejected before the seventh-inning stretch, the lopsided 8-2 loss only proved the adage.
Colorado got all the damage it needed in the first frame, sending nine men to the plate and scoring four runs on four hits and two walks. Nolan Arenado started the onslaught with a solo homer off Ryan Vogelsong, and the rest of the runs came on a three-run blast from Wilin Rosario to give the Rockies a lead they'd never relinquish.
"He just could not get the ball where he wanted, and it was just getting away from him and getting up in the zone," Bochy said of Vogelsong. "They took advantage of it."
Vogelsong struggled again in the second, facing four batters and yielding two hits, a walk, and a run. Charlie Blackmon led off with a solo homer into the right-field seats, and after a single from Arenado and a walk to Troy Tulowitzki, manager Bruce Bochy came out to pull his ineffective starter.
It was Vogelsong's shortest outing in 82 starts as a Giant and the shortest start by any National League pitcher this season.
"I'm definitely not happy about it -- it's embarrassing, really," Vogelsong said. "I just didn't throw good pitches tonight. I never got into a rhythm. I just didn't throw the ball where I wanted to and how I wanted to."
David Huff came on in relief and retired Justin Morneau on an inning-ending double-play grounder to third to escape the jam.
Huff received his first at-bat in more than four Major League seasons in the top of the third, beating out a grounder to Tulowitzki for his first big-league hit but hurting himself in the process. Bochy and trainer Dave Groeschner went out to visit Huff and left him in the game long enough to score his first run when Buster Posey grounded into a double play, but Huff did not return to pitch in the bottom of the third.
"It didn't look good," Bochy said of Huff's injury. "He's going to get an MRI on his left quad. More than likely he's probably heading to the DL."
Yusmeiro Petit struggled with his first two batters, yielding a single to Rosario and watching Corey Dickerson's drive sail over the center-field fence, making it 7-1 Rockies. Petit allowed just one more hit and one walk in his four innings.
"He really picked us up," Bochy said. "You hate to have your starter have an off night then lose one of your long men in the 'pen, but Petit did a nice job of getting us deep in the game and saving the bullpen."
The Giants have averaged two runs a game over their last seven and have scored two runs or less in four of their last five. They could smell the hits in Coors Field when they arrived, but they couldn't find them at the plate.
"We haven't really been swinging the bat real well lately," Brandon Crawford said. "It doesn't really matter what's been thrown at us lately, we're just not hitting them."
When the Giants could create opportunities, they couldn't bring them home. They scored a run on a double-play grounder and another on a two-out error in the top of the ninth, going 1-for-10 with runners in scoring position.
"As bad as it went there in the early going, we had our chances to get back in the game," manager Bruce Bochy said. "We just couldn't get a hit to get it going. A couple double-play balls kind of stopped our rallies there. In this ballpark, anything can happen. We just couldn't get the hit line moving."
The Giants threatened in the fifth, when Hunter Pence recorded his second hit of the night, a ground-rule double that bounced over the center-field fence, keeping a potential run from scoring. With one out and runners on second and third, neither Posey nor Michael Morse could bring one home.
"It's been happening all week," Crawford said. "If we could point a finger to it we would and we'd fix it. The first week of the season, everybody was hitting at the same time. We know we're a good hitting team. It's just one of those little funks we're going through."
Rockies starter Jorge De La Rosa gave way to the 'pen after the fifth, and Tommy Kahnle struck out five over two innings to keep the Giants in check.
"They have a good bullpen," Bochy said. "They have some good arms that came out of the bullpen. The numbers are good, too. They've been throwing the ball well. They did tonight." Angel Pagan was called out looking in the seventh, then ejected by home-plate umpire John Tumpane. Bochy indicated Pagan was coming out of the game anyway to give him a rest, with Gregor Blanco slated to finish the game in center even before Pagan was ejected.
"That's why I let him go," Bochy said of his giving Pagan room to argue. "Let him get his money's worth. I knew he was frustrated in the call before, and if there was a bad call, he was probably going to get thrown out.
The Rockies added a run in the eighth on Blackmon's second solo shot, giving the Rockies all eight runs courtesy of five homers, the most the Giants have allowed since May 19, 2010.
"I think it's a big deal," Blackmon said of the series opener. "I really wanted to win the first game of the series and I think we did a great job of that."
Owen Perkins is a contributor to MLB.com. This story was not subject to the approval of Major League Baseball or its clubs.