Offense can't rescue uneven Cashner
Righty gives up season-high four runs; hitters go 1-for-10 with RISP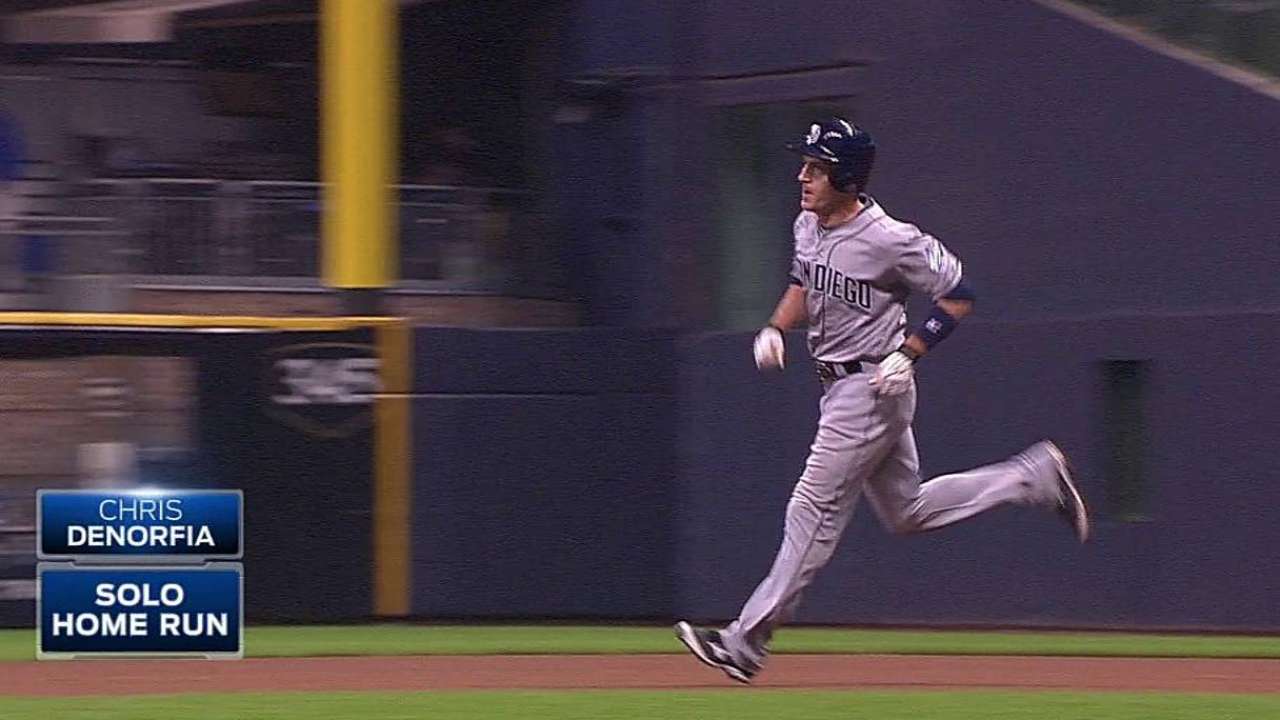 MILWAUKEE -- Over the course of a six-month season, where Padres pitcher Andrew Cashner hopes to make 30-plus starts, there will be occasions when he's simply not at the top of his game, when his two-seamer doesn't sink, his four-seamer doesn't carry and when mistakes, no matter the shape or size, invariably come back to haunt him.
In many ways, Monday felt like one of those nights.
"It seems like I started off in trouble all night tonight," said Cashner, who allowed more than three earned runs (four, in this case) for the first time in a start since July 5, 2013.
That's not a comfortable place to be, especially when the Padres' offense continues to sputter as badly as it did in a 4-3 loss to the Brewers before a crowd of 25,408 at Miller Park.
While it's true Cashner might not have been himself -- armed with flirt-with-a-no-hitter type stuff -- the offense couldn't rescue him, going 1-for-10 with runners in scoring position.
In other words, this was no way to start a 10-game road trip.
"It's frustrating for the guys. ... We're just not getting that big hit," said Padres manager Bud Black. "... We're getting pitches to hit in certain at-bats. We just need to square-up pitches that are hittable. I think when you see that, you'll see that the run production will change."
The Padres (9-11) were able to trim the Brewers' (15-5) lead to one run on two occasions Monday.
The seventh inning was especially frustrating for the Padres, though it certainly didn't start out that way.
The Padres cut the Brewers' lead to 4-3 when Chris Denorfia hit a home run the opposite way, tomahawking a ball over the right-field wall.
Pinch-hitter Nick Hundley followed with a double and another pinch-hitter, Tommy Medica, reached on an error. Everth Cabrera moved the runners along to second and third base with a bunt.
The Brewers went to their bullpen for lefty Will Smith. The Padres countered with a right-hander, pinch-hitter Xavier Nady, who walked to load the bases. Seth Smith then flew out to shallow center field with the runner at third, Hundley, holding.
Smith then faced switch-hitter Chase Headley, who batted right-handed, took a called first strike and then swung through two sliders to end the inning.
"We're that one hit away from where we can turns things around," said San Diego first baseman Yonder Alonso, who had his second multihit game of the season. He also knocked in a run.
As for Cashner, he allowed four earned runs on seven hits with two walks and four strikeouts over his six innings of work.
"I thought the biggest thing was they have a good-hitting team, and I wasn't able to execute my sinker," Cashner said. "I felt like I beat myself."
Cashner had gone 16 consecutive starts -- his last 12 in 2013 and first four of this season -- allowing three or fewer runs in each outing. Better still, he had allowed two or fewer runs in his last 10 starts.
"It looked like he just missed on location with his fastball," Black said. "It's as simple as that. The stuff was fine. He hung in there. He just didn't have the command he's had in previous starts."
Milwaukee starting pitcher Wily Peralta (3-0) did, especially early on. He retired nine of the first 11 hitters that he faced, including four on strikeouts.
"He came out firing. He had a good, tight slider that got under our swings," Black said.
Cashner had more traffic on the bases than he had in any of his four previous starts, where he compiled a 1.27 ERA. Carlos Gomez lead off the first with a walk, stole second base and advanced to third on a throwing error by catcher Rene Rivera. But Cashner left him stranded there.
"Cashner is so good, and I've been watching and following [him] this year; I don't think you have many chances to just string together a lot of hits off him," said Brewers manager Ron Roenicke.
In the third inning, Cashner allowed a leadoff double to his counterpart, who scored on a triple from Scooter Gennett. Will Venable made a terrific catch at the wall on a Ryan Braun flyout that scored the Brewers' second run, and Aramis Ramirez followed with a solo home run.
Corey Brock is a reporter for MLB.com. Keep track of @FollowThePadres on Twitter. This story was not subject to the approval of Major League Baseball or its clubs.